Bereit für die Kontor Top Of The Clubs – The Best Of 20 Years und ihrere absolut großartige Tracklist ? Kaum zu glauben wie schnell die Zeit vergeht aber Deutschlands #1 Dance Music Label Kontor Records, feiert mittlerweile schon sein 20-jähriges Bestehen und ist auch heute noch unheimlich erfolgreich.
Mitte der 90er Jahre, um genau zu sein 1996 wurde Kontor Records von einigen lokalen Produzenten und DJs gegründet und mauserte sich mit der Zeit zu einem der erfolgreichsten Dance Music Labels weltweit. Mit zahlreichen ersten Plätzen verteilt über den Globus, ist Kontor Records stets am Puls der Zeit.
Eine ganze Reihe an erfolgreichen Compilaiton erscheint regelmäßig bei Kontor Records, wie z.B. das Flaggschiff " Kontor Top of the Clubs ", die sich mittlerweile zur erfolgreichsten Dance Compilation in Deutschlands laufend an der Spitze der Charts beweisen kann.
Kontor Records nimmt euch mit der Kontor Top Of The Clubs – The Best Of 20 Years mit auf eine musikalische Zeitreise der letzten 20 Jahre. Wir haben euch unten einmal die Tracklist der MP3 Version eingebunden, da diese weit vor der CD Version verfügbar ist.
Insgesamt warten bei der CD Version allerdings 80 Tracks verteilt auf 4 CDs auf euch. Während im Bereich der Mp3 Version, die sogar noch deutlich günstiger ist, noch weitere Special DJ Mixe auf euch, die das ganze nochmal deutlich abrunden.
Bis zum Release der Kontor Top Of The Clubs – The Best Of 20 Years dauert es allerdings noch ein paar Tage, denn erst am dem 6. Januar 2017 steht sie für euch im Handel bereit. Neben der Tracklist, haben wir natürlich auch das Cover für euch am Start, den MiniMix liefern wir euch noch nach, sobald dieser verfügbar ist.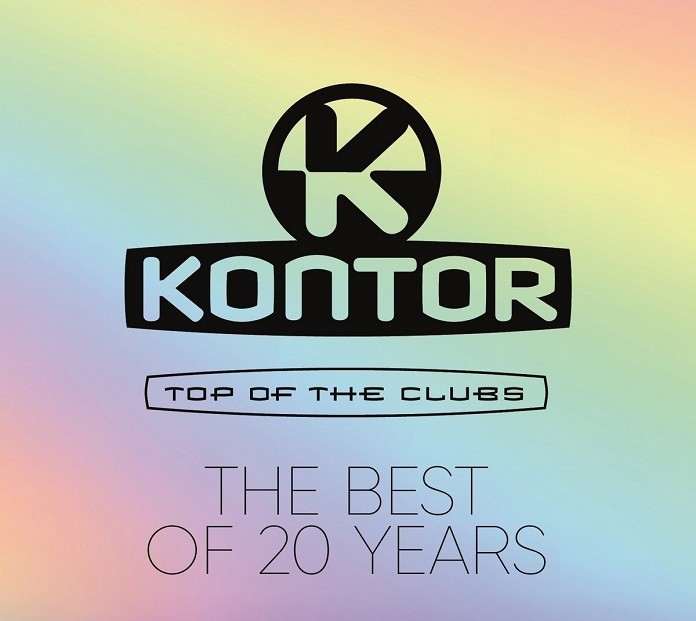 1.Kontor the Best of 20 Years – The Greatest Top of the Clubs Hits Mix (Continuous DJ Mix) von DJ Mix
2.Kontor the Best of 20 Years – The Ultimate Festival Anthems Mix (Continuous DJ Mix) von DJ Mix
3.Kontor the Best of 20 Years – The Finest Kontor House Mix (Continuous DJ Mix) von DJ Mix
4.Kontor the Best of 20 Years – The Very Best of Kontor Deep Mix (Continuous DJ Mix) von DJ Mix
5.Love Is Gone (Fred Riester & Joachim Garraud Radio Edit Remix) von David Guetta, Joachim Garraud & Chris Willis
6.Summer von Calvin Harris
7.Die immer lacht (Extended 2016 Mix) von Stereoact feat. Kerstin Ott
8.Megamix von R.I.O.
9.DJ Antoine Megamix von Dj Antoine
10.Megamix von Michael Mind Project
11.One Night in Ibiza (Extended Mix) von Mike Candys & Evelyn feat. Patrick Miller
12.Wicked Wonderland (Extended Mix) von Martin Tungevaag
13.Take Me to the Clouds Above (The Mash Up Kids Remix) von LMC vs. U2
14.9 PM (Till I Come) (9 PM Mix) von ATB
15.Summer Jam 2003 (DJ F.R.A.N.K.'s Summermix Short) von The Underdog Project
16.Put Your Hands Up For Detroit (Club Mix) von Fedde Le Grand
17.Like a Prayer (Main Mix) von Mad'House
18.Wish You Were Mine von Philip George
19.Runaway (U & I) von Galantis
20.Cream (Paul Van Dyk Mix) von Blank & Jones
21.Traffic (Unmixed Version) von Tiësto
22.Wonderful Days (2001 Remix) von Starsplash
23.Total Eclipse Of The Heart (Club Mix) von Jan Wayne meets Lena
24.Nobody to Love (Radio Edit) von Sigma
25.Animals (Original Mix) von Martin Garrix
26.Toulouse (Original Mix) von Nicky Romero
27.Bigfoot (Original Mix) von W&w
28.This Is What It Feels Like (Extended Mix) von Armin van Buuren feat. Trevor Guthrie
29.Levels (Radio Edit) von Avicii
30.Seek Bromance (Avicii Vocal Extended) von Tim Berg
31.Who (Original Mix) von Tujamo & Plastik Funk
32.Booyah (Original Mix) von Showtek Feat. We Are Loud & Sonny Wilson
33.Call Me a Spaceman (Extended Mix) von Hardwell feat. Mitch Crown
34.The Hum (Original Mix) von Dimitri Vegas & Like Mike vs. Ummet Ozcan
35.Tsunami (Original Mix) von Dvbbs & Borgeous
36.Reload (Vocal Version) (Radio Edit) von Sebastian Ingrosso, Tommy Trash and John Martin
37.Don't You Worry Child (Radio Edit) von Swedish House Mafia feat. John Martin
38.If I Lose Myself von Alesso vs. OneRepublic
39.Boneless von Steve Aoki, Chris Lake, & Tujamo
40.Heads Will Roll (A-Trak Remix) von Yeah Yeah Yeahs
41.Gecko (Overdrive) von Oliver Heldens & Becky Hill
42.Chunky (Club Mix) von Format:B
43.Bullit (Radio Edit) von Watermät
44.Don't Let Me Down von The Chainsmokers feat. Daya
45.I Follow Rivers (The Magician Remix) von Lykke Li
46.No Love Lost (Extended Mix) von Syke'N'Sugarstarr & Cece Rogers
47.Lola's Theme von The Shapeshifters
48.You Don't Know Me (Radio Edit) von Armand Van Helden feat. Duane Harden
49.Pjanoo (Original Club Mix) von Eric Prydz
50.Hello (Club Edit) von Martin Solveig & Dragonette
51.For You (Original Version) von The Disco Boys feat. Manfred Mann's Earth Band
52.The Weekend (Extended Vocal Mix) von Michael Gray
53.Raining Again (Steve Angello's Vocal Mix) von Moby
54.Let Me Think About It (Club Mix) von Ida Corr vs. Fedde Le Grand
55.Lucky Star (Album Mix) von Ron Carroll & Superfunk
56.25 Years von Markus Gardeweg
57.Somebody to Love (Salt Shaker Mix) (Main Club Mix) von Boogie Pimps
58.It's Like That (Drop The Break Radio Edit) von Run DMC vs. Jason Nevins
59.Ready or Not (Club Mix) von The Course
60.I Feel for You (Club Mix) von Bob Sinclar
61.Big Love (Eat Me Edit) von Pete Heller
62.Summer Moon [Explicit] (F**k Me I'm Famous Mix) von Africanism Allstars feat. David Guetta, Joachim Garraud, Tim Deluxe, Bob Sinclar & Ben Onono
63.Feel the Vibe (Original) von Axwell
64.Keep Control (Original Extended) von Sono
65.Are You with Me (Extended Mix) von Lost Frequencies
66.Reality (Extended Mix) von Lost Frequencies feat. Janieck Devy
67.Unter meiner Haut (Club Mix) von Gestört aber GeiL & Koby Funk feat. Wincent Weiss
68.Ich & Du (Extended Mix) von Gestört aber GeiL feat. Sebastian Hämer
69.Sonnentanz (Radio Version) von Klangkarussell
70.Jubel (Radio Edit) von Klingande
71.Wine & Chocolates (Andhim Remix Radio Version) von Theophilus London
72.Prayer in C (Robin Schulz Radio Edit) von Lilly Wood & The Prick and Robin Schulz
73.Ain't Nobody (Loves Me Better) von Felix Jaehn feat. Jasmine Thompson
74.Forgive Me (Original Mix) von Lexer
75.Cheerleader (Felix Jaehn Remix Radio Edit) von Omi
76.Changes (Radio Mix) von Faul & Wad Ad vs. Pnau
77.Waves (Robin Schulz Radio Edit) von Mr. Probz
78.One Day (Vandaag) (Radio Edit) von Bakermat
79.Faded von Zhu
80.Give Me Wings (Extended Mix) von Jerome & Lotus feat. Amanda
81.My Love von Route 94 feat. Jess Glynne
82.Uruguay (EDX's Dubai Skyline Remix) von Nora En Pure & Sons Of Maria
83.Reckless Ardor (Original Mix) von EDX
84.Tanz der Moleküle (Beelow Remix) von MIA.
85.Firestone von Kygo feat. Conrad
86.So Good to Me (Extended Mix) von Chris Malinchak