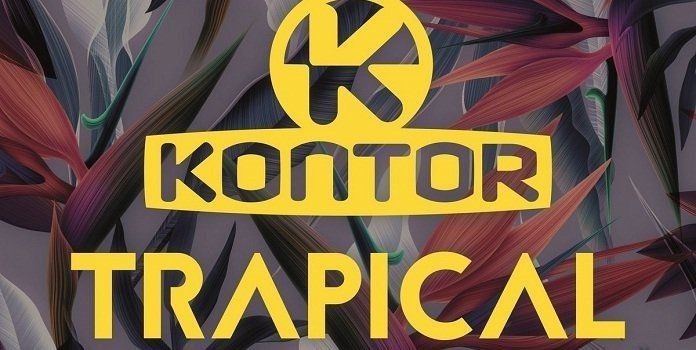 Die Kontor Trapical 2017 – The Festival Season bereitet euch mit ihrer Tracklist auf die aktuellen großen Festials vor. Auf der CD gibt es den feinsten Sound der Festivals, das bedeutet ein frischer Mix aus feinstem TRAP x TROPICAL HOUSE x FUTURE BASS!
Kein Genre ist derzeit in der weltweiten Dance Szene mehr angesagt als TRAPICAL! Auch dieses Jahr wird TRAPICAL auf den größten Festivals weltweit wieder mehr als angesagt sein – mehr noch – Trapical hat sich als Musikrichtung fest etabliert! Grund genug, pünktlich zu Beginn der Festival Season die brandneue "KONTOR TRAPICAL 2017 – THE FESTIVAL SEASON" zu präsentieren!
Mit dabei sind u.a. die aktuellsten Tracks von Martin Garrix & Dua Lipa, DVBBS, The Chainsmokers, Carnage, Calmani & Grey x Neptunica, Dirtcaps, Borgore, Showtek, Lost Frequencies, Thomas Gold, Julian Jordan X Chico, Kronig und vielen mehr! Die 60-Track starke 3CD Compilation kommt natürlich gemixt in drei exklusiven DJ Mixen!
Die Kontor Trapical 2017 – The Festival Season steht für euch ab dem 19. Mai 2017 bereit. Wie ihr es an dieser Stelle von uns gewöhnt seid, gibt es nun die Tracklist und das passende Cover, damit ihr bereits vor dem Kauf wisst was euch hier erwartet.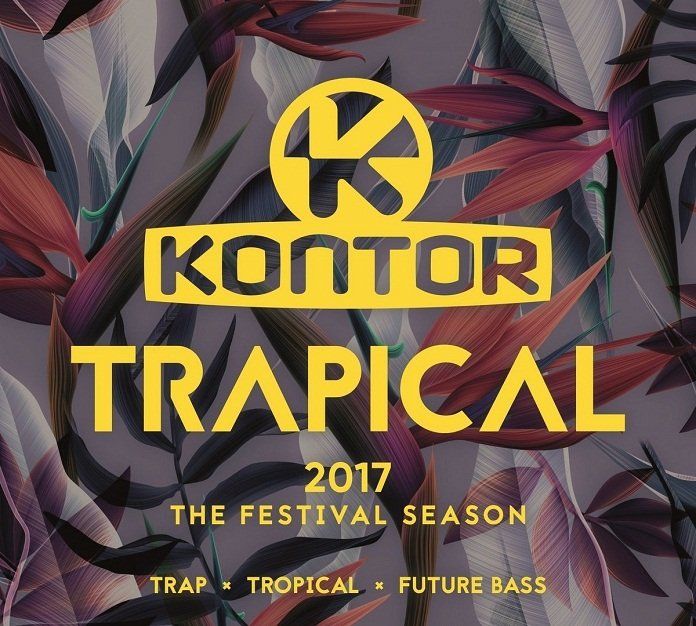 Disk 1:
01. MARTIN GARRIX & DUA LIPA – SCARED TO BE LONELY
02. LOST FREQUENCIES FEAT. AXEL EHNSTRÖM – ALL OR NOTHING (ANGEMI REMIX)
03. SAN HOLO – LIGHT
04. SHOWTEK & BROOKS – ON OUR OWN (FEAT. NATALIE MAJOR)
05. KOZAH – DREAM STATE
06. ARMIN VAN BUUREN & GARIBAY – I NEED YOU (FEAT. OLAF BLACKWOOD)
07. DVBBS & CMC$ FEAT. GIA KOKA – NOT GOING HOME
08. QULINEZ FEAT. KOKO LAROO – CLOSER
09. SANDER KLEINENBERG FEAT. S.T.R.Y.D.E.R – MIDNIGHT LOVERS
10. ROCHELLE – YOU GOT SOMETHING
11. MORGAN PAGE FEAT. RAYLA – OTHER GIRL
12. DIRTCAPS FEAT. RAPHAELLA – MIDNIGHT SUN
13. DZEKO FEAT. SAM JAMES – NEVER GONNA LOVE ME
14. ERIC CHASE FEAT. POLINA VITA & NITRO – ATTITUDE
15. WE ARE LOUD & JUSTIN PRIME FEAT. GREY MTTR – TOMORROW SOUNDS
16. MATT STRIKE – WORLDWIDE
17. ANGEMI & BECKO – I'LL CATCH YOU
18. DENNIS KRUISSEN FEAT. AXEL EHNSTRÖM – SOUTH AMERICA (KLYMVX REMIX)
19. THOMAS GOLD FEAT. JILLIAN EDWARDS – MAGIC
20. SHAAN & ROBERT FALCON – MIRAGE (TOM SWOON REMODE)
21. HIDDN FEAT. BEATRICH – FIND YOU
 
Disk 2:
01. THE CHAINSMOKERS – PARIS
02. PETIT BISCUIT – SUNSET LOVER
03. FELIX JAEHN FEAT. THALLIE ANN SEENYEN – DANCE WITH ME (SEBASTIEN REMIX)
04. MAÎTRE GIMS, SOFLY & NIUS FEAT. DANY SYNTHÉ – LOIN (PILULE VIOLETTE)
05. MATTN & MAGIC WAND – LET THE SONG PLAY (FEAT. NEISHA NESHAE)
06. CITYFLASH FEAT. LAURA-LY – DON'T LEAVE ME
07. KRONIC FEAT. LEON THOMAS – RENDEZVOUS (TYRON HAPI REMIX)
08. ANGELIKA VEE & SONS OF MARIA – BREATHE INTO ME
09. LOTUS & ALISSA FEAT. FLO RIDA – CHAMPAGNE ON ME (BODYBANGERS REMIX)
10. MARTIN JENSEN – SOLO DANCE
11. MOST FEAT. RUBY PROPHET – SUMMER
12. RUMORS – LOOK OUT BELOW
13. DRAGONETTE – LONELY HEART (HIBELL REMIX)
14. MOKITA – HEAVEN
15. PRICE & TAKIS FEAT. ZAC POOR – HANDS
16. TJINDJARA FEAT. F1RSTMAN – ANGEL ON THE STREETS
17. BORGEOUS & MORTEN – COFFEE CAN MONEY (FEAT. RUNAGROUND)
18. GALAVANT – YOUTH (QULINEZ REMIX)
19. CALMANI & GREY X NEPTUNICA FEAT. RIA – CAN'T LET YOU GO
20. JULIAN JORDAN X CHOCO – ALWAYS
21. JORDAN MAGRO FEAT. BOSWELL – THINK OF ME (DOMINIK DALE REMIX)
 
Disk 3:
01. FLUME & TOVE LO – SAY IT (ILLENIUM REMIX)
02. NEPTUNICA FEAT. XHARA – FOREIGN PLACE
03. ESKEI83 & DRUNKEN MASTERS & GUNJAH – RAVE
04. B-15 PROJECT FEAT. CRISSY D & LADY G – GIRLS LIKE US (DIRTCAPS REMIX)
05. BORGEOUS AND RIGGI & PIROS – FEEL SO GOOD
06. DENNIS KRUISSEN FEAT. DAVID BENJAMIN – LOVE LIKE THE SUN
07. QULINEZ – WHO YOU WANT
08. BOEHM – DONE WITH YOU
09. DIRTCAPS – EL FUEGO
10. DJ BRAINDEAD FT. TEDDROSS – MAKE YA
11. DIXIE – THE RIDE
12. FLØRALS – PARDON ME
13. JOYZU – RUNNING
14. UZ FEAT. CHAZ FRENCH – YOU NEVER KNOW
15. INFUZE FEAT. OKTAVIAN – ORBIT
16. HIDDN & YOUNGS – BRING THE RAIN
17. THOMAS GOLD – BETTER VERSIONS OF MYSELF
18. MÖWE FEAT. JERRY WILLIAMS – BOY OH BOY (DECOY! REMIX)
19. DANIEL CHAPMAN – BOW DOWN FEAT. AMASTRO (AMASTRO VIP)
20. GALACTIC MARVL & ALEX WINSTON – DOWN LOW
21. AUTOGRAF – NOBODY KNOWS (FEAT. WYNNE)