Mit der neuen Milk & Sugar – Legends Of House und der grandiosen Tracklist, beweisen die beiden Top Produzenten wieder einmal, dass sie auch nach 20 Jahren im Geschäft, wissen was in den Clubs gefragt ist.
Das Jahr 2017 steht bei Milk & Sugar ganz im Zeichen legendärer House Music. Zum 20-jährigen Bestehen des Duos samt Label präsentieren die beiden DJs ihre neue Compilation "Legends Of
House", auf der sie die besten Housetunes aller Zeiten zu zwei köstlichen Mixen verschmelzen.
Das Aufkommen erster Produktionen in den frühen 1980er-Jahren in Chicago – von Künstlern wie Marshall Jefferson, Jesse Saunderson und Frankie Knuckles – gilt als Geburtsstunde des zukünftig stilprägenden Genres House Music. Mit den Wurzeln im Disco – ergänzt durch Beats und Bassdrum – ein musikalischer Gegenentwurf zum unterkühlten Techno aus Detroit.
Die Faszination von House Music geht in den Neunzigern um die Welt. Es entsteht eine neue Szene – so abwechslungsreich wie das Leben, so schillernd wie die Spiegelkugeln über den Tanzflächen und so bunt wie ihre Anhängerschar. Alles in allem getrieben von dem hedonistischen Grundgedanken, mit dem Durchschreiten der Clubtüren den Alltag hinter sich zu lassen. Es entstehen einzigartige Hymnen, die bis heute die Menschen vereinen – House Music Lover alter Tage und eine nachkommende Generation, die sich vom Spirit dieser Zeit inspirieren lässt.
Auf "Legends Of House" finden sie alle wieder zusammen. Da sind zum einen mit "Higher & Higher" und "Let The Sun Shine" gleich zwei riesige Hits aus dem Milk & Sugar-Universum. Zum anderen treffen wir auf David Morales mit "Needin U" von 1998. Dieses Release untermauerte den Status des New Yorker Produzenten und DJs als ein Eckpfeiler der House Music. "Sing It Back" von Moloko erschien im selben Jahr und hat sich bis heute fest in die musikalische Historie der damaligen Frontfrau und heutigen Solokünstlerin Róisín Murphy eingebrannt.
Aus dem Jahr 2000 stammt "Finally" von Sandy Riveras Kings of Tomorrow, das die zu seiner Zeitlosigkeit passende Textzeile "time ain't nothing but time" in sich trägt.Immer wieder gelang es auch bis dato eher unbekannten Künstlern, einen bis heute gefeierten Clubhit zu landen. Da wäre zum Beispiel das Schweizer Duo Shakedown mit "At Night" aus 2002 zu nennen, sowie The Shapeshifters aus UK mit "Lola's Theme" zwei Jahre später.
In der letzten Dekade konnten so einige Künstler der langen Liste eindrucksvoller Clubhits noch etwas hinzufügen. "Body Language" von M.A.N.D.Y. und Booka Shade ist ein solches Stück, wie auch "Rej" von Âme. Beide Nummern haben die Berliner Clubkultur geprägt und gingen von dort aus um die Welt. "Legends of House – Compiled And Mixed by Milk & Sugar" erscheint am 12. Mai 2017 als 2xCDu nd Download-Edition.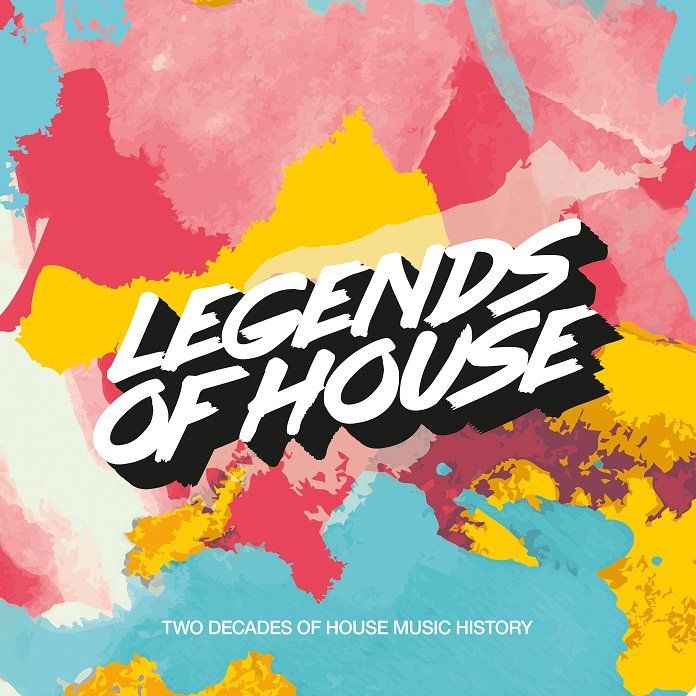 Disk 1:
1. Ultra Nate – Free (Mood II Swing Extended Vocal Mix Version 1)
2. Shakedown – At Night (Kid Crème Funksta Mix)
3. Moloko – Sing It Back (Mousse T's Feel Love Mix)
4. Afro Medusa – Pasilda (Knee Deep Club Mix)
5. Armand Van Helden feat. Duane Harden – U Don't Know Me (Original Mix)
6. Barbara Tucker – Stop Playing With My Mind (Full Intention Vocal Dub Mix)
7. David Morales Presents The Face – Needin' U (Original Mistake)
8. Milk & Sugar – Higher & Higher (David Morales 1999 Re-Edit)
9. Deux – Deux (Original Re-Mastered)
10. The Shapeshifters – Lola's Theme (Radio Edit)
11. Harry Romero – Tania (Purple Disco Machine Remix)
12. Milk & Sugar – Let The Sun Shine (Original Terrace Mix)
13. Jon Cutler feat. E-Man – It's Yours (Original Distant Music Mix)
14. Aly-Us – Follow Me (Club Mix)
Disk 2:
1. Kings Of Tomorrow – Finally (Danny Krivit / Steve Travolta Re-Edit)
2. X-Press 2 feat. David Byrne – Lazy (Mowgli Goes Deep Mix)
3. Hardrive – Deep Inside (Original Mix)
4. Julien Jabre – Swimming Places (Jerome Sydenham Remix)
5. George Morel – Let's Groove (Claptone Remix)
6. Tensnake – Coma Cat (Round Table Knights Remix)
7. Dennis Ferrer – Sinfonia Della Notte (Original Mix)
8. Âme – Rej (Original Mix)
9. Dennis Ferrer – Hey Hey (DF's Attention Vocal Mix)
10. M.A.N.D.Y. vs Booka Shade – Body Language (Original Mix)
11. Michel Cleis – La Mezcla (Paul Kalkbrenner Remix)
12. Lost 'n' Alive – Feels Like Love (Tiefschwarz Vocal Club Remix)
13. Casanovy – I Need Your Lovin' (Tom Novy Remastered)
14. Energy 52 – Cafe Del Mar (Dale Middleton Remix)