Mit der A State of Trance Festival 2015 CD kommt das Festival in Form einer ordentlichen Tracklist zu euch nach Hause. Der Name A State of Trance steht für den feinsten Trance Sound und das bereits seit mehreren Jahren.
Als Armin van Buuren im letzten Jahr bekannt gab, dass es eine A State of Trance Festival Reihe geben wird, fegte die Nachricht wie ein Lauffeuer durchs Netz. Die CD zum Festival ist der nächste Meilenstein im Umfeld von A State of Trance, kurz ASOT.
CDs der Reihe gibt es natürlich bereits länger, doch ist diese nun die erste CD zum Festival von ASOT. Wer sich im Trance Bereich etwas auskennt und einen Blick auf die Tracklist wirft, wird schnell sehen was hier für Sahnestücke auf euch warten.
Die A State of Trance Festival 2015 CD steht für euch ab dem 10. Juli 2015 für euch im Handel bereit und kann natürlich bereits jetzt bei Amazon oder anderen Shops vorbestellt werden. Wer sich vorher jedoch erst einmal einen ersten Eindruck machen möchte, kann das natürlich bei uns mit der Tracklist und dem passen Cover tun.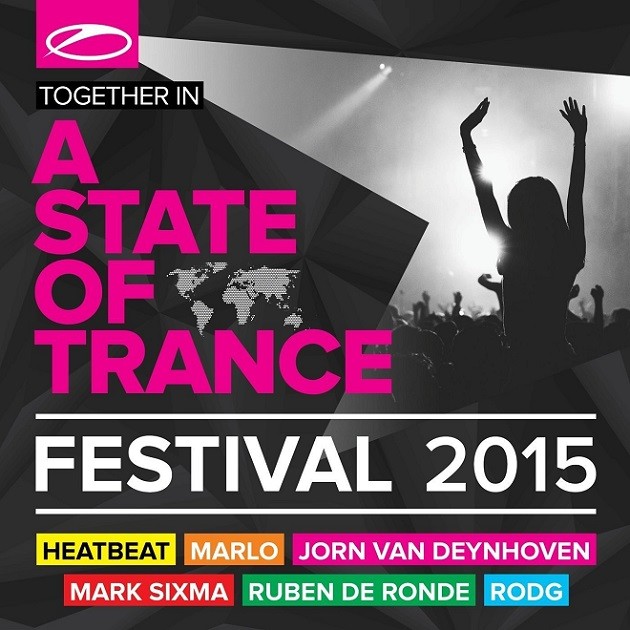 Disk: 1
1. Heatbeat & Chris Schweizer – Cell
2. CUB!C – Endless Horizon (Heatbeat Remix)
3. Andrew Rayel feat. Christian Burns – Miracles (Heatbeat Remix)
4. Heatbeat & Quilla – Secret (Kent & Gian Remix)
5. Heatbeat – Rocker Monster (Deem Remix)
6. Heatbeat – It's Killing Me
7. Heatbeat – Bloody Moon (Uplifting Mix) MaRLo
8. MaRLo feat. Jano – Haunted (Intro Mix)
9. MaRLo – Strength
10. MaRLo – Atlantis
11. Marcel Woods -Advanced (MarLo Remix)
12. MaRLo feat. Christina Novelli – Hold It Together
13. Andrew Rayel & Jwaydan – Until The End (MaRLo Remix)
14. Jurgen Vries – The Theme (MaRLo Remix) Jorn van Deynhoven
15. Jorn van Deynhoven – Freaks (Intro Mix)
16. Cosmic Gate & Emma Hewitt – Going Home (Jorn van Deynhoven Remix)
17. Dash Berlin feat. Jonathan Mendelsohn – World Falls Apart (Jorn van Deynhoven Remix)
18. Jorn van Deynhoven -New Horizons (A State Of Trance 650 Anthem)
19. Svenson & Gielen – Twisted (Jorn van Deynhoven Remix)
20. RAM – RAMsterdam (Jorn van Deynhoven Remix)
21. Armin van Buuren feat. Richard Bedford – Love Never Came (Jorn van Deynhoven Remix)
22. Armin van Buuren – Together (A State Of Trance) Bonus Track
Disk: 2
1. Mark Sixma – Requiem (Intro Mix)
2. Cosmic Gate & Eric Lumiere – Falling Back (Mark Sixma Remix)
3. M6 & Audyon – Connected
4. Mark Sixma – Adagio For Strings
5. Armin van Buuren feat. Mr. Probz – Another You (Mark Sixma Remix)
6. Armin van Buuren & Mark Sixma – Panta Rhei
7. Mark Sixma – Character -> Ruben de Ronde
8. Ruben de Ronde – Decade (Intro Mix)
9. Ruben de Ronde & Aelyn – By Your Side
10. Ruben de Ronde & DRYM – Sabado
11. Ruben de Ronde & Danny Chen – Komorebi
12. Ben Gold x Ruben de Ronde – Era Festivus
13. Cosmic Gate & Jaren – Try (Ruben de Ronde Remix) Rodg
14. Rodg feat. Patrick Baker – Someone Said
15. Rodg – Wrong Direction
16. Cosmic Gate & Mike Schmid – No One Can Touch You Now (Rodg Remix)
17. Rodg – Goldie
18. Rodg – Pendejo
19. Rodg – Delta