Kurz vor dem Release der Rock Meets Classic 2, haben wir die Tracklist für euch am Start. Auf dieser CD werden zwei Genres vereint, die auf dem ersten Blick so absolut nicht zusammen passen wollen und am Ende dann dennoch wunderbar zusammen harmonieren.
Dahinter stecken, wie auch bei der ersten Ausgabe, wieder einmal große Namen wie David Garrett, Lindsey Stirling oder dem Royal Philharmonic Orchestra. Mit diesem Staraufgebot aus dem Klassik Bereich kann eigentlich gar nichts schief gehen, der große Erfolg der ersten Ausgabe hatte dies ja bereits bestätigt.
Wer einen Blick auf die Tracklist wirft, findet ihr einzigartige Versionen großer Hits von z.B. Queen, The Rolling Stones, Sunrise Avenue, Deep Purple, Bon Jovi, U2, The Killers, van Halen, Alice Cooper, Die Toten Hosen und vielen mehr, natürlich inklusive dem Erfolgshit von Andreas Bourani "Auf uns" – erstmalig als Version mit großem Symphonie-Orchester!
Bis zum Release der Rock Meets Classic 2 dauert es zum Glück nicht mehr lange, denn bereits ab dem 26. Juni 2015 steht das gute Stück für euch im Handel bereit. Nun ist es aber auch höchste Zeit sich mit einem Blick auf die Tracklist und dem passenden Cover, einen ersten Eindruck der Rock Meets Classic 2 zu verschaffen, bevor ihr Freitag dann in den Laden stürmt.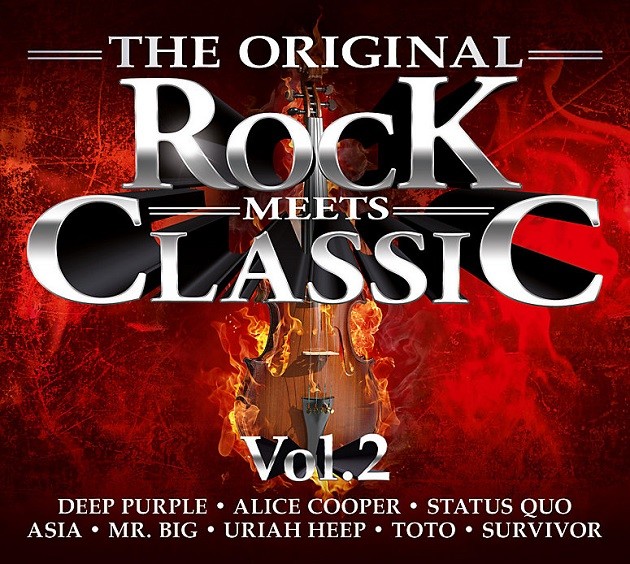 Disk: 1
1. Jump
2. Tage Wie Diese
3. We Will Rock You
4. Human
5. It's My Life
6. One
7. Auf Uns
8. Smoke On The Water
9. Hollywood Hills
10. School's Out
11. ܜber Sieben Brücken Musst Du Geh'n
12. Run To You
13. Millennium
14. Strange Days (Arr. Jaz Coleman)
15. Layla
16. Champagne Supernova
17. (I Can't Get No) Satisfaction
Disk: 2
1. Rocking All Over The World – Garrett, David
2. With Or Without You (Album Version)
3. Fields Of Gold (Album Version) – Ogden, Craig
4. Another Brick In The Wall (Arr. Jaz Coleman
5. Yellow
6. What Can I Do
7. A Whiter Shade Of Pale
8. Scored And Arranged By Jaz Coleman
9. Fanfare For The Common Man
10. Bridge Over Troubled Water
11. Light My Fire (Arr. Jaz Coleman)
12. Walk Like An Egyptian
13. Elements (Orchestral Remix) – Stirling, Lindsey
14. On The Turning Away
15. Life On Mars
16. The Final Countdown