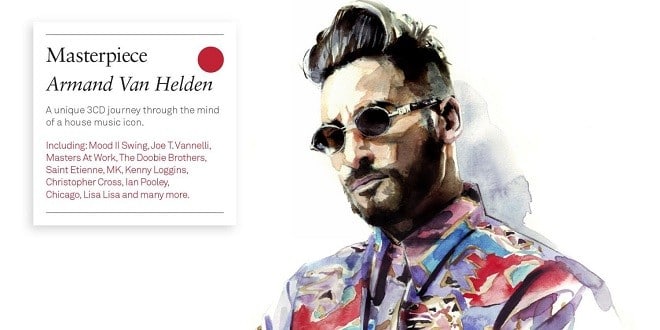 Mit der CD " Armand van Helden Masterpiece " aus dem Hause Ministry of Sound, dürfen sich die Fans auf eine weitere Top Tracklist aus England freuen. Das Label bringt derzeit soviele neue Compilations auf den Markt, dass man sich in England im Dance Bereich wohl nur noch CDs von Ministry of Sound kaufen muss.
In unseren Postfächern liegen bereits die nächsten Presse-Infos für kommende Compilations aus dem Hause Ministry of Sound. Kommen wir aber zurück zur Masterpiece, in dieser Ausgabe unter dem Stern von Armand van Helden.
Am Beispiel von Armand van Helden sieht man leider sehr gut, dass der House & Dance Musik Markt derzeit so überflutet ist, dass die ganzen jungen und somit auch neuen Anhänger der Szene, kaum noch wissen, was von wem ist. So dürften wohl sehr viele junge Besucher der zahlreichen Festival nicht einmal wissen wer Armand van Helden ist und sicherlich dabei sogar an Armin van Buuren denken.
Den Älteren ist der Name Armand van Helden natürlich noch ein Begriff, denn Anfang der 90er hatte der DJ und Produzent einen großen Hit nach dem anderen. Wenn ihr schon immer wissen wolltet, welche Tracks bei ihm ganz oben stehen, dann kommt ihr an der Ministry of Sound Armand van Helden Masterpiece nicht vorbei.
Im Handel steht das gute Stück zum Glück schon ab Morgen, dem 20 Februar 2015 und wie immer an dieser Stelle, darf die Tracklist und das Cover zur Compilation nicht fehlen.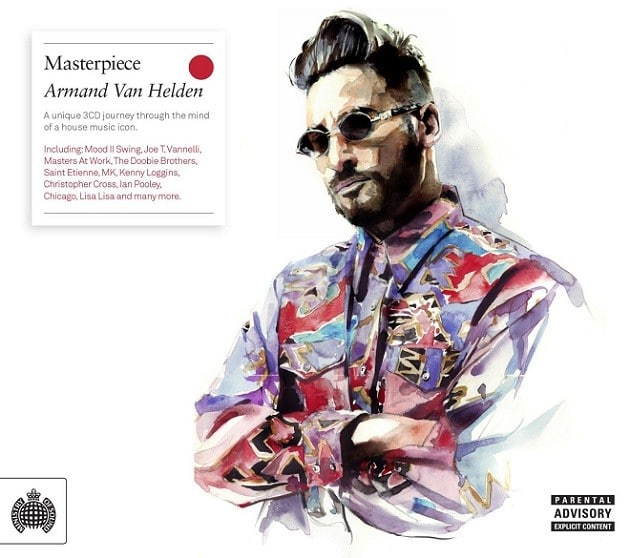 Disk: 1
1. Mood II Swing – I Need Your Luv (Right Now) Lem's Church Mix
2. Saint Etienne – Only Love Can Break Your Heart Masters At Work Dub
3. Happyhead – Digital Love Thing Underground M.K. Mix
4. Joe T. Vannelli Feat. Csilla -Play With The Voice Joe T. Vannelli Free Voice Mix
5. Groove Patrol – Need Your Love
6. Ian Pooley – Don't You Be Afraid
7. The Swing Kids – Yeah The Dope Mix
8. Three Generations Feat. Chevell – Get It Off Underground Mix
9. Sterling Void & Paris Brightledge – It's Alright Original Mix
10. Jellybean – Spillin' The Beans Alzibar Mix
11. Earth People – Dance Club Mix
12. 2 Direct – Get Down
13. Go Bitch Go! – (Work This) Pussy Original Bitch Mix
14. Soho -Hot Music
15. Logic – The Warning Inner Mix
Disk: 2
1. Christopher Cross – Ride Like The Wind
2. Little River Band – The Night Owls
3. Robbie Dupree – Steal Away
4. Kenny Loggins – This Is It
5. Exile – Kiss You All Over
6. Climax Blues Band – Gotta Have More Love
7. Toto -Georgy Porgy
8. Boz Scaggs – JoJo
9. Benny Mardones – Into The Night
10. Player – Baby Come Back Single Version
11. Ambrosia – Biggest Part Of Me
12. Chicago – Wishing You Were Here
13. The Doobie Brothers – It Keeps You Runnin'
Disk: 3
1. Giggles – Love Letter 12-inch Version
2. Stevie B – Spring Love (Come Back To Me)
3. Nocera – Summertime Summertime
4. Coro – Where Are You Tonight Extended Club Version
5. India – Dancing On The Fire Album Release
6. George Lamond – Bad Of The Heart
7. Stevie B – Dreamin' Of Love
8. Information Society – Running
9. Nice & Wild – Diamond Girl
10. Debbie Deb – Lookout Weekend
11. Freestyle – It's Automatic
12. Debbie Deb – When I Hear Music
13. Lisa Lisa & Cult Jam – I Wonder If I Take You Home
14. Hanson & Davis – Hungry For Your Love
15. Joyce Sims – (You Are My) All And All