Die BBC Radio 1 Dance Anthems Ibiza 20 Years erblickt auf dem Label Ministry of Sound mit Top Tracklist das Licht der Erde. Das ist aber auch kein Wunder, denn für den Mix auf dieser Compilation sorgt kein geringerer, als DJ-Legende Danny Howard, der in der weltweiten House / Dance Szene einen sehr guten Ruf genießt.
Ebenso legendär ist das BBC Radio 1, denn gerade in der Dance Szene hat sich der Sender einen unglaublichen Namen gemacht. Kaum ein großer Name, der nicht schon neue Songs dort zum ersten mal Live gespielt hat. So ist es nicht verwunderlich, dass man auch außerhalb des Senders, immer wieder auf den Namen stößt.
In Zusammenarbeit mit Ministry of Sound ist die BBC Radio 1 Dance Anthems Ibiza 20 Years nun entstanden und wie der Name schon sagt, bekommt ihr hier die besten Dance Anthems der letzten 20 Years und zwar direkt von der wiederum legendären Party-Insel Ibiza.
Wieder einmal heißt es hier jedoch erst einmal Geduld bewahren, denn im Handel steht das gute Stück für euch erst ab dem 7. August 2015 bereit. Schneller kommt man an das gute Stück nur über Amazon UK, denn dort erscheint die BBC Radio 1 Dance Anthems Ibiza 20 Years bereits am 31. Juli 2015.
Wir haben an dieser Stelle natürlich schon jetzt die Tracklist am Start, hier stößt ihr auf Namen wie z.B. David Guetta, Avicii, Swedish House Mafia, Calvin Harris, Daft Punk, Disclosure, Frankie Knuckles, Basement Jaxx und viele andere. Selbstverständlich gibt es oben drauf auch noch das Cover, damit ihr im Handel auch wisst, wie das gute Stück aussieht.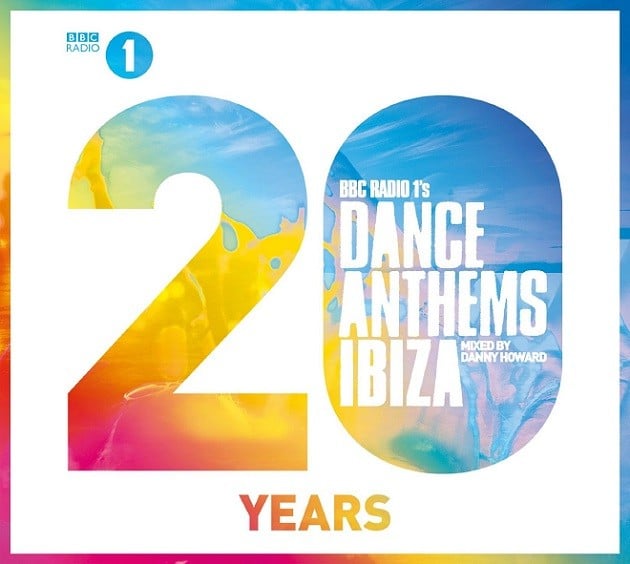 Disk 1:
1.Duke Dumont – "The Giver" (reprise)
2.Disclosure – "Bang That"
3.Denney – "Low Frequency"
4.DJ SKT – "Take Me Away" (feat Rae)
5.Bakermat – "Teach Me"
6.Tough Love – "So Freakin' Tight"
7.Hannah Wants & Chris Lorenzo – "Rhymes"
8.Kokiri – "Retrospect"
9.Gregory Porter – "Liquid Spirit"
10.Michael Calfan – "Treasured Soul"
11.KDA – "Rumble"
12.DJ Haus – "Make It Hot"
13.Tensnake – "The Walk"
14.Apres – "Chicago"
15.Jonas Rathsman – "Wolfsbane"
16.Dusky – "Skin Deep"
17.Kydus & Yousef – "Jupiter Rising" (feat The Angel)
18.Sonny Fodera & Cervendos – "High" (feat Lauren Faith)
19.Eric Prydz – "Generate"
20.Kolsch – "Derdiedas"
Disk 2:
1.Swedish House Mafia – "One"
2.Calvin Harris – "Feel So Close"
3.Avicii – "Levels"
4.Porter Robinson – "Language"
5.Eric Prydz – "Pjanoo"
6.David Guetta – "Titanium" (feat Sia)
7.Otto Knows – "Million Voices"
8.Oliver Heldens & Becky Hill – "Gecko (Overdrive)"
9.Steve Angello & Laidback Luke – "Show Me Love" (feat Robin S)
10.Duke Dumont – "I Got U" (feat Jax Jones)
11.Hot Natured – "Benediction"
12.Watermat – "Bullit"
13.Oliver $ & Jimi Jules – "Pushing On"
14.Secondcity – "I Wanna Feel"
15.Disclosure – "Latch" (feat Sam Smith)
16.Route 94 – "My Love" (feat Jess Glynne)
17.Ben Pearce – "What I Might Do"
18.Wankelmut & Emma Louise – "My Head Is A Jungle"
19.Flashmob – "Need In Me"
20.Chris Malinchak – "So Good To Me"
Disk 3:
1.The Chemical Brothers – "Hey Boy Hey Girl"
2.Fatboy Slim – "Right Here Right Now"
3.Faithless – "God Is A DJ"
4.Layo & Bushwacka – "Love Story vs Finally" (bootleg)
5.Michel Cleis – "La Mezcla" (feat Toto La Momposina)
6.Cassius – "Cassius 99"
7.Dennis Ferrer – "Hey Hey"
8.Mark Knight & Funkagenda – "Man With The Red Face"
9.The Shapeshifters – "Lola's Theme"
10.Tori Amos – "Professional Widow"
11.Noir & Haze – "Around"
12.Tensnake – "Coma Cat"
13.Marshall Jefferson – "Move Your Body"
14.MANDY vs Booka Shade – "Body Language"
15.Nalin & Kane – "Beachball"
16.Gat Decor – "Passion"
17.Energy 52 – "Cafe Del Mar"
18.Paul Woodford presents Bobby Peru – "Erotic Discourse"
19.Lifelike & Kris Menace – "Discopolis"
20.Frankie Knuckles – "Your Love" (feat Jamie Principle)