Bereit für die neue Compilation Best Of 2017 – Frühlingshits und ihre grandiose Tracklist ? Wer sich zumindest musikalisch schon einmal auf den Frühling einstimmen will, sollte die neue Best Of 2017 – Frühlingshits definitiv im Auge behalten, denn hier bekommt ihr alle Top Tracks, die sich derzeit in den Charts tummeln.
Wenn die ersten warmen Tage des Jahres zum gemütlichen Runde am Grill einladen, darf die passende Musik natürlich nicht fehlen. Man will sich schließlich nicht mit Musik blamieren, die allen bereits aus den Ohren raushängen. Also holt euch lieber eine der neuen Compilations und ihr seid bestens gerüstet.
Der Release Termin ist vielleicht etwas unglücklich gewählt worden, denn nur 2 Wochen vorher und zwar am 17. Februar 2017 kommt die neue Bravo Hits 96 auf den Markt, die sicherlich schon einen ganzen Teil der Zielgruppe im Charts Musik Bereich abdecken wird. Floppen wird diese Compilation jedoch nicht, denn das Werbepaket wird wieder recht groß sein.
Damit ihr wisst was euch auf der Best Of 2017 – Frühlingshits erwarten, wenn sie dann am 3. März 2017 endlich in den Handel kommt, haben wir natürlich wie immer an dieser Stelle die Tracklist und das passende Cover für euch parat, so könnt ihr euch zumindest schon einmal in die Tracklist hinein lesen.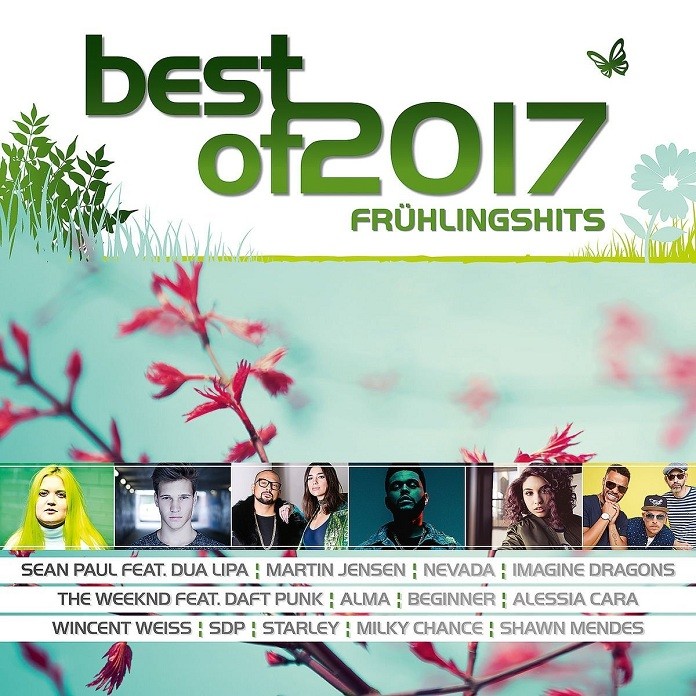 Disk: 1
1. No Lie – Paul, Sean
2. Solo Dance – Jensen, Martin
3. The Mack – Nevada
4. Dye My Hair – ALMA
5. No Roots (Single Version) – Merton, Alice
6. Call On Me (Ryan Riback Remix) – Starley
7. Places – Solveig, Martin
8. By Your Side – Blue, Jonas
9. You Don't Know Me (Radio Edit) – Jones, Jax
10. I Feel So Bad – Kungs
11. Cocoon – Milky Chance
12. Hear Me Now – Alok
13. Despacito – Fonsi, Luis
14. Meine Posse – Beginner
15. Ohne mein Team – Bonez MC
16. Black Beatles – Rae Sremmurd
17. Down – Marian Hill
18. Thinking 'Bout You – Lipa, Dua
19. September Song – Cooper, JP
20. Starving – Steinfeld, Hailee
& Like Mike 21. Hey Baby (Dimitri Vegas & Like Mike Vs. Diplo) – Dimitri Vegas & Like Mike
22. Bungalow – Bilderbuch
Disk: 2
1. Believer – Imagine Dragons
2. Starboy – The Weeknd
3. Scars To Your Beautiful – Cara, Alessia
4. Let's Hurt Tonight – OneRepublic
5. Dancing On My Own – Scott, Calum
6. Mercy – Mendes, Shawn
7. Wenn sie tanzt (Single Version) – Giesinger, Max
8. Feuerwerk – Weiss, Wincent
9. Nummer Eins – Stereoact
10. So schön kaputt – SDP
11. On Hold – xx, The
12. What Do You Love – Seeb
13. Don't Wanna Know (Alternate Version) – Maroon 5
14. Send Them Off! – Bastille
15. Silver Lining (Clap Your Hands) – Imany
16. Dream On – Macdonald, Amy
17. Don't Mind Me – Walking On Cars
18. Waves – Lewis, Dean
19. Tausend bunte Träume – le Play, Julian
20. Irgendwas – Catterfeld, Yvonne
21. Breathing Underwater – Sandé, Emeli
22. Million Reasons – Lady Gaga