Durch die neue Best of 2018 – die Hits des Jahres, bekommt ihr alle Top Hits des Jahres in einer Tracklist vereint. In diesem Jahr waren wieder einmal die unterschiedlichsten Songs in den Single Charts ganz vorne mit von der Partie, kein Wunder also das die Best of 2018 so vielseitig um die Ecke kommt.
Wenn ihr euch also die besten Hits des Jahres noch einmal sichern wollt, dann seid ihr mit der neuen Best of 2018 – die Hits des Jahres genau richtig beraten. Jedoch solltet ihr das gute Stück nicht überstürzt erwerben, denn in den nächsten Wochen kommen noch weitere Best of CDs auf den Markt.
Ein Blick auf die Tracklist ist vor dem Kauf also ein muss, damit ihr auch sicher sein könnt, dass eure Lieblings Tracks des Jahres auch dabei sind. Werfen wir doch einfach mal einen Blick auf die Tracklist der neuen Best of 2018 – die Hits des Jahres, um zu schauen was ihr hier für euch Geld am Ende auch bekommt.
So sind Tracks dabei von z.B. Felix Jaehn, Armin van Buuren, Capital Bra, Pietro Lombardi, Leon Machère, Maroon 5, Alvaro Solar, Nico Santos, Imagine Dragons, Namika, Kerstin Ott, Glasperlenspiel, Unheilig, Sean Paul und wirklich unheimlich vielen weiteren Top Songs aus den Single Charts 2018.
Der Release der Best of 2018 – die Hits des Jahres ist für den 26. Oktober 2018 angesetzt und natürlich haben wir auch hier wieder die Tracklist und das passende Cover für euch rausgesucht.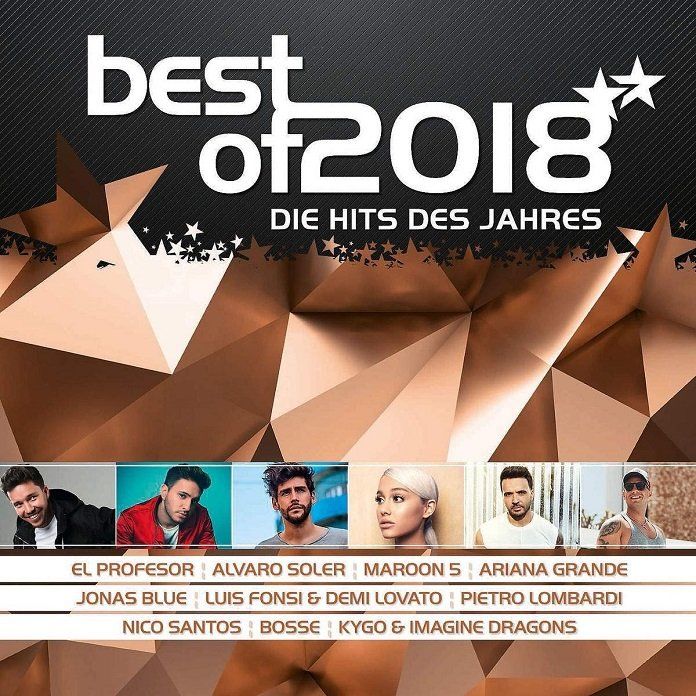 Disk 1:
01.Gigi D'Agostino, Dynoro – In My Mind 3:03
02.El Profesor – Bella Ciao (HUGEL Remix) 2:46
03.Maroon 5 – Girls Like You 3:35
04.Felix Jaehn – Jennie 3:05
05.Imagine Dragons, Kygo – Born To Be Yours 3:13
06.Loud Luxury Remix – Body 2:44
07.Jonas Blue – Rise 3:14
08.Armin van Buuren – Blah Blah Blah 3:05
09.Bonez Mc, Raf Camora – 500 Ps 3:03
10.Olexesh – Magisch 4:10
11.Capital Bra – Melodien 2:41
12.Jax Jones, Ina Wrolsden – Breathe 3:29
13.Mike Candys, Jack Holiday – The Riddle Anthem Rework 2:54
14.Tiësto, Dzeko – Jackie Chan 3:37
15.Sean Paul, David Guetta – Mad Love 3:21
16.Liam Payne, J. Balvin – Familiar 3:18
17.Pietro Lombardi – Phänomenal 3:11
18.Leon Machère – Copacabana 3:30
19.Cro – oneway 4:13
20.Rea Garvey – Is It Love? 3:17
21.Kerstin Ott – Regenbogenfarben 3:48
22.Glasperlenspiel – Royals & Kings 3:37
23.Unheilig, Sotiria – Hallo Leben 3:48
Disk 2:
01.Namika – Je ne parle pas français (Beatgees Remix) 3:40
02.Alvaro Soler – La Cintura 3:25
03.Luis Fonsi, Demi Lovato – Échame La Culpa 2:54
04.Nico Santos – Oh Hello 3:05
05.Imagine Dragons – Natural 3:09
06.Dean Lewis – Be Alright 3:16
07.Shawn Mendes – In My Blood 3:32
08.Wincent Weiss – An Wunder 3:22
09.Hugo Helmig – Wild 3:30
10.Ariana Grande – no tears left to cry 3:26
11.Ramz – Barking 3:26
12.Post Malone – Better Now 3:51
13.Lenny Kravitz – Low (Edit) 4:01
14.Bosse – Augen zu Musik an 3:04
15.Stefanie Heinzmann – Build A House 3:02
16.Rhodes, Alle Farben – H.o.l.y. 2:56
17.Lost Frequencies – Melody 2:30
18.Matt Simons- We Can Do Better 3:00
19.Dua Lipa – Idgaf 3:38
20.Kylie Minogue – Dancing 2:59
21.Christina Stürmer – In ein paar Jahren 3:36
22.Michael Schulte – You Let Me Walk Alone 2:57
23.Max Giesinger – Legenden 3:44