Bereit für den Sommer ? Die Best of 2018 – Sommerhits schickt euch mit ihrer Tracklist direkt in die warne Jahreszeit voller Sommer Hits. In jedem Jahr beginnt kurz vor dem Sommer das Rennen um den diesjährigen Sommer Hit, denn wer sich hier ganz oben platziert, hält sich meist mehrere Wochen ganz oben in den Charts.
Das Resultat ist hier dann natürlich volle Kassen, denn auch auf Youtube, Spotify oder im Radio wird der Sommer Hit 2018 natürlich wieder rauf und runter gespielt. Nach dem viel zu frühen Tod von Avicii könnte ein letzter Song von ihm sicherlich die Charts stürmen, denn ein Album soll wohl bereits fast fertig produziert sein.
Die Verkäufe von Avicii sind in den USA um 6000% gestiegen nachdem die tragische Meldung die Runde machte.. Kommen wir aber zurück zur Best of 2018 – Sommerhits, hier findet ihr jede Menge Top Tracks von z.B. Felix Jaehn, Robin Schulz, Sean Paul, Zedd, Daddy Yankee, DJ Snake, Rudimental und viele mehr.
Bis zum Release müsst ihr euch jedoch noch ein wenig gedulden, denn die Best of 2018 – Sommerhits steht für euch erst ab dem 18. Mai 2018 im Handel parat. Wie immer an dieser Stelle, dürfen hier nun natürlich die Tracklist und das passende Cover nicht fehlen, damit ihr schon vor dem Kauf wisst, was euch hier erwartet.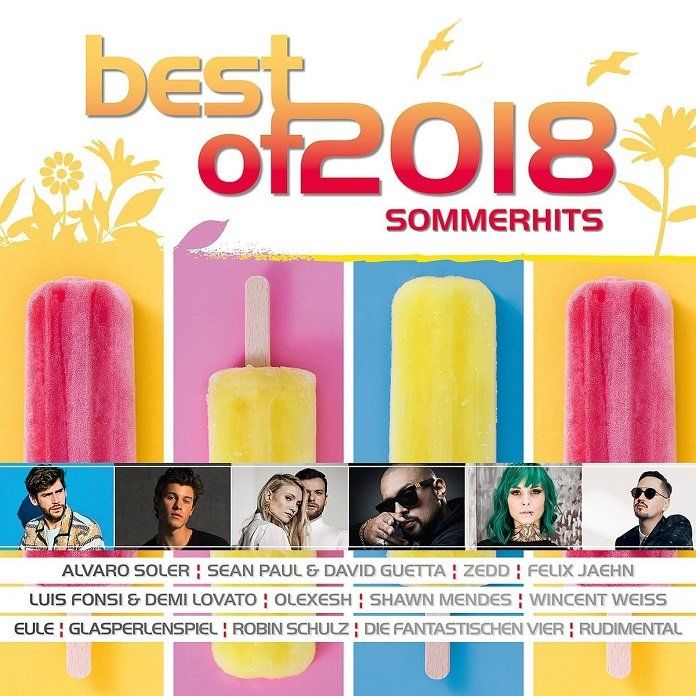 Disk: 1
1. La Cintura – Soler, Alvaro
2. Échame La Culpa – Fonsi, Luis
3. Mad Love – Paul, Sean
4. The Middle – Zedd
5. Unforgettable – Schulz, Robin
6. These Days – Rudimental
7. Cool – Jaehn, Felix
8. Paradise – Ezra, George
9. Dancing – Minogue, Kylie
10. Secrets – Micar
11. Breathe – Jones, Jax
12. Magenta Riddim – Snake, DJ
13. Bum Bum Tam Tam – Mc Fioti
14. Princesa – TINI
15. Dura – Daddy Yankee
16. Guatemala (From Swaecation) – Rae Sremmurd
17. Miss You – Cashmere Cat
18. We Can Do Better – Simons, Matt
19. Hurt Somebody – Kahan, Noah
20. That Way – SDJM
21. Alien – Carpenter, Sabrina
22. Youngblood – 5 Seconds Of Summer
23. Bad Girls Don't Cry – The Night Game
Disk: 2
1. Zusammen – Die Fantastischen Vier
2. Magisch – Olexesh
3. Barking – Ramz
4. Is It Love? – Garvey, Rea
5. Next To Me – Imagine Dragons
6. In My Blood – Mendes, Shawn
7. An Wunder – Weiss, Wincent
8. Royals & Kings – Glasperlenspiel
9. Rooftop – Santos, Nico
10. Sanctuary – Welshly Arms
11. Sick Boy – Chainsmokers, The
12. Sanctify – Years & Years
13. Psycho – Post Malone
14. Immer wieder – Rooz
15. Eloah – Sun Diego
16. Everyday – Logic
17. Barbie Tingz – Minaj, Nicki
18. Oder nicht – Kontra K
19. You Let Me Walk Alone – Schulte, Michael
20. You Are The Reason – Scott, Calum
21. Du fängst mich ein – Sasha
22. Genau hier – SARAH
23. Musik an, Welt aus – EULE