Das Ende des Jahres ist nah, höchste Zeit für die Best of Black 2014, die Tracklist hat es natürlich auch in diesem Jahr wieder einmal in sich, das ist aber auch kein Wunder, denn auf einer "Best of" CD sind eben nur die besten Tracks vorhanden.
In Sachen Black Musik gibt im Vergleich zum Dance bzw. House Music Sektor kaum Compilation und so freut sich die Black Musik Gemeinde besonders auf das neue Werk aus dem Hause Sony Music.
Das man hier wirklich nur die besten Hits des Jahres findet, sieht man schnell wenn man einen Blick in die Tracklist wirft, denn hier findet sich nur große Namen wie z.B. Pitbull, Pharrell Williams, Lil Wayne, Usher, Alicia Keys, Jason Derulo und vieles mehr.
Jedoch kommen überraschenderweise auch die House Music Fans auf ihre kosten, denn mit Tracks wie "Waves" von Mr. Probz im Robin Schulz Remix, finden sich auch House Music Tracks auf der Best of Black 2014.
Im Handel steht das gute Stück bereits ab dem 14. November 2014 und somit ist hier allerhöchste Eile geboten, endlich einen Blick auf die Tracklist und das Cover zu werfen.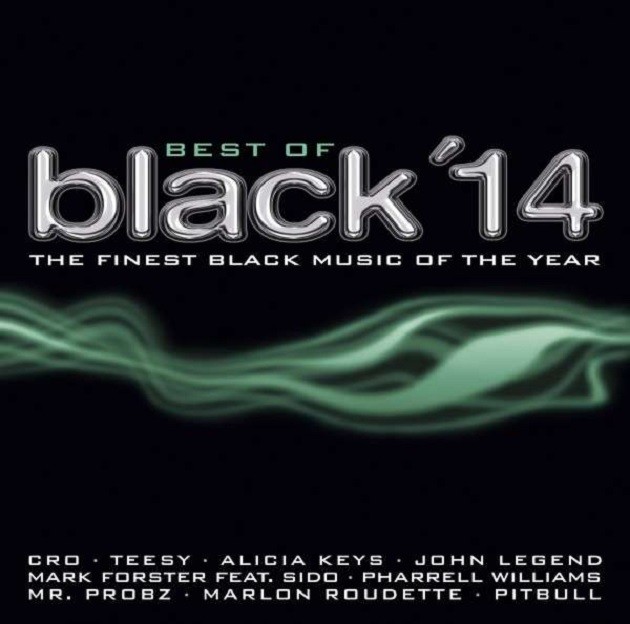 Disk 1:
1. Happy (From "Despicable Me 2") – Pharrell Williams 3:52
2. Am I Wrong – Nico & Vinz 4:05
3. Fireball – Pitbull feat. John Ryan 3:55
4. Bang Bang -Jessie J, Ariana Grande & Nicki Minaj 3:17
5. Wiggle – Jason Derulo 3:11
6. Liar Liar – Cris Cab 3:32
7. Waves (Robin Schulz Radio Edit) – Mr. Probz 3:27
8. We Are Here – Alicia Keys 4:43
9. Problem – Ariana Grande feat. Iggy Azalea 3:13
10. Loyal [Explicit] – Chris Brown feat. Lil Wayne & Tyga 4:24
11. She Came to Give It to You [Explicit] – Usher feat. Nicki Minaj 4:01
12. Don't Wait – Mapei 3:34
13. Twerk It Like Miley – Brandon Beal feat. Christopher 3:20
14. Don't Tell' Em – Jeremih feat. YG 4:28
15. We Dem Boyz [Explicit] – Wiz Khalifa 3:44
16. Turn Down for What – DJ Snake & Lil Jon 3:33
17. Bend Ova [Explicit] – Lil Jon feat. Tyga 3:46
18. No Mediocre – T.I. feat. Iggy Azalea 3:21
19. L.A. Love (lala) – Fergie 3:13
20. First Love – Jennifer Lopez 3:35
Disk 2:
1. All of Me – John Legend 4:30
2. When the Beat Drops Out – Marlon Roudette 3:23
3. I Will Never Let You Down – Rita Ora 3:23
4. Shower – Becky G 3:26
5. It's My Birthday – will.i.am feat. Cody Wise 4:12
6. Anaconda [Explicit] – Nicki Minaj 4:21
7. Lullaby – Professor Green feat. Tori Kelly 4:53
8. Party Ain't A Party [Explicit] – Jamie Foxx feat. 2 Chainz 3:46
9. Jungle – X – Cro 3:37
12. Au Revoir – Mark Forster feat. Sido 3:23
13. Mein Rostock – Marteria 3:58
14. Hüftgold Berlin – Miss Platnum 3:06
15. Baby du riechst – 257ers 3:54
16. SOS – Teesy feat. Cro 3:28
17. Ich bin raus – Flo Mega 2:59
18. A-N-N-A (immer wenn es regnet) (MTV Unplugged/ Radio Version) – Max Herre 3:51
19. St. Pauli (Single Edit) – Jan Delay 3:53
20. Und Los – Die Fantastischen Vier 3:59