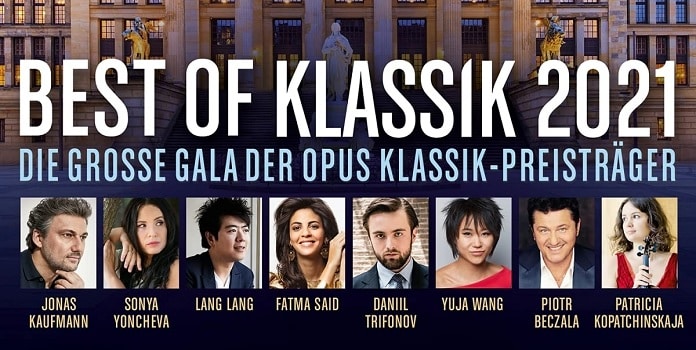 Die neue Compilation Best Of Klassik 2021 – Opus Klassik, kommt mit ihrer Tracklist passend zur großen Opus Klassik Gala, welche vom ZDF übertragen wird auf den Markt. Die festliche Veranstaltung, findet am 10. Oktober 2021 im Konzerthaus Berlin statt und wird, wie auch in den Jahren zuvor vom ZDF übertragen.
Bei so einer Veranstaltung ist natürlich das Who is Who des gesamten Klassik Bereich vertreten. Kein Wunder also, dass diese Compilation zu den beliebtesten Klassik CDs der letzten Monate gehört und schon jetzt in den Vorbesteller Charts der großen Online-Shops sich immer weiter nach vorne schiebt.
So befinden sich auch auf der zur Gala passenden Compilation Best Of Klassik 2021 – Opus Klassik zahlreiche Top-Künstler. Gemeint sind hier unter anderem Künstler wie z.B. Regula Mühlemann, Daniil Trifonov, Jonas Kaufmann, Sonya Yoncheva, Lang Lang, Fatma Said, Piotr Beczala, John Williams und vielen weiteren.
Wer die klassische Musik liebt, sich aber kein Exemplar kaufen möchte, kann ja einmal versuchen sie zu gewinnen. Denn während der Show, kann man auf der ZDF Webseite gleich 25 Exemplare gewinnen. Infos dazu werden allerdings erst kurz vorher veröffentlicht, so dass wir derzeit nichts zum Gewinnspiel sagen können.
Die Best Of Klassik 2021 – Opus Klassik steht ab dem 8. Oktober 2021 für euch im Handel bereit. Neben dem Cover, haben wir natürlich auch die passende Tracklist für euch rausgesucht, damit ihr schon vor dem Kauf wisst, was euch hier alles erwartet.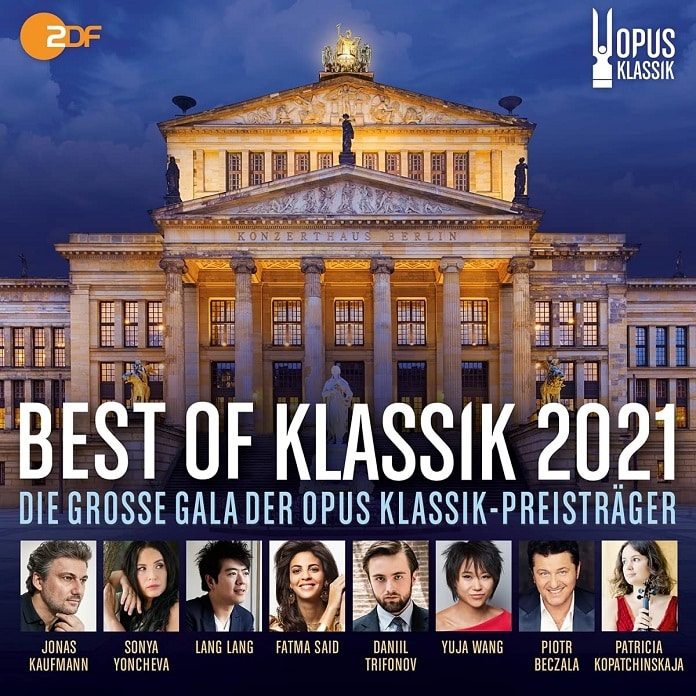 Disk 1:
1.Goldberg Variations, BWV 988: Variatio 7 a 1 ovvero 2 Clav. Al tempo di Giga
2.Concerto for Clarinet and Orchestra No. 1 in B-Flat Major 'Sant' Angelo'
3.Piano Sonata No. 8 in B-Flat Major, Op. 84: II. Andante sognando
4.Verdi: Otello
5.7 Gypsy Songs, Op.55/B.104: No. 4, Songs My Mother Taught Me (Arr. for Violin & Piano by Augustin Hadelich)
6.Come Again, Sweet Love Doth Now Invite
7.Vocalise, Op. 34, No. 14
8.China Gates
9.Que Sera, Sera
10.Rondo concertante (Arr. for Piano Quintet after Piano Sonata, K. 333/315c: III. Allegretto grazioso by Dejan Lazic)
11.Le nozze die Figaro, K. 492, Act IV: Giunse alfin il momento… Deh vieni non tardar (Susanna)
12.Symphony No. 2 in E Minor: III. Un poco adagio cantabil
13.Studies for 2 Pianos on 'The Art of Fugue', BWV 1080 by J.S. Bach
14.Symphony No. 40 in G Minor, K. 550: III. Menuetto (Allegretto) – Trio
15.On the Overgrown Path, Book 1, No. 7: Dobrou noc!
16.The Song of Veslemoy (Arr. for Hardanger Fiddle & Piano by Tormod Tvete Vik)
17.3 Melodies, Op. 7: No. 1, Apres un reve
18.Suite No. 3 in C Major, BWV1009 (Transcr. for Viola by Tabea Zimmermann): I. Prelude
19.Cello Concerto in E Minor, Op. 85: III. Adagio
20.String Quartet No. 7 in F Major, Op. 59, No. 1 'Rasumovsky Quartet': IV. Allegro
Disk 2:
1.Polifemo
2.Turandot, SC 91, Act 3: Nessun dorma
3.Godfather Waltz
4.GoldBergHain (Quodlibet on 'Kraut und Rüben haben mich vertrieben') for Violin & String Orchestra
5.Sonata for Clarinet and Piano No. 2 in E-Flat Major, Op. 120: II. Allegro appassionato
6.Aatini Al Naya Wa Ghanni
7.Oblivion (Arr. for Trumpet & Orchestra by Bob Zimmerman)
8.Trio for Flute, Violoncello & Piano: I. Allegro
9.Violin Concerto in E-Flat Major, RV 253: III. Presto
10.Jesu, meine Freude, BWV 227: No. 1, Jesu meine Freude
11.Concerto for Trumpet & Orchestra in A-Flat Major: III. Meno mosso
12.Medea, L. 477: I. Eingang
13.12 Etudes, Op. 25: No. 1 in A-Flat Major, 'Aeolian Harp'
14.Cello Suite Nr. 1 in G Major, BWV 1007: I. Prelude
15.Godzilla – Symphonic Fantasy: No. 7, Godzilla vs. Kingghidorah (Excerpt)
16.Symphony No. 10: III. Purgatorio (Arr. for Chamber Ensemble by Michelle Castelletti)
17.Berliner Luft
18.Suite bergamasque, L. 75: No. 3, Clair de Lune (Arr. for Cello & Guitar by Isang Enders)
19.Maria durch ein Dornwald ging
20.Die Seejungfrau – Fantasy for Orchestra: II. Sehr gedehnt, mit schmerzvollem Ausdruck (Excerpt)