Die Booom 2021 – The First bringt euch mit ihrer Tracklist die ersten großen Hits des kommenden Jahres. Bevor ihr nun denkt, da kenne ich doch bereits viele Songs von, das ist natürlich richtig. Dennoch werden zahlreiche Songs auch über den Jahreswechsel hinaus, sich sehr erfolgreich in den Charts platzieren.
Da die Silvester Party in diesem Jahr für viele sich deutlich unterscheiden wird, im Vergleich zu allen Jahren zuvor, sollte man sich gut vorbereiten. Wenn man schon nur im kleinem Kreis feiern kann, dann sollte es auch musikalisch an nichts fehlen, damit keine schlechte Stimmung aufkommen wird.
Schauen wir an dieser Stelle einfach mal auf die Tracklist der neuen Booom 2021 – The First, denn hier findet ihr zahlreiche Top Tracks. Gemeint sind Songs von z.B. Johannes Oerding, Silbermond, Revolverheld, Clueso, 24kGoldn, Kelvin Jones, Tina Turner, James Arthur und viele weitere.
Wer jetzt so richtig Lust auf die Booom 2021 – The First bekommen hat, der muss zwar noch bis zum Release am 11. Dezember 2020 warten, kann die Zeit aber natürlich sinnvoll nutzen, um sich bereits jetzt ein Exemplar vorzubestellen.
Wie immer an dieser Stelle, darf die Tracklist und das passende Cover nicht fehlen, damit ihr schon vor dem Kauf wisst, was euch alles erwartet.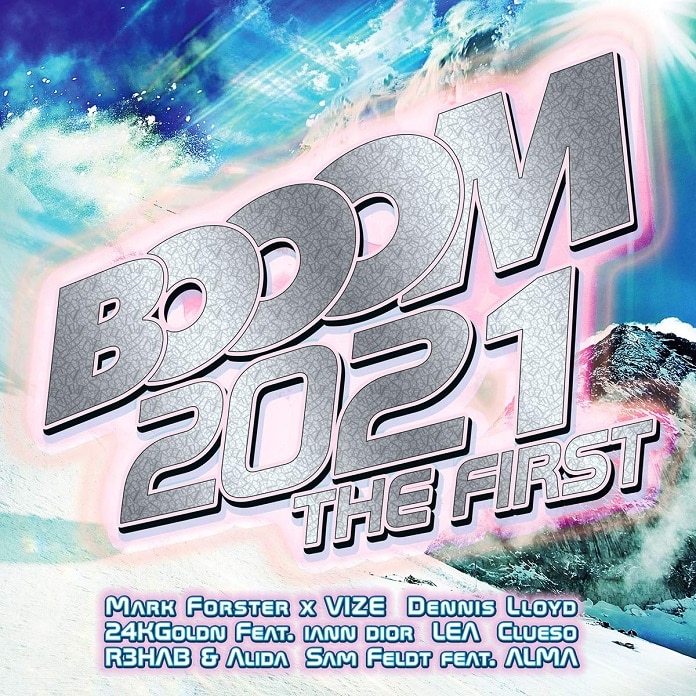 Disk 1:
01.24kGoldn feat. iann dior – Mood 2:22
02.Internet Money – Lemonade ft. Don Toliver, Gunna & Nav 3:16
03.Dennis Lloyd – Alien 2:20
04.Kelvin Jones – Don't let me go 2:35
05.Johannes Oerding – Ketten 3:27
06.Lea – Du tust es immer wieder 2:46
07.KitschKrieg & Jamule – Unterwegs 3:54
08.Sido, Alligatoah – Monet 3:08
09.Loredana, Delara – Checka 2:20
10.Nio Garcia Nea – Diablo 2:46
11.Ritt Momney – Put your records on 3:28
12.Mathea – Nur noch eine Zahl 2:38
13.Silbermond – Ein anderer Sommer 3:27
14.Little Mix – Sweet melody 3:33
15.Anstandslos & Durchgeknallt, Octavian, Vitali … Zestovskih – Wenn du alleine tanzt 2:00
16.Lucky Luke – Cooler than me 3:00
17.Ilira – Eat my brain 2:58
18.Revolverheld – Leichter 3:21
19.Michael Schulte – For a second 3:16
20.Teddy Failure – Tissues 2:35
21.Clueso – Aber ohne Dich 2:54
22.Tate McRae – You broke me first 2:47
Disk 2:
01.Mark Forster, Vize – Bist du Okay 2:51
02.Hvme – Goosebumps 2:45
03.Kiddo, Robin Schulz – All we got 3:12
04.Nea, Bryn Christopher, Felix Jaehn – No therapy 2:54
05.Tina Turner, Kygo – What's love got to do with It 3:28
06.Leony, Vize, Joker Bra – Paradise 2:37
07.Gigi D'agostini, LA Vision – Hollywood 3:19
08.Trevor Daniel, Don Diablo & Imanbek – Kill me better 3:15
09.James Arthur, Sigala – Lasting lover 3:40
10.Younotus, Amber Van Day – Papa 2:52
11.Lizot, Vamero – Bleeding love 2:50
12.Gabry Ponte, Lizot, Galwaro – Like a prayer 2:45
13.Paolo Pellegrino, N.F.I. Shanguy – Oops (Go Back To Your Ex) 2:44
14.Freischwimmer, Joey Djia – Catching Fire 2:55
15.Lizot – Trippin' 2:23
16.Jerome – Sick of you 2:34
17.James Gillespie, Decco – I didn't know (LIZOT Remix) 2:19
18.Alok, Tove Lo, Ilkay Sencan – Don't Say Goodbye 3:08
19.Gamper, Dadoni, Ilira – Rule the world 2:52
20.Alma, Sam Feldt, Digital Farm Animals – Home sweet home 2:59
21.Alida, R3hab – One more dance 2:27
22.Usher, Marshmello, Imanbek – Too Much 2:45