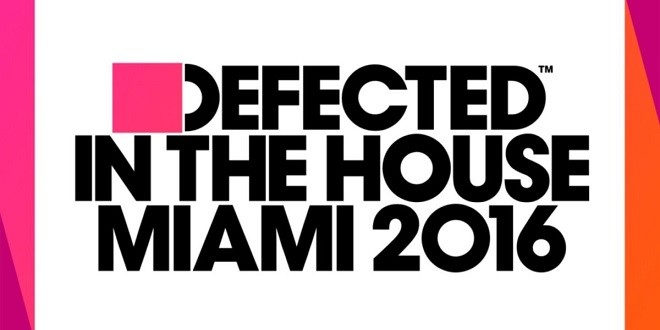 Die Defected in the House Miami 2016 rückt näher und bringt in ihrer Tracklist wieder reichlich Sahnestücke mit. Pünktlich zur Winter Musik Konferenz in Miami, steht die Defected in the House Miami 2016 auch wieder in den Startlöchern.
Diese Compilation gehört zu den beliebtesten House Music Samplern der Welt. Ein Grund dafür dürfte eben die Tracklist sein, denn im Vergleich zur Kontor House of House oder ähnlichen House Music Compilation, ist sie eben nicht voll mit den ganzen Tracks die überall rauf und runter laufen.
Auch dieses Jahr wieder gibt es auch eine ganze Reihe von Tracks bzw. Remixen, die es derzeit nur exklusiv auf der Defected in the House Miami 2016 gibt und noch auf keinen anderen Sampler. Ein weiterer Pluspunkt ist sicher auch der Preis, denn hier bekommt ihr 3 CDs voll mit Top Tracks und das zum Preis von unter 18 €.
Im Handel steht das gute Stück für euch ab dem 26. Februar 2016 bereit und wie immer an dieser Stelle haben wir die Tracklist und das passende Cover für euch am Start. Damit ihr euch jedoch einen besseren ersten Eindruck von der Defected in the House Miami 2016 machen könnt, haben wir auch den MiniMix zur Compilation eingebunden.
Sie sehen gerade einen Platzhalterinhalt von Standard. Um auf den eigentlichen Inhalt zuzugreifen, klicken Sie auf die Schaltfläche unten. Bitte beachten Sie, dass dabei Daten an Drittanbieter weitergegeben werden.
Mehr Informationen
Disk: 1
1. Paris Groove (Feat. Mayer Hawthorne) [Club Mix] – Boston Bun
2. Keep Pushin' (Purple Disco Machine Vox Mix) – Dlugosch, Boris
3. Church Lady (Feat. Danil Wright) [Dennis Ferrer Dub] – Dennis Ferrer
4. Take It Easy (Sonny Fodera & Mat.Joe Remix) – Gershon Jackson
5. Keep My Cool – Rizardo, Franky
6. In And Out Of My Life (Av8 Mix) – Tonja Dantzler
7. The Superdope – Riva Starr
8. Los Pueblos (Pablo Fierro Remix) – Pino Arduini & Javier Bollag
9. Too Much Information (Laolu Remix) [Edit] – Dele Sosimi Afrobeat Orchestra
10. I Get Deep (Feat. Roland Clark) [Late Nite Tuff Guy Remix] [Emanuel Satie Rework] – Dj Le Roi
11. Mighty Kingdom – Anotr
12. About Time (Feat. Elisabeth Troy) – Martin Ikin & Low Steppa
13. Jas (Eli's Bonus Beats) – Deluxe, Tim
14. I Want To Thank You (Mk Dub) – Latrece
15. If Only I Could (Feat. Steve Lucas) [Liem Remix] – Fusion Groove Orchestra
Disk: 2
1. Rinse & Repeat (Feat. Kah-Lo) [Busy P & Boston Bun Remix] – Riton
2. Walk Out – Dimo (Bg)
3. Big Discs (Original Mix) – Eats Everything
4. U Won't C Me (Accapella) – Mystic Bill
5. Fiore (Original Mix) – Dario D'attis & David Aurel
6. This Time – Worthy
7. Bless Her Soul (Feat. Meleka) [Dub Vox Mix] – Man Without A Clue
8. Searching (Feat. Jinadu) [Deetron Remix] – Everything, Fred
9. The Guru (Original Mix) – Pele & Shawnecy
10. Lush (Feat. Imma/Mess) [Accapella] – Hannah Holland
11. Can You Feel It (Steve Bug Re-Dub) – Damier, Chez
12. Heal My Heart (Feat. Treasa "Diva" Fennie) [Kaoz Original Concept Mix] – Chandler, Kerri
13. Get Dumb – Friend Within
14. Do It Good (Riva Starr Back To Detroit Mix) – Sísy Ey
15. Da House Dat Jack Built – Sanchez, Junior
16. Forever (Feat. Sabrina Johnston) [Bc's Darkroom Dub] – Key To Life
17. Withdrawals (Feat. Wills) – Crookers
Disk: 3
1. What Am I Here For? (Kai Kzr Alcé Late Night Mix) – The Dangerfeel Newbies
2. Blue Eyed Funk Machine – Grey Area
3. Feeling You (Feat. Yasmin) [Deep Mix] – Sonny Fodera
4. Jus' Friends – Heller & Farley Project
5. My Tip – D'attis, Dario
6. Need Luv – Vrrs
7. Toy (Feat. Shaun J. Wright) – The Cucarachas
8. Techno Disco (Kink Remix) – Kerrier District
9. Cloche (Tuff City Kids Club Mix) – Fort Romeau
10. Aisha – Tommy Bones
11. Too Long (Detroit Swindle Remix) – Romanthony
12. Yo (Original Mix) – Purple Disco Machine
13. Afrodisiac – Grey Area
14. Dome – Konstantin Sibold
15. 4 D.D. (For Devotion) [Smoothie Harden Mix] – K.C.Y.C.
16. I Believe (Accapella) – Tigerskin & The Lazarusman