Die Ultimative Chartshow – Hits 2017 bringt euch mit ihrer umfassenden Tracklist, die besten Hits des Jahrs nach Hause. Jeder kennt es wohl, man möchte alle Top Hits des Jahres für die Musiksammlung zu Hause haben, sich jedoch nicht zahlreiche CDs kaufen müssen dafür.
Genau an diesen Stellen, kommen die zahlreichen Best Of CDs zum Einsatz, wie z.B. die Die Ultimative Chartshow – Hits 2017. Es lohnt sich jedoch die Tracklisten der ganzen Best of CDs zu vergleichen, damit ihr möglichst viele eurer ganzen Lieblingslieder für die heimische Musiksammlung dabei sind.
Mit dabei sind unter anderem Tracks von Axwell /\ Ingrosso, Luis Fonsi, Justin Bieber, Shawn Mendes, French Montana, Adel Tawil, Clean Bandit, Sean Paul, Felix Jaehn, Avicii, Zedd, Jax Jones und eine ganze Reihe weitere, eben wie schon erwähnt, die besten Hits des Jahres 2017.
Bis zum Release der "Die Ultimative Chartshow – Hits 2017 " dauert es noch ein paar Tage, denn erst ab dem 24. November 2017 steht das gute Stück für euch im Handel bereit, wie immer an dieser Stelle, haben wir natürlich auch hier die Tracklist und das passende Cover für euch am Start.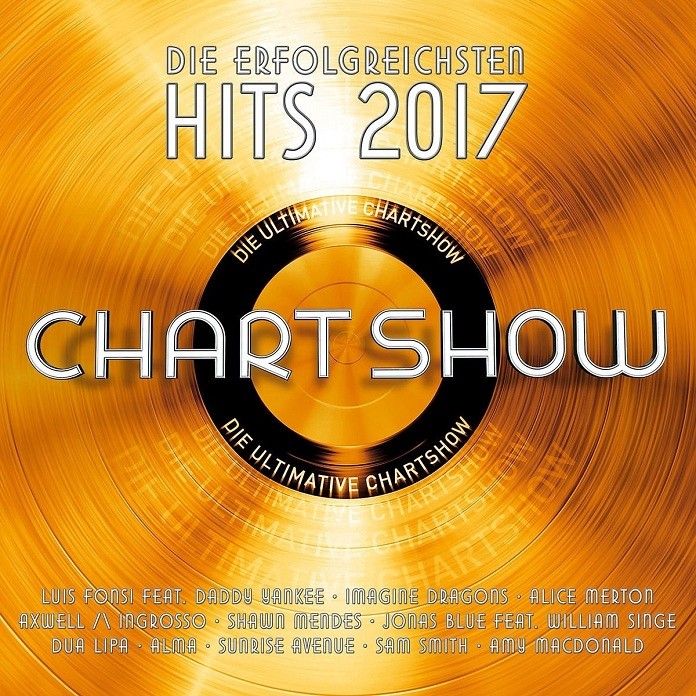 Disk: 1
1. Despacito – Fonsi, Luis
2. Thunder – Imagine Dragons
3. OK – Schulz, Robin
4. More Than You Know – Axwell /\ Ingrosso
5. It Ain't Me – Kygo
6. Tuesday (Radio Edit) – Yeter, Burak
7. Unforgettable – French Montana
8. Mi Gente – J Balvin
9. I Like Me Better – Lauv
10. No Roots (Single Version) – Merton, Alice
11. There's Nothing Holdin' Me Back – Mendes, Shawn
12. Strip That Down – Payne, Liam
13. Friends (New Audio) – Bieber, Justin
14. Stay – Zedd
15. Mama – Blue, Jonas
16. You Don't Know Me (Radio Edit) – Jones, Jax
17. Without You – Avicii
18. Hot2Touch – Jaehn, Felix
19. Chasing Highs – ALMA
20. New Rules – Lipa, Dua
21. No Lie – Paul, Sean
22. Rockabye – Clean Bandit
Disk: 2
1. Herzbeben – Fischer, Helene
2. I Help You Hate Me – Sunrise Avenue
3. Chöre – Mark Forster
4. Ist da jemand – Tawil, Adel
5. Too Good At Goodbyes – Smith, Sam
6. Dream On – Macdonald, Amy
7. Legendary – Welshly Arms
8. Nanana – The Kelly Family
9. Na und?! – Zucker, Ben
10. Unter den Wolken – Die Toten Hosen
11. Achterbahn – Clueso
12. Frische Luft (Single Version) – Weiss, Wincent
13. If I Wasn't Your Daughter (Acoustic Version) – Lena
14. No Vacancy – OneRepublic
15. Chained To The Rhythm – Perry, Katy
16. Your Soul (Holding On) – RHODES
17. Solo Dance – Jensen, Martin
18. September Song – Cooper, JP
19. What Lovers Do – Maroon 5
20. Wohin willst du – Gestört aber GeiL
21. Shake Away – Gentleman
22. Millionär – 187 Strassenbande
23. Senorita – Kay One