Mit der neuen Compilation Ministry Of Sound Garage XXV und nahezu gigantischer Tracklist, haut das britische Label wieder einmal eine Compilation auf den Markt, die fast schon ohne Konkurrenz da steht. Wie der Name schon sagt, feiert man hier 25 Jahre UK-Garage, denn dieses Genre aus England, hat die Musikwelt ein Stück weit geprägt.
Mit insgesamt 4 CDs zelebriert Ministry of Sound das Jubiläum mit einem Rückblick auf die letzten 25 Jahre, denn natürlich hat dieses Label auch ordentlich dazu beigetragen, dieses Genre weiter erfolgreich am Markt zu halten, mit Compilation wie z.B. I Love Garage und natürlich zahlreichen anderen.
Wenn wir an dieser Stelle mal einen Blick auf die Tracklist der Ministry Of Sound Garage XXV werfen, findet wir zahlreiche Top UK-Garage Tracks von z.B. Tina Moore, DJ Zinc, Wookie, DJ Narrows, Colour Girl, Shola Ama, M-Dubs, Sweet Female Attitude und vielen weiteren.
In Deutschland wird auch diese Compiatlion aus dem Hause Ministry of Sound kaum eine Rolle spielen aber zum Glück kann man dank Amazon und anderen Online-Shops die CDs dennoch in Deutschland erwerben. Mit dem Verkauf des Labels an Sony Music, hatten wir eigentlich große Hoffnung, dass nun auch wieder zahlreiche Compilation auf dem deutschen Markt promotete werden, doch dies blieb bislang aus.
Schade eigentlich, denn die Compilations aus dem Hause Ministry of Sound sind meist wirklich gut. Kommen wir aber zurück zur Ministry Of Sound Garage XXV, denn diese erscheint bereits am 24. November 2017 und wie immer an dieser Stelle, haben wir natürlich auch hier die Tracklist und das passende Cover für euch am Start, damit ihr wisst was euch hier erwartet.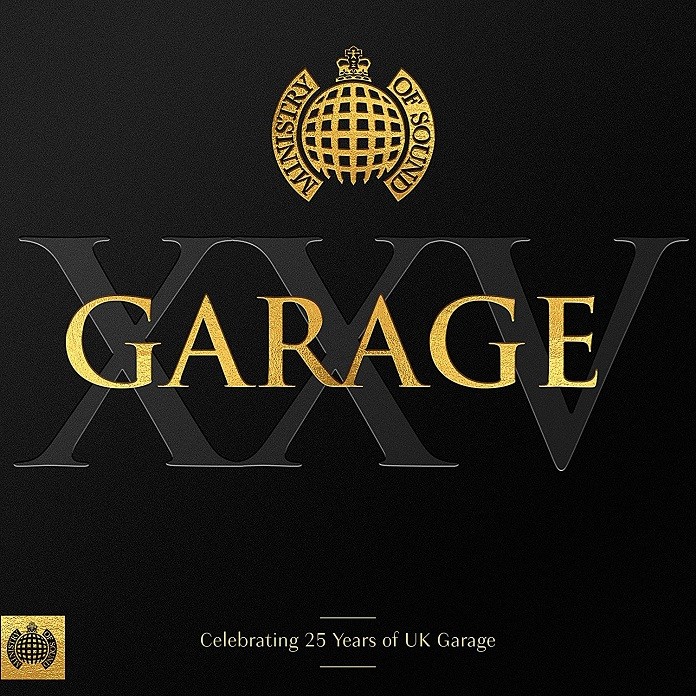 Disc: 1
1. Never Gonna Let You Go – Tina Moore
2. Ripgroove – Double 99 feat. Top Cat / Top Cat
3. Flowers – Sweet Female Attitude
4. 138 Trek – DJ Zinc
5. A Little Bit of Luck – DJ Luck & MC Neat
6. True – Jaimeson feat. Angel Blu
7. Oh No (Sentimental Things) – So Solid Crew
8. Hyper! (Hype the Funk) – Reach & Spin
9. Re-Rewind – Artful Dodger feat. Craig David
10. All I Do – Cleptomaniacs feat. Bryan Chambers
11. Let's Groove – George Morel
12. Imagine – Shola Ama
13. Joyrider – Colour Girl
14. Feel My Love – The Jam Experience
15. If You Were Here Tonight – Tony Momrelle
16. Love Bug – Ramsey & Fen
17. Saved Soul – DJ Narrows
18. Give It Up – Selena vs. X.Men
19. I Don't Smoke – DJ Deekline
20. Do It Again – TJ Cases feat. Kat Blu
21. Bump 'n' Grind – M-Dubs
22. Anytime – Nu-Birth
23. Booo! – Sticky feat. Ms Dynamite
24. My Love – 10 Below & Kele Le Roc
25. Together – 24 Hour Experience
Disc: 2
1. Sugar Is Sweeter – CJ Bolland
2. A London Thing – Scott Garcia feat. MC Styles
3. Gotta Get Thru This – Daniel Bedingfield
4. Little Man – Sia
5. Dooms Night – Azzido Da Bass
6. Battle – Wookie
7. Urban Hero – Jaimeson
8. Sorry! (Didn't Know) – Monsta Boy
9. Ain't No Stoppin Us – DJ Luck & MC Neat feat. JJ
10. Just Gets Better – TJR feat. Xavier
11. Destiny – Dem 2
12. 21 Seconds – So Solid Crew
13. Can U Feel It – Mr. Reds
14. Sunshine – Gabrielle
15. Try Me Out (Let Me Lick It) – Sunship feat. Anita Kelsey
16. Bizzi's Party – Bizzi
17. My Desire – Amira
18. Why – Glamma Kid
19. Straight from the Heart – Doolally
20. Garage Girls – Lonyo
21. Long Time Coming – Bump & Flex
22. Just In Case – Jaheim
23. Hold Your Head Up High – Boris Dlugosch & Booom!
24. Neighbourhood – Zed Bias
25. Crazy Love – M J Cole feat. Elisabeth Troy
Disc: 3
1. Sincere – MJ Cole
2. Scrappy – Wookie
3. Movin' Too Fast – Artful Dodger & Romina Johnson
4. Cheque One Two – Sunship feat. Mc Rb
5. Things We Do for Love – Sticky feat. Kele Le Roc
6. Call It Fate – Richie Dan & K. Warren
7. No Doubt – Shut Up And Dance
8. Body Groove – Architechs feat. Nana
9. Sambuca (The Return) – Wideboys feat. Dennis G
10. Enough Is Enough – Y-Tribe
11. Sometimes It Snows in April – Amar
12. Gabriel – Roy Davis Jr. & Peven Everett
13. Dreams – Smoking Beats
14. Do You Really Like It? – DJ Pied Piper & The Masters Of Ceremonies
15. Buddah Finger – Reservoir Dogs
16. Good Rhymes – Da Click
17. Bring Me Down – Stanton Warriors & Zac Toms
18. Fly Bi – Teebone feat. Mc Sparks & Mc Kie
19. Master Blaster 2000 – DJ Luck & MC Neat feat. JJ
20. Rewind (Come Selecta) – 187 Lockdown
21. Making Love – Jeremy Sylvester
22. Spend the Night – Danny J Lewis
23. Sweet Like Chocolate – Shanks & Bigfoot
24. Over Here – M-Dubs feat. Ritchie Dan
25. Stone Cold – Groove Chronicles
Disc: 4
1. Deep Inside – Hardrive
2. Girls Like Us – The B-15 Project feat. Crissy D & Lady G
3. Push the Feeling On – Nightcrawlers
4. Why? – Mis-Teeq
5. Messing Around – Once Waz Nice
6. Relax – Deetah
7. I Refuse (What You Want) – Somore
8. Tell Me It's Real – K-Ci & JoJo
9. Flav – Big Bird
10. Melody – Master Stepz
11. 7 Days – Craig David
12. Do You Want Me Baby – Cloud 9
13. It's the Way – Future Underground Nation
14. Hold Me Tight – DJ Lewi
15. Right Before My Eyes – N'n'G feat. Kallaghan & MC Neat
16. Teardrops – Lovestation
17. Serious – Maxwell D
18. Love Shy – Kristine Blond
19. R U Sleeping – Indo
20. Something In Your Eyes – Ed Case feat. Shelley Nelson
21. Tales of the Hood – Tubby T
22. I Keep – N'n'G
23. You Used to Hold Me – Scott & Leon
24. Follow Me – Aly-Us
25. God Made Me Phunky – MD X-Spress