Die neue Ministry Of Sound Legends bringt euch eine Tracklist nach Hause, die wohl ihres gleichen sucht. Der Name "Legends" ist definitiv verdient, denn wenn wir uns einmal die Tracklist dieser Compilation anschauen, sehen wir schnell, dass hier wirklich nur Legenden zu finden sind, mit ihren Mega Hits.
So befinden sich Mega Stars wie z.B. Queen, The Supremes, Diana Ross, Donna Summer, ABBA, Cher, Whitney Houston, Tina Turner, Elton John, George Michael, Stevie Wonder, Blondie, Michael Jackson, James Brown und eine ganze Reihe weitere, in der Tracklist der Ministry Of Sound Legends.
Wer also die ganz großen Hits der letzten Jahrzehnte zu Hause haben will, sollte an der Ministry Of Sound Legends nicht vorbeigehen. Der Nachteil an der Sache ist wieder einmal, dass man Compilations von Ministry of Sound im deutschen Einzelhandel eher selten liegen sieht.
Zum Glück helfen euch da Amazon und Co, denn darüber könnt ihr natürlich die top Compilations bestellen. Bis zum Release dauert es nicht mehr ganz so lange, denn bereits ab dem 17. November 2017 könnt ihr euch die Ministry Of Sound Legends sichern.
Wie immer an dieser Stelle, haben wir natürlich auch hier für euch die Tracklist und das passende Cover am Start. Darüber hinaus, haben wir euch einen Mega Hit, der sich natürlich auch auf dieser Compilation befindet eingebunden, damit die Vorfreude auf die neue " Legends " Compilation noch ein wenig steigt.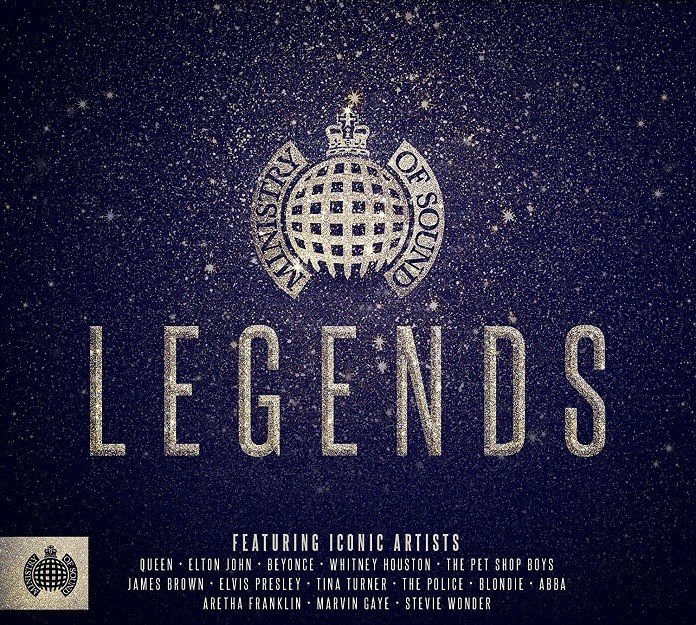 Disc: 1
1. A Kind of Magic – Queen
2. Faith – George Michael
3. Rocket Man – Elton John
4. Every Breath You Take – The Police
5. Sexual Healing – Marvin Gaye
6. Signed, Sealed, Delivered (I'm Yours) – Stevie Wonder
7. Give Me the Reason – Wembley Stadium 1989 – Luther Vandross
8. The Best – Tina Turner
9. I Will Always Love You – Whitney Houston
10. Think Twice – Céline Dion
11. Gold – Spandau Ballet
12. Heart of Glass – Blondie
13. Ain't Nobody – Rufus & Chaka Khan
14. Blame It on the Boogie – The Jacksons
15. Believe – Cher
16. Knowing Me Knowing You – ABBA
17. I Feel Love – Donna Summer
18. I'm Coming Out – Diana Ross
19. Baby Love – The Supremes
20. Respect – Aretha Franklin
Disc: 2
1. Billie Jean – Michael Jackson
2. I Got You (I Feel Good) – James Brown
3. Let's Stay Together – Al Green
4. Suspicious Minds – Elvis Presley
5. I Walk the Line – Johnny Cash
6. Like a Rolling Stone – Bob Dylan
7. Ain't No Sunshine – Bill Withers
8. Perfect Day – Lou Reed
9. Walking on Broken Glass – Annie Lennox
10. West End Girls – Pet Shop Boys
11. Mrs. Robinson – Simon & Garfunkel
12. You Got It – Roy Orbison
13. Sweet Talkin' Woman – Electric Light Orchestra
14. Everywhere – Fleetwood Mac
15. 9 to 5 – Dolly Parton
16. It's Not Unusual – Tom Jones
17. Feeling Good – Nina Simone
18. (You Make Me Feel Like) A Natural Woman – Carole King
19. Walk On By – Dionne Warwick
20. Son of a Preacher Man – Dusty Springfield
Disc: 3
1. If I Were a Boy – Beyoncé
2. Dreamlover – Mariah Carey
3. Cry Me a River – Justin Timberlake
4. Empire State of Mind, Pt. 2 – Alicia Keys
5. All of Me – John Legend
6. Just Give Me a Reason – P!nk feat. Nate Ruess
7. Happy – Pharrell Williams
8. Survivor – Destiny's Child
9. No Ordinary Love – Sade
10. Back to Black – Amy Winehouse
11. Yellow – Coldplay
12. Don't Look Back in Anger – Oasis
13. You Do Something to Me – Paul Weller
14. Maggie May – Rod Stewart
15. Back for Good – Take That
16. Angels – Robbie Williams
17. Killing Me Softly with His Song – Fugees / Fugees
18. If I Could Turn Back the Hands of Time – R. Kelly
19. Virtual Insanity – Jamiroquai
20. Hallelujah – Jeff Buckley