Tanzwütige aufgepasst, denn die neue Compilation Lets Dance – Das Tanzalbum Best of kommt mit XXL Tracklist und Tanz DVD auf den Markt. Wer nicht genug von der RTL Sendung Lets Dance bekommen kann, sollte sich die neue Best Of Compilation sichern, um den grandiosen Mix auch für die heimische Party parat zu haben.
Neben der großen Tracklist, ist auch die 2016er DVD mit dabei, auf der sind zahlreiche Videos zu sehen, bei denen euch Motsi Mabuse verschiedene Tänze Stück für Stück erklärt. Wer also noch kein großer Tanzkünstler ist, sollte sich die neue Ausgabe erst recht sichern, um auf der nächsten Party glänzen zu können.
Auf der Compilation Lets Dance – Das Tanzalbum Best of, findet zahlreiche Top Tracks der letzten Jahrzehnte. Gemeint sind hier Hits von Alvaro Soler, Unheilig, Donna Summer, Gipsy Kings, Max Raabe, Alicia Keys, ABBA, Elton John, Tina Turner, Whitney Houston, Rockwell, Lady Gaga und viele weitere.
Bis zum Release der neuen Lets Dance Compilation duert es zum Glück auch nicht mehr so lange, denn bereits ab dem 13. März 2020 steht das gute Stück für euch im Handel bereit. Wie immer darf natürlich auch an dieser Stelle, die Tracklist und das dazugehörige Cover nicht fehlen, damit ihr wisst was euch hier erwartet.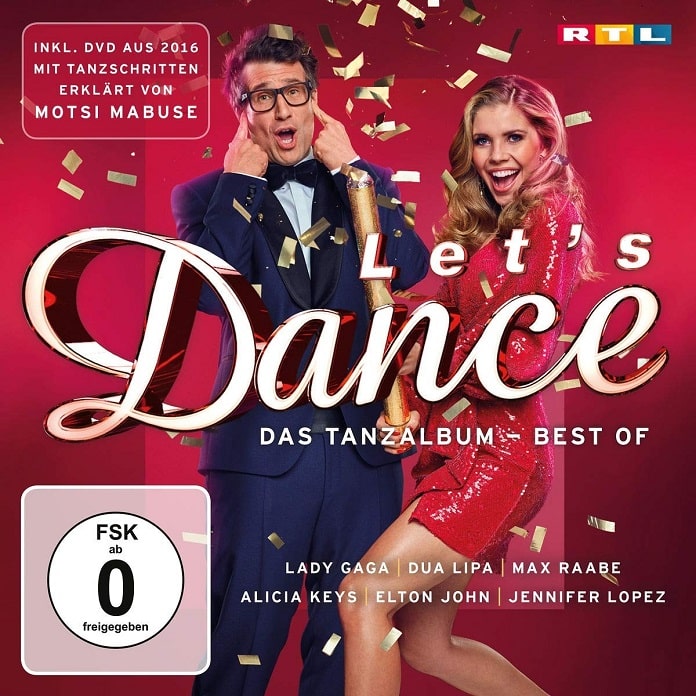 Disk: 1
1. Despacito (Versión Salsa) – Fonsi, Luis
2. La Cintura – Soler, Alvaro
3. Sucker – Jonas Brothers
4. Und wenn ein Lied (Remastered 2014) – Söhne Mannheims
5. An Wunder – Weiss, Wincent
6. Geboren um zu leben – Unheilig
7. New Rules – Lipa, Dua
8. Happy (From "Despicable Me 2") – Williams, Pharrell
9. Uptown Funk – Ronson, Mark
10. U Can't Touch This – M.C. Hammer
11. I'm So Excited – Pointer Sisters, The
12. Hot Stuff (Single Version) – Summer, Donna
13. Bamboleo – Gipsy Kings
14. Copacabana – Let's Dance (Pepe Lienhard Orchestra Presents)
15. Sway – The Pussycat Dolls
16. A Night Like This – Emerald, Caro
17. Kein Schwein ruft mich an – Raabe, Max
18. Read All About It, Pt. III – Sandé, Emeli
19. If I Ain't Got You – Keys, Alicia
20. Dangerous Woman – Grande, Ariana
21. The Winner Takes It All – ABBA
Disk: 2
1. You're The One That I Want (From "Grease") – Travolta, John
2. I'm Still Standing – John, Elton
3. Goldeneye – Turner, Tina
4. Burning Heart – Survivor
5. You Light Up My Life – Houston, Whitney
6. If You Don't Know Me By Now – Simply Red
7. Sign Your Name – D'Arby, Terence Trent
8. Somebody's Watching Me (Single Version) – Rockwell
9. Born This Way – Lady Gaga
10. I Gotta Feeling (Album Version) – Black Eyed Peas, The
11. Hot In Herre – Nelly
12. Hey Sexy Lady – Shaggy
13. Don't Be So Shy (Filatov & Karas Remix) – Imany
14. Hot2Touch – Jaehn, Felix
15. Just Give Me A Reason – P!nk
16. Einmal um die Welt – Cro
17. Schüttel deinen Speck – Fox, Peter
18. Dance With Somebody (Radio Version) – Mando Diao
19. Wire To Wire – Razorlight
20. Sweet Child O' Mine – Thompson, Jasmine
21. All Good Things (Come To An End) (Radio Edit) – Furtado, Nelly
22. Will You Still Love Me Tomorrow – Winehouse, Amy
Disk: 3
1. Bella Ciao (HUGEL Remix) – El Profesor
2. A Little Party Never Killed Nobody (All We Got) – Fergie
3. On The Floor (Radio Edit / No Rap) – Lopez, Jennifer
4. Wake Me Up (Radio Edit) – Avicii
5. Perfect Strangers – Blue, Jonas
6. Timber – Pitbull
7. Ayo Technology – Milow
8. Drops Of Jupiter (Album Version) – Train
9. Summer Son – Texas
10. Life Is A Rollercoaster (Album Version) – Keating, Ronan
11. Umbrella (Single Edit) – Baseballs, The
12. Jolene – BossHoss, The
13. Love Runs Out – OneRepublic
14. Hijo De La Luna (Sentimiento Mix) – Loona
15. Just One Last Dance (Radio Version) – Connor, Sarah
16. Skinny Genes – Doolittle, Eliza
17. Avenir (Radio Edit) – Louane
18. Geiles Leben (Madizin Single Mix) – Glasperlenspiel
19. Hamma! (Single Edit) – Culcha Candela
20. Guten Tag – Wir sind Helden
21. Bei Mir Bist Du Schön (Album Version) – Puppini Sisters, The
22. He's A Pirate – Garrett, David
Disk: 4
1. Intro – Mabuse, Motsi
2. Cha Cha Cha – Mabuse, Motsi
3. Jive – Mabuse, Motsi
4. Walzer – Mabuse, Motsi
5. Foxtrott – Mabuse, Motsi
6. Rumba – Mabuse, Motsi
7. Samba – Mabuse, Motsi
8. Discofox – Mabuse, Motsi
9. Tango – Mabuse, Motsi
10. Menu Let's Dance – Das Tanzalbum 2016 – Mabuse, Motsi