Die neue Best of 2020 – Frühlingshits bringt euch in der Tracklist, eine Extra Portion Charts nach Hause. Wer die Best Of Reihe bereits länger kennt, der weiß das man hier nicht nur die aktuellsten Songs bekommt, sondern auch eben solche, die bereits in den letzten Monaten ganz oben mitgespielt haben.
So langsam aber sicher, nähern wir uns der warmen Jahreszeit, so dass man auch ruhig schon einmal die ersten Gartenpartys planen kann, da darf natürlich auch die richtige Musik nicht fehlen. Der bunte Mix, den die aktuellen Charts bieten, spiegelt sich auch auf der Best of 2020 – Frühlingshits deutlich wieder.
Wer einen Blick auf die Tracklist wirft, wird schnell merken, was wir damit meinen. Freut euch also auf Top Tracks von z.B. Topic, Robin Schulz, Sido, Jerome, Sam Fender, Nico Santos, Samra, Kygo, Justin Bieber, Maroon 5, Sam Smith, Pietro Lombardi, Dua Lipa und viele weitere.
Bis zum Release der neuen Best of 2020 – Frühlingshits dauert es zum Glück nicht mehr ganz so lange, denn bereits ab dem 13. März 2020 steht das gute Stück für euch im Handel bereit. Höchste Zeit also, sich mit der Tracklist und dem passenden Cover ein Bild der neuen Ausgabe machen zu können.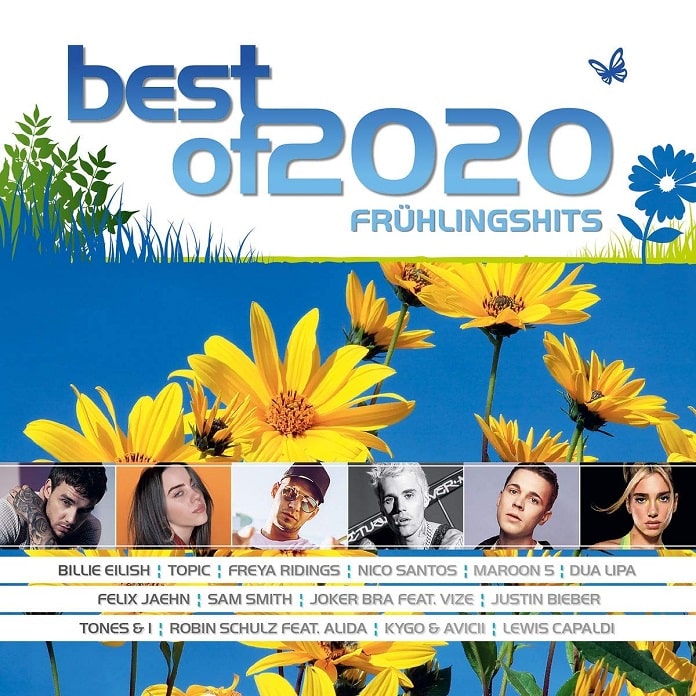 Disk: 1
1. Physical – Lipa, Dua
2. Breaking Me – Topic
3. In Your Eyes – Schulz, Robin
4. Thank You [Not So Bad] – VIZE
5. Falling – Daniel, Trevor
6. What A Man Gotta Do – Jonas Brothers
7. Dance Monkey – Tones and I
8. Forever Yours (Avicii Tribute) – Kygo
9. More Than OK – R3HAB
10. Light – Jerome
11. Baby – Joker Bra
12. 2002 – Sido
13. Kings & Queens – Kalkbrenner, Fritz
14. Beautiful Girls – Avila, Danny
15. Tusa – KAROL G
16. Fingertips – Gregory, Tom
17. All Is On My Side – Fender, Sam
18. After The Landslide (Remix) – Simons, Matt
19. Keep Me Up – Schulte, Michael
20. Boyfriend – Mabel
21. Play With Fire – Santos, Nico
22. Kein Wort – Juju
23. Zu Ende – Samra
Disk: 2
1. To Die For – Smith, Sam
2. everything i wanted – Eilish, Billie
3. Before You Go – Capaldi, Lewis
4. Memories – Maroon 5
5. Yummy – Bieber, Justin
6. Rare – Gomez, Selena
7. Es tut schon wieder weh – Lombardi, Pietro
8. Stack It Up – Payne, Liam
9. Don't Start Now – Lipa, Dua
10. Close Your Eyes – Jaehn, Felix
11. Lose Control – Meduza
12. Wünsch Dir was (Radio Edit) – Gestört aber GeiL
13. Therapy – Dumont, Duke
14. Fades Away (Tribute Concert Version) – Avicii
15. 5 Of Your Exes – VVAVES
16. Stop This Flame – Celeste
17. Therapist – Muller, Mae
18. skinny bitch – Lena
19. Love Is Fire – Ridings, Freya
20. Thank You For Everything – Sunrise Avenue
21. Wanted – OneRepublic
22. Home – Harris, Malik
23. Hör auf deinen Bauch – Connor, Sarah
24. Wegen Dir (Nachts wenn alles schläft) – Ott, Kerstin