Es geht in Runde 20, die Masters of Hardcore – 20 Years of Rebellion geht mit einer XXL Tracklist richtig nach vorne. Unter dem Motto "20 Years of Rebellion" geht das Mega Event dieses Jahr an den Start und mit der dazu gehörigen Compilation könnt ihr euch bereits ordentlich drauf einstimmen.
Bei diesem Sampler kommen Bodyshock Fans besonders auf ihre kosten, denn auf CD 3 gibt es das komplette Bodyshock Album für euch und alleine das sollte schon ein Grund sein, die Masters of Hardcore – 20 Years of Rebellion zu kaufen, denn nun kann auch der letzte Hardcore Fan nicht mehr meckern.
Wirft man einen Blick in die Tracklist findet man neben vielen großen Namen, die bereits seit Ewigkeiten in der Szene unterwegs sind, auch einige noch unbekanntere Namen, die dabei sind ihren Platz in der Hardcore Szene zu festigen.
Bereits am 27. März 2015 steht dieser Sampler für euch in den Online Shops und Händlern vor Ort bereit, so dass ihr gleich einmal einen Blick in die Tracklist und auf das Cover werfen solltet. In dem Shop der Masters of Hardcore findet ihr übrigens noch eine Limited Edition mit einem 3D Cover, ob man das nun wirklich braucht ist wohl jedem selbst überlassen.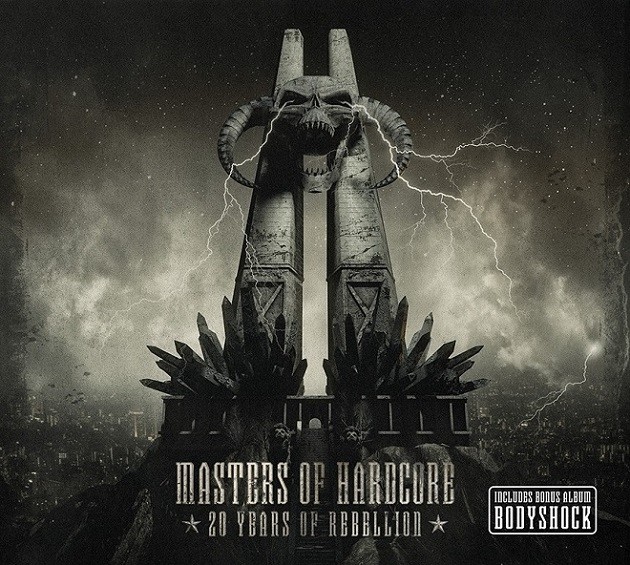 CD1:
1.Bodyshock feat. MC Jeff – Legacy (Official Masters Of Hardcore 2015 Anthem)
2.Angerfist – Strange Man In Mask
3.Dyprax – Break Your Back
4.Art Of Fighters & DJ Predator – Hellfire
5.Miss K8 – Too Many Answers
6.Wasted Mind – Triumphant
7.The Viper & Nosferatu – Kingdom Come
8.Javi Boss – Rock Parties
9.Crossfiyah – Forgiveness
10.Triax – Out Of Line
11.Nitrogenetics – Apex Predator
12.Bloodcage – Bloodline
13.Negative A – The Devils Harvest
14.Lowroller – Heartless Machine
15.Dope DoD feat. Teddy Killerz – Master Xploder (Partyraiser Remix)
16.Angerfist – Messing With The Wrong Man
17.Drokz & Akira – We Take No Prisoners
18.Dr.Peacock & Death By Design – Eat This
CD2:
1.Angerfist feat. MC Nolz – The Deadfaced Dimension
2.Re-Style – Brainstorm
3.Noize Suppressor – Jackass Sperm
4.Titan & DV8 Rocks! – Flip Uhm Op Z'n Kantje (Tha Playah Remix)
5.Tommyknocker – Wild
6.Wasted Mind – Paradise
7.Korsakoff – Lyra
8.Dirty Bastards – Sense Of Fear
9.State Of Emergency – Breaking The Rules
10.Catscan – Factory Use Only
11.Re-Style – Vicious
12.Bloodcage – Martyr
13.Negative A & Obscurity – Critical Beatdown
14.Wasted Mind – Sick Of Life
15.Miss K8 – The Poison
16.Destructive Tendencies & Hardbouncer – Destiny
17.Dr. Peacock – Rise Of The Forgotten
18.Mithridate vs. Paranoizer – Time 2 Play
CD3:
1.Bodyshock – Legacy (Official Masters of Hardcore 2015 Anthem) with MC Jeff
2.Bodyshock – Bitch!
3.Bodyshock – Communicate
4.Bodyshock – The Darkness
5.Bodyshock – Test My Style
6.Bodyshock – Time Changed
7.Bodyshock – Hold Us Back (Decipher & Shinra Remix)
8.Bodyshock – Revolution
9.Bodyshock – Search And Destroy
10.Bodyshock – Messiah (with Crossfiyah)
11.Bodyshock – I Am Death
12.Bodyshock – Ominous (with Dyprax)
13.Bodyshock – Intricate (with Bloodcage)
14.Bodyshock – Talk About It (with MC Jeff)