Musikalisch für den Frühling gerüstet ? Die Megahits 2018 – die Zweite bringt euch mit ihrer Tracklist die besten und aktuellsten Tracks aus den Charts nach Hause, so dass ihr in den kommenden Wochen in Sachen Musik definitiv auf dem neusten Stand seid.
Wenn das kalte, nasse und schmuddelige Wetter sich langsam verabschiedet und der Frühling die Natur erwachen lässt, halten wir uns immer mehr im freien auf. Sei es im heimischen Garten, beim Sport oder in der Eisdiele, die aktuellen Hits sind dank Smartphones fast immer und überall dabei.
So dürft ihr euch bei der Megahits 2018 – die Zweite auf Hits von z.B. Rudimental feat. Jess Glynne, Macklemore & Dan Caplen, Felix Jaehn feat. Marc E. Bassy & Gucci Mane, Dua Lipa, Lost Frequencies & Zonderling, Robin Schulz & Marc Scibilia, Rea Garvey feat. Kool Savas, Olexesh feat. Edin, Sigrid, 5 Seconds Of Summer und viele weitere freuen.
Auch die Romantik darf natürlich nicht zu kurz kommen. Exklusiv auf MegaHits und so richtig zum Dahinschmelzen: Imagine Dragons mit ihrer Single Next To Me. Außerdem meldet sich Sasha zurück und lässt zusammen mit Mike Singer und Calum Scott die Herzen höher schlagen.
Die neue Megahits 2018 – die Zweite steht ab dem 6. April 2018 für euch im Handel bereit und natürlich haben wir auch hier an dieser Stelle die Tracklist und das passende Cover für euch am Start, damit ihr wisst was euch hier erwartet.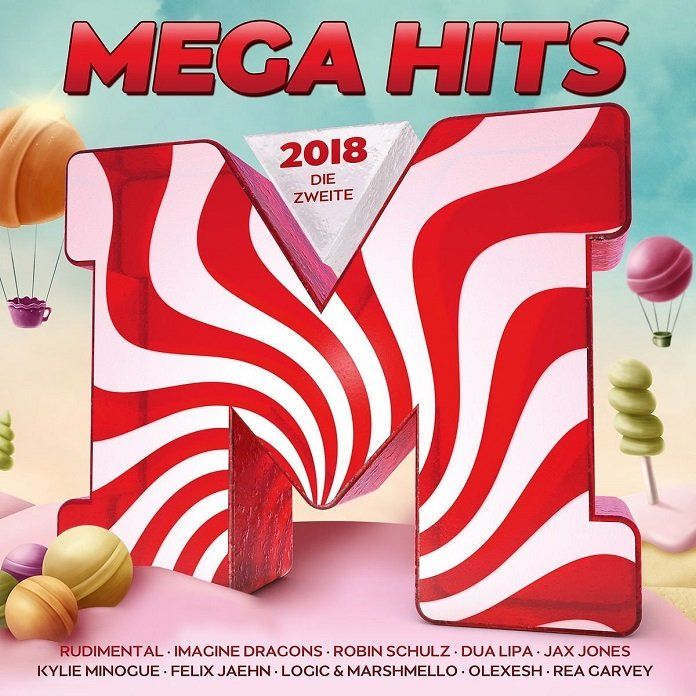 Disk: 1
1. These Days – Rudimental
2. Unforgettable – Schulz, Robin
3. Everyday – Logic
4. Sick Boy – Chainsmokers, The
5. Cool – Jaehn, Felix
6. IDGAF – Lipa, Dua
7. Crazy – Lost Frequencies
8. Dancing – Minogue, Kylie
9. Breathe – Jones, Jax
10. Dreamer – Axwell / Ingrosso
11. You Be Love – Avicii
12. Please Don't Lie – Helmig, Hugo
13. Heartbreak Century – Sunrise Avenue
14. Happyland – Zelmerlöw, Måns
15. Good Vibes – ALMA
16. Rebel Yell – Klingande
17. Mattress – Leland
18. Bad Girls Don't Cry – The Night Game
19. Finesse – Mars, Bruno
20. Stir Fry – Migos
21. Barking – Ramz
22. Réseaux (K¡K¡ Remix) – Niska
23. Number One – Massari
24. Zwischen Himmel & Hölle – Kontra K
Disk: 2
1. Next To Me – Imagine Dragons
2. Leave A Light On – Walker, Tom
3. Is It Love? – Garvey, Rea
4. Immer wieder – Rooz
5. Magisch – Olexesh
6. 1, 2, 3 – Reyes, Sofia
7. Bum Bum Tam Tam – Mc Fioti
8. En La Cara (Sua Cara Remix) – Major Lazer
9. BOOM – Tiësto
10. That Way – SDJM
11. Hurt Somebody (Alex Adair Remix) – Kahan, Noah
12. Strangers – Sigrid
13. Royals & Kings – Glasperlenspiel
14. Stehaufmädchen – EULE
15. Wait – Maroon 5
16. Want You Back – 5 Seconds Of Summer
17. Hearts Ain't Gonna Lie – Arlissa
18. Flashbacks – Singer, Mike
19. Du fängst mich ein – Sasha
20. You Are The Reason – Scott, Calum
21. You Let Me Walk Alone – Schulte, Michael
22. I Miss You – Clean Bandit
23. Helium (Sia vs. David Guetta & Afrojack) – Sia