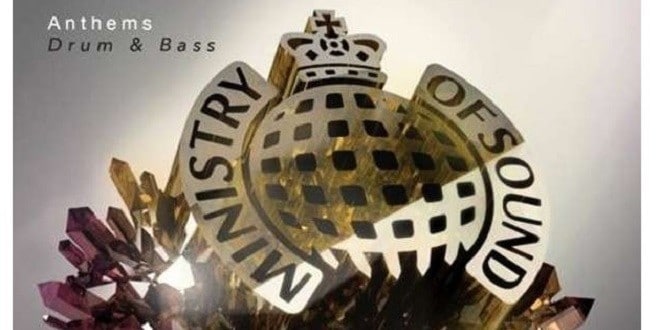 Mit der neuen Ministry of Sound Anthems Drum & Bass Compilation, verwöhnt das Label mit für die Tracktlist gut ausgesuchten Tracks, die Drum & Bass Gemeinde. Die Auswahl in dem Bereich an ordentlichen Compilations ist nicht gerade groß, so dürften sich die Verkaufszahlen wirklich sehen lassen.
Ähnlich wie in England, ist auch in Deutschland die Drum & Bass Szene eher kleiner aber auch bei uns wächst sie Stück für Stück. In den letzten Wochen haben wir euch reichlich Compilations aus dem Hause Ministry of Sound vorgestellt und auch in den kommenden Wochen stehen wieder einige neue Werke an.
Kaum ein anderes Label deckt einen so großen Bereich im Dance Music Bereich ab, wie Ministry of Sound und genau dieser Punkt wird wohl den großen Erfolg des englischen Labels erklären.
Die neue Compilation Ministry of Sound Anthems Drum & Bass wird ab dem 13. Februar 2015 bei Amazon oder anderen Shops zum Verkauf stehen. Bis dahin könnt ihr euch natürlich bereits jetzt einen echten Eindruck von der CD machen und das natürlich mit der Tracklist und dem passenden Cover.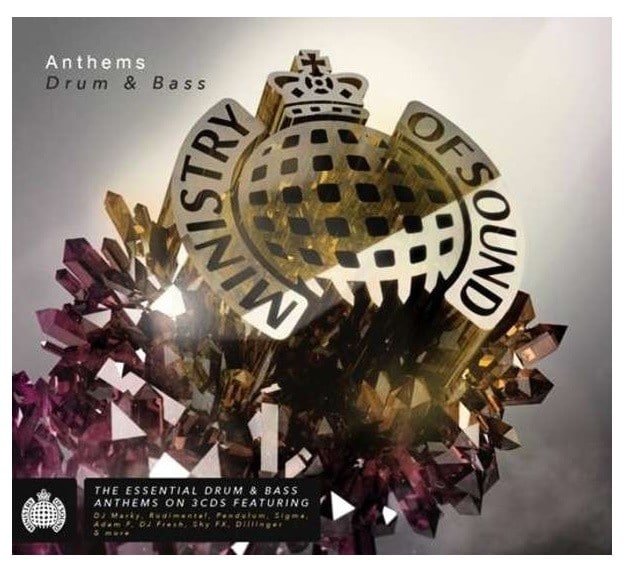 Disk: 1
1. Goldie – Inner City Life
2. Adam F – Circles
3. Roni Size & Reprazent – Brown Paper Bag
4. Ray Keith -Chopper (Shy FX Remix)
5. DJ Hype Feat. MC Fats – Peace, Love & Unity
6. Alex Reece – Pulp Fiction
7. Jungle Brothers – Jungle Brother (Urban Takeover Remix)
8. The Ganja Kru – Super Sharp Shooter
9. Origin Unknown -Valley Of The Shadows
10. Micky Finn & Aphrodite – Bad Ass
11. Dopeskillz – 6 Million Ways To Die
12. Nasty Habits – Shadow Boxing
13. DJ SS – Lighter
14. M-Beat Feat. General Levy – Incredible
15. Leviticus – Burial
16. Renegade – Terrorist
17. Q Project – Champion Sound (Total Science Remix)
18. Omni Trio – Renegade Snares (Foul Play Remix)
19. Deep Blue – The Helicopter Tune
20. Goldie Presents Rufige Kru – Terminator
Disk: 2
1. Shy FX & T-Power Feat. Di – Shake Ur Body
2. DJ Marky & XRS Feat. Stamina MC – LK
3. D. Kay & Epsilon Feat. Stamina MC – Barcelona
4. DJ Zinc – 174 Trek
5. Dillinja – Twist Em Out
6. Pendulum – Vault
7. Ram Trilogy -Screamer
8. Bad Company UK – The Nine
9. John B – Up All Night
10. Moving Fusion – Turbulence
11. High Contrast – Return Of Forever
12. Un-Cut – Midnight
13. E-Z Rollers – Walk This Land (Lock Stock Full Length Mix)
14. Shimon & Andy C – Body Rock
15. Mampi Swift – Jaws
16. Ed Rush, Optical & Fierce – Alien Girl
17. DJ Brockie & Ed Solo – Dangerous
18. DJ Krust – Warhead
19. Peshay – Miles From Home
20. Roni Size & Reprazent – Trust Me
Disk: 3
1. Rudimental Feat. John Newman – Feel The Love
2. DJ Fresh Feat. Ella Eyre – Gravity
3. Wilkinson – Afterglow
4. Chase & Status Feat. Plan B – End Credits
5. Pendulum – Slam
6. Sigma – Rudeboy VIP
7. Sub Focus Feat. Alpines – Tidal Wave
8. Andy C & Fiora – Heartbeat Loud
9. Nero – Act Like You Know
10. High Contrast & Clare Maguire – Who's Loving You Pt. 2
11. Jacob Banks – Move With You (High Contrast Remix)
12. Danny Byrd Feat. I-Kay – Ill Behaviour
13. Drumsound & Bassline Smith Feat. Tom Cane – Through The Night
14. DJ Fresh Feat. Ms Dynamite – Gold Dust
15. Sub Focus – Rock It
16. J. Majik & Wickaman – Crazy World
17. Brookes Brothers – Tear You Down
18. DJ Hazard & D Minds – Mr Happy
19. Noisia – Facade VIP
20. Konflict – Messiah