Die Ministry of Sound Chilled House Ibiza 2016 läutet mit ihrer Tracklist den Sommer ein und das nicht nur bei uns in Deutschland. Diese Compilation ist der absolute Top Soundtrack zur diesjährigen Ibiza Saison, denn hier findet ihr alles was auf der Party Insel Nummer 1 so angesagt ist.
Während in den letzten Jahren eher die ruhigeren Beats auf der Ibiza dominierten, zieht das Tempo dort so langsam an und so gibt es bei der Ministry of Sound Chilled House Ibiza 2016 gleich 2 Sampler voll mit den aktuellen House-Smashern, die man in diesem Sommer auf keinen Fall verpassen sollte.
Dabei ist natürlich die Rede über die Tracks und Remixe von Sigala, Years & Years, Flume, Birdy, Snakehips, Maribou, Diplo & Sleepy Tom Be Right There, Bob Moses, Ame, Moderat, Lindstrom und unheimlich viele weitere. Wir haben also nicht zuviel versprochen, hier wird euch wirklich etwas geboten.
Bis zum Release am 17. Juni 2016 ist es zwar noch eine Weile hin aber dennoch haben wir schon jetzt für euch die passende Tracklist und das dazugehörige Cover für euch am Start. Wer nicht mehr warten kann, sollte sich die Ministry of Sound Chilled House Ibiza 2016 bereits jetzt bei Amazon oder anderen Shops vorbestellen.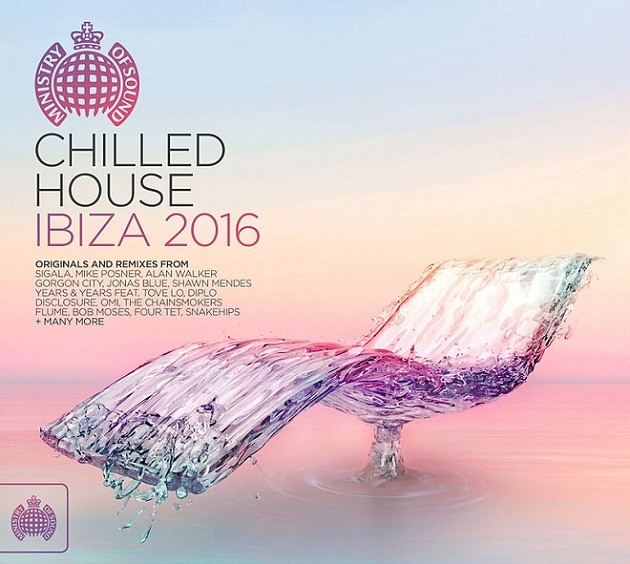 Disk: 1
1. Sigala – Give Me Your Love Rooftop Boys Remix – Give Me Your Love (Rooftop Boys Remix)
2. Mike Posner – I Took a Pill In Ibiza Seeb Remix – I Took a Pill In Ibiza (Seeb Remix )
3. Alan Walker – Faded Tiesto Deep House Remix – Faded (Tiesto Deep House Remix)
4. Gorgon City – All Four Walls feat. Vaults – All Four Walls feat. Vaults
5. Years & Years feat. Tove Lo – Desire – Desire
6. Flume – Never Be Like You Disclosure remix – Never Be Like You (Disclosure remix)
7. onas Blue – Fast Car feat. Dakota – Fast Car feat. Dakota
8. Alunageorge feat. Popcaan – I m In control The Magician Remix – I'm In control (The Magician Remix)
9. Shawn Mendes – Stitches – Stitches
10. The Chainsmokers – Roses Feat. Rozes The Him Remix – Roses Feat. Rozes (The Him Remix)
11. Snakehips – All My Friends 99souls remix – All My Friends ( 99souls remix)
12. Sam Feldt – Been A While – Been A While
13. Omi – Hitchhiker Deep Chills Remix – Hitchhiker (Deep Chills Remix)
14. Imany – Don't Be So Shy Truffles Remix – Don't Be So Shy (Truffles Remix)
15. Tieks – Sunshine Original – Sunshine (Original )
16. Avicii – Broken Arrow M-22 Remix – Broken Arrow (M
17. Danny L Harle – Broken Flowers – Broken Flowers
18. Shura – Touch Fourtet Remix – Touch (Fourtet Remix)
19. Tove Lo – Moments Seeb Remix – Moments (Seeb Remix )
20. Topic feat. Nico Santos – Home – Home
Disk: 2
1. Robin Schulz & J.U.D.G.E – Show Me Love Max Main & KT Mix – Show Me Love (Max Main & KT Mix)
2. Rudimental – Rumour Mill Jesse Rose Remix – Rumour Mill (Jesse Rose Remix)
3. Birdy – Keeping Your Head Up Jonas Blue Remix – Keeping Your Head Up (Jonas Blue Remix)
4. Diplo & Sleepy Tom – Be Right there MK Remix – Be Right there (MK Remix)
5. Icarus – Home fea. Aurora Lane 8 Remix – Home fea. Aurora (Lane 8 Remix)
6. Blinkie – Don t Give Up (on love) Josh Parkinson remix – Don't Give Up (on love) (Josh Parkinson remix)
7. Sigala – Say You Do House Robot RE-edit – Say You Do (House Robot RE
8. RÜFÜS – Like An Animal Yotto Remix Radio Edit – Like An Animal (Yotto Remix Radio Edit)
9. LINDSTØM – Closing Shot – Closing Shot
10. Bob Moses – Tearing Me Up Original Mix – Tearing Me Up (Original Mix)
11. Maribou State – Midas Ben Pearce Re-Edit – Midas (Ben Pearce Re
12. Nora En Pure – Morning dew – Morning dew
13. Tube & Berger feat. Ghost Loft – Set Free Original Mix – Set Free (Original Mix)
14. Sir Felix Feat. Hero Baldwin – Maybe Nora En Pure Vocal Mix – Maybe (Nora En Pure Vocal Mix)
15. Miguel Campbell – All Cried Out – All Cried Out
16. Kiasmos – Swept – Swept
17. Mat.Joe – Nighthawk Original Mix – Nighthawk (Original Mix)
18. Tell No Foxx – Dust Daithi Remix – Dust (Daithi Remix)
19. Frank Wiedemann – Kleiner Vogel Original Mix – Kleiner Vogel (Original Mix)
20. Dusky – Ingrid is a Hybrid GB-UM7-16-02379