Mit der Ministry of Sound I Love Summer und ihrer Tracklist, kommt eine etwas andere Sommerhits CD auf den Markt. Hier ist das Ziel nicht so viele Sommerhits wie möglich auf einer Compilation unterzubringen, denn hier wurden 60 Top Tracks der diesjährigen Sommer Saison zusammen gestellt.
So bekommt man den einen oder anderen Leckerbissen doch noch geboten. Das man hier auf Qualität hoffen darf ist längst bekannt, denn die beiden Compilations " I love House " und " I Love Garage " des englischen Labels Ministry of Sound waren ein echter Renner, so dürfte es auch mit der " I Love Summer " weiter gehen.
Hier findet ihr nämlich Top Tracks von z.B. Sigala feat. John Newman, Avicii, Calvin Harris, Major Lazor, David Guetta, Armand Van Helden, Swedish House Mafia, Michael Gray und viele mehr. Ihr seht also, wir haben hier mit dem Lob absolut nicht übertrieben.
Wie immer an dieser Stelle, haben wir natürlich auch hier die Tracklist und das passende Cover für euch am Start, damit ihr wisst was euch bei der Ministry of Sound I Love Summer erwartet. Bis zum Release sind es noch ein paar Tage, denn erst am 17. Juni 2016 findet sie den Weg in den Handel.
Dennoch könnt ihr die Ministry of Sound I Love Summer natürlich bereits jetzt bei Amazon oder anderen Shops vorbestellen, damit ihr sie am Tag des Release auch in den Händen halten könnt.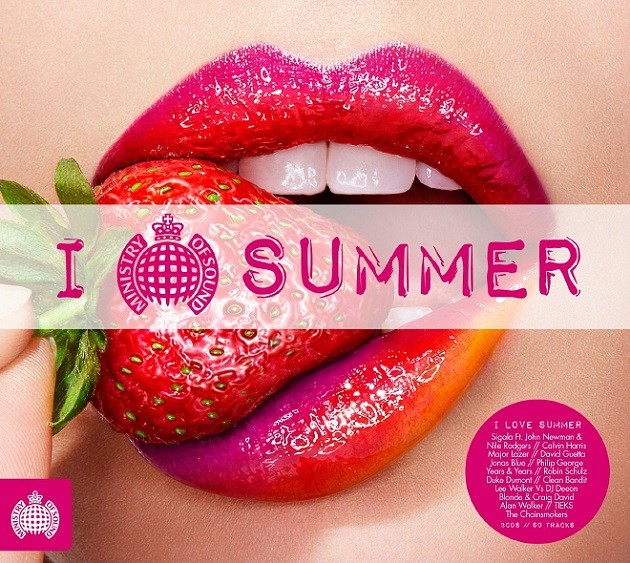 Disk: 1
1. Sigala Feat. John Newman & Nile Rodgers – Give Me Your Love – Give Me Your Love
2. Lee Walker – Freak Like Me Armand Van Helden Remix – Freak Like Me (Armand Van Helden Remix)
3. Blonde & Craig David – Nothing Like This – Nothing Like This
4. Alan Walker – Faded Tiësto's Deep House Remix – Faded (Tiësto's Deep House Remix)
5. Mike Posner – I Took A Pill In Ibiza Seeb Remix – I Took A Pill In Ibiza (Seeb Remix)
6. Justin Bieber – Sorry – Sorry
7. Rudimental Feat. Ed Sheeran – Lay It All On Me – Lay It All On Me
8. 99 Souls Feat. Destiny's Child & Brandy – The Girl Is Mine – The Girl Is Mine
9. Years & Years – Years & Years – Years & Years
10. Philip George & Dragonette – Feel This Way – Feel This Way
11. Waze & Odyssey & R. Kelly – Bump & Grind 2014 – Bump & Grind 2014
12. Sweet Female Attitude – Flowers Sunship Edit – Flowers (Sunship Edit)
13. Steve Angello & Laidback Luke Feat. Robin S. – Show Me Love – Show Me Love
14. Avicii – Levels – Levels
15. Swedish House Mafia Feat. Pharrell – One Your Name – One Your Name
16. Otto Knows – Million Voices – Million Voices
17. Storm Queen – Look Right Through MK Vocal Edit – Look Right Through (MK Vocal Edit)
18. Chris Malinchak – So Good To Me – So Good To Me
19. Klingande – Jubel – Jubel
20. Major Lazer Feat. MØ & DJ Snake – Lean On – Lean On
Disk: 2
1. Calvin Harris Feat. Kelis – Bounce – Bounce
2. Major Lazer Feat. Nyla & Fuse ODG – Light It Up – Light It Up
3. David Guetta Feat. Sia & Fetty Wap – Bang My Head – Bang My Head
4. Craig David & Big Narstie – When The Bassline Drops – When The Bassline Drops
5. Tiësto & Oliver Heldens Feat. Natalie La Rose – The Right Song – The Right Song
6. Martin Solveig & Dragonette – Hello – Hello
7. Diplo & Sleepy Tom – Be Right There – Be Right There
8. Sigala Feat. Imani & DJ Fresh – Say You Do – Say You Do
9. Sigma – Nobody To Love – Nobody To Love
10. Joe Stone Feat. Montell Jordan – The Party This Is How We Do It – The Party This Is How We Do It
11. Secondcity – I Wanna Feel – I Wanna Feel
12. Michael Gray – The Weekend – The Weekend
13. The Shapeshifters – Lola's Theme – Lola's Theme
14. Armand Van Helden & A-TRAK Presents Duck Sauce – aNYway – TRAK Presents Duck Sauce
15. Riton Feat. Kah-Lo – Rinse & Repeat – Lo
16. Armand Van Helden Feat. Tara McDonald – My My My – My My My
17. Shanks & Bigfoot – Sweet Like Chocolate – Sweet Like Chocolate
18. Phats & Small – Turn Around – Turn Around
19. Studio B – I See Girls Crazy Tom Neville Radio Edit – I See Girls Crazy (Tom Neville Radio Edit)
20. Architechs Feat. Nana – Body Groove Original Groove – Body Groove (Original Groove)
Disk: 3
1. TIEKS Feat. Dan Harkna – Sunshine – Sunshine
2. Jonas Blue Feat. Dakota – Fast Car – Fast Car
3. Robin Schulz Feat. Francesco Yates – Sugar – Sugar
4. The Chainsmokers Feat. ROZES – Roses – Roses
5. Clean Bandit Feat. Jess Glynne – Rather Be – Rather Be
6. Mr. Probz – Waves Robin Schulz Radio Edit – Waves (Robin Schulz Radio Edit)
7. Disclosure Feat. Sam Smith – Latch – Latch
8. Imany – Don't Be So Shy Filatov & Karas Remix – Don't Be So Shy (Filatov & Karas Remix)
9. Duke Dumont Feat. Jax Jones – I Got U – I Got U
10. Sigala – Easy Love – Easy Love
11. Yolanda Be Cool & DCUP – From Me To You – From Me To You
12. Felix Jaehn Feat. Jasmine Thompson – Ain't Nobody Loves Me Better – Ain't Nobody Loves Me Better
13. Kyla & Crazy Cousinz – Do You Mind Crazy Cousinz Remix – Do You Mind (Crazy Cousinz Remix)
14. Jessie Ware – Running Disclosure Remix – Running (Disclosure Remix)
15. M. J. Cole Feat. Elisabeth Troy – Crazy Love – Crazy Love
16. Artful Dodger & Romina Johnson – Movin' Too Fast – Movin' Too Fast
17. Rosie Gaines – Closer Than Close Mentor Mix – Closer Than Close (Mentor Mix)
18. The B15 Project Feat. Crissy D & Lady G – Girls Like Us – Girls Like Us
19. Bobby Brown – Two Can Play That Game K Klassik Radio Mix – Two Can Play That Game (K Klassik Radio Mix)
20. Tina Moore – Never Gonna Let You Go – Never Gonna Let You Go