Die Ministry of Sound Throwback Old Skool Anthems wird mit ihrer Tracklist sicherlich gerade die älteren unserer User erfreuen. Hier findet ihr nämlich jede Menge ältere Tracks, die in ihrer Zeit zu den ganz ganz großen gehörten.
Wirft man einen Blick in die Tracklist, so fallen gleich Namen auf wie Craig David, Nana, MJ Cole, So Solid Crew, Bobby Brown, Basement Jaxx, Mousse T und viele mehr. Während wir bei anderen Compilations euch nur die Tracklist und das Cover bieten können, gibt es bei Ministry of Sound, wie auch in diesem Fall einen MiniMix.
So können wir euch also in diesem Fall viel mehr biete, damit ihr euch einen ersten Eindruck von diesem Sampler verschaffen könnt. Wie immer bei Ministry of Sound gilt, dass ihr eher auf Online Shops zurückgreifen solltet, um euch die CD zu sichern.
Der Release Termin ist für den 3. April 2015 angesetzt und wie gesagt, findet ihr hier nun den MiniMix, das Cover und die Tracklist. Sollte euch die Ministry of Sound Throwback Old Skool Anthems zusagen, könnt ihr diese CD mit einem Klick auf die Like Buttons am Ende des Artikels supporten.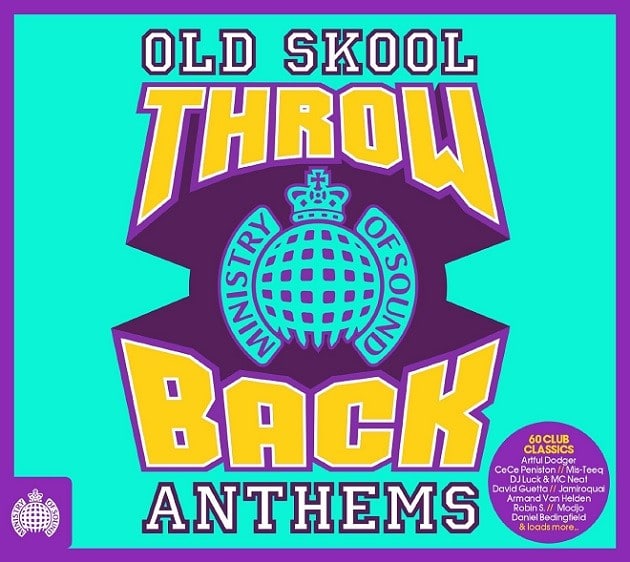 Disc: 1
1. Re-rewind (Feat. Craig David) – The Artful Dodger
2. Master Blaster 2000 (Feat. JJ) (Oracles Mix) – DJ Luck and MC Neat
3. Why? – Mis-Teeq
4. Gotta Get Thru This – Daniel Bedingfield
5. Crazy Love – MJ Cole
6. Tell Me It's Real (Club Asylum Vocal Edit) – K-Ci & JoJo
7. Do You Really Like It? – DJ Pied Piper and the Masters of Ceremonies
8. Body Groove (Feat. Nana) – Architechs
9. Imagine (Asylum Mix) – Shola Ama
10. Never Gonna Let You Go (Kelly G Bump-n-go Vocal Edit) – Tina Moore
11. Thong Song (Feat. MC Alastair) (Artful Dodger Remix) – Sisqo
12. 21 Seconds – So Solid Crew
13. Sunshine (Wookie Main Mix) – Gabrielle
14. Why (Feat. Shola Ama) (10 Below Vocal Mix) – Glamma Kid
15. Teardrops (Flava Mix) – Lovestation
16. Girls Like Us (Feat. Crissy D & Lady G) – The B15 Project
17. Just in Case (Dub-a-Holics Roller's Revival Mix Edit) – Jaheim
18. Give It Up – Selena vs. X-Men
19. Sorry (I Didn't Know) – Monsta Boy
20. Love Shy (Club Asylum Remix) – Kristine Blond
Disc: 2
1. Space Cowboy (Classic Mix) – Jamiroquai
2. Two Can Play That Game (K Klassik Radio Mix) – Bobby Brown
3. Finally – Ce Ce Peniston
4. Dreamer – Livin' Joy
5. Show Me Love (Stone's Radio Edit) – Robin S
6. Ride On Time – Black Box
7. Rhythm of the Night (Rapino Brothers Radio Version) – Corona
8. I Luv U Baby (Dancing Divaz (1995) Club Mix) – The Original
9. U Sure Do – Strike
10. The Key, the Secret (Dancing Divaz 7″ Edit) – Urban Cookie Collective
11. Horny '98 – Mousse T
12. Red Alert – Basement Jaxx
13. Push the Feeling On (The Dub of Doom) – The Nightcrawlers
14. Closer Than Close – Rosie Gaines
15. Gypsy Woman (She's Homeless) – Crystal Waters
16. Freed from Desire – Gala
17. Another Night – Real McCoy
18. Where Love Lives (Come On In) (Dancing Divaz Club Mix) – Alison Limerick
19. Professional Widow (Armand Van Helden's Star Trunk Mix) – Tori Amos
20. Let Me Be Your Fantasy – Baby D
Disc: 3
1. Lady (Hear Me Tonight) – Modjo
2. Call On Me – Eric Prydz
3. My My My (Feat. Tara McDonald) – Armand Van Helden
4. Just a Little More Love (Feat. Chris Willis) (Wally Lopez Remix) – David Guetta & Joachim Garraud
5. Flawless – The Ones
6. Lola's Theme – The Shapeshifters
7. At Night – Shakedown
8. Love Story (Vs. Finally) Bootleg (Tim Deluxe Remix) – Layo & Bushwacka!
9. Put 'Em High (Feat. Therese) – StoneBridge
10. Fade (Feat. KimBlee) – Solu Music
11. Watchin' – Freemasons
12. Rocking Music – Martin Solveig
13. Doctor Pressure (Miami Sound Machine Vs Mylo) – Mylo
14. The Weekend – Michael Gray
15. Starlight – The Supermen Lovers
16. Make Luv (Feat. Oliver Cheatham) – Room 5
17. Your Body (Feat. Michael Marshall) – Tom Novy
18. I See Girls (Crazy) (Tom Neville Radio Edit) – Studio B
19. My Life (Haji and Emanuel Vocal Mix) – Chanel
20. The Cure & the Cause (Feat. Tracey K) (Dennis Ferrer Remix) – Fish Go Deep