Mit der neuen Ministry of Sound Throwback Party Jamz und ihrer grandiosen Tracklist, lehnt sich das britische Label wieder einmal über den Rand der Dance Music hinaus. Hier vereint das Label die größten Tracks aus dem Black Music Sektor der letzten Jahre, wenn nicht sogar Jahrzehnte.
In den letzten Artikeln über einige Werke von Ministry of Sound, hatten wir bereits Bedenken geäußert, dass sich der Verkauf des Labels an Sony Music negativ auswirken würde auf zukünftige Veröffentlichungen. Bislang bestätigen sich die Bedenken zum Glück nicht und Ministry of Sound bringt weiter erstklassige Compilations auf den Markt.
Wenn man an dieser Stelle nun mal einen Blick auf die Tracklist wirft, wird schnell sehen, dass wir hier nicht übertreiben. Auf der Ministry of Sound Throwback Party Jamz findet ihr absolute Hammer Tracks von z.B. 50 Cent, Missy Elliott, Vanilla Ice, Salt N Pepa, Outkast, Panjabi MC, Kriss Kross, Timbaland und viele mehr.
Somit stellt Ministry of Sound einmal mehr unter Beweis, dass sich das Label auch bestens Abseits der Dance Music auskennt und weiß was angesagt ist. Die Retro-Welle rollt ja bereits seit mehreren Monaten wieder durch Europa, so ist es nicht verwunderlich, dass in mehreren Genres derzeit ähnliche Compilations auf den Markt kommen.
Bis zum Release der Ministry of Sound Throwback Party Jamz dauert es noch ein paar Tage, denn erst ab dem 18. November 2016 steht das gute Stück für euch im Handel bereit. Wie immer an dieser Stelle der Hinweis, dass es in Deutschland im Internet durchaus einfacher ist an die Compilation zu kommen anstatt im Einzelhandel.
So darf an dieser Stelle natürlich auch die Tracklist und das passende Cover nicht fehlen, damit ihr wisst was euch hier erwartet. Wenn euch die Ministry of Sound Throwback Party Jamz überzeugen kann, dürft ihr sie natürlich schon jetzt bei Amazon und anderen Shops vorbestellen.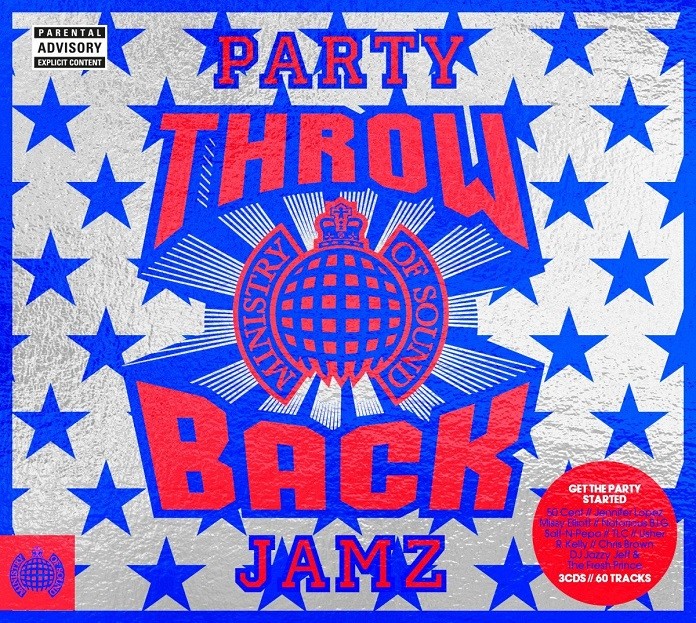 Disk: 1
1. 50 Cent – In Da Club
2. Justin Timberlake feat. Timbaland – SexyBack
3. Missy Elliott – Work It
4. Fat Joe & Ashanti – Whats Love
5. Notorious BIG – Hyponotize
6. ODB feat. Kelis – Got Your Money
7. Outkast – Hey Ya
8. Bobby Brown – My Perogative
9. Salt N Pepa – Talk About Sex
10. Color Me Bad – I Wanna Sex You Up
11. Craig David – Rendevous (Blacksmith Re
12. MN8 – I've Got A Little Something For Ya
13. Vanilla Ice – Ice Ice Baby
14. Bell Biv Devoe – Poison
15. Jagged Edge – Let's Get Married (ReMarquable Remix)
16. Jon B – Don't Talk
17. Koffee Brown – Afterparty
18. Next – Too Close
19. Nivea – Don't Mess With My Man
20. R.Kelly – Bump N Grind
Disk: 2
1. Dj Jazzy Jeff – Boom Shake Shake The Room
2. Kriss Kross – Jump Jump
3. K7 – Come Baby
4. Panjabi MC – Mundian To Bach Ke
5. Salt N Pepa – Push It
6. MC A Lot – Baby Got Back
7. Rob Da Base – It Takes Two
8. Ini Kamoze – Hotsteppa
9. Redman – Lets Get Dirty
10. MOP – Ante Up
11. Terror Squad – Lean Back
12. Eric Sermon – React
13. NORE – Nothin
14. Cypress Hill – Insane In The Brain
15. House of Pain – Jump Around
16. DMX – Party Up
17. Afrika Bambaataa – Planet Rock
18. RUN DMC – Its Like That
19. Sugarhill Gang – Apache
20. Cameo – Candy
Disk: 3
1. TLC – No Scrubs
2. Jennifer Lopez – Jenny From The Block (Bronx Remix)
3. Usher – Pop Ya Collar
4. Aalyiah – Back & Forth
5. Kelly Rowland – Can't Nobody
6. Chris Brown – Run it
7. Ciara – Goodies
8. Blu Cantrel feat. Sean Paul – Breathe
9. Ja Rule – Put It On Me
10. Black Street – No Diggity
11. J Kwon – Tipsy
12. Wu Tang – Gravel Pit
13. R Kelly – Ignition
14. Nelly – Country Grammar
15. Amerie – One Thing
16. 112 – Only You (Bad Boy Remix)
17. Lucy Pearl – Dance Tonight
18. 702 – Where My Girls At
19. Kandi – Don't Think I'm Not
20. Ginuwine – Pony