Die Nature One – Best of 20 Years ist ein Must Have für alle Fans, denn die Tracklist dieser Compilation spiegelt die musikalische Reise der letzten 20 Jahre Nature One wieder und da könnt ihr euch ja sicherlich denken, das dort reichlich ganz große Hits dabei sind.
Bereits weit vor dem Mega Festival Boom war die Nature One eines der Aushängeschilder der Dance Szene in Deutschland. Auch wenn das Mega Festival noch unter der 100.000 Besucher Marke verbleibt, gehört die Nature One zu den größten Dance Festivals in Europa.
Im letzten Jahr feierte dieses Festival sein 20 jährigens bestehen und gerade das Set von ATB sorgte für reichlich Gesprächsstoff, denn während seines Sets stiegen ihm die Tränen in die Augen. Auf Facebook erklärte er später warum dies so war und erntete für die Ehrlichkeit direkt viel Lob bei seinen Fans.
Wer die Nature One besucht, sollte jedoch viel Zeit mitbringen denn auch 2014 gab es wieder einmal einen Mega Stau vor dem Festivalgelände von teilweise bis zu 12 Stunden. Kommen wir aber zurück zur Nature One – Best of 20 Years, diese erscheint am 27. Februar 2015 als 4er CD-Box und in limitierter Ausgabe auch als 4er LP Edition.
Wir haben euch selbstverständlich auch für diese Compilation bereits jetzt das Cover und die Tracklist rausgesucht, damit ihr schon vor dem Release einen ersten Eindruck davon bekommen könnt, welche Mega Hits euch hier erwarten.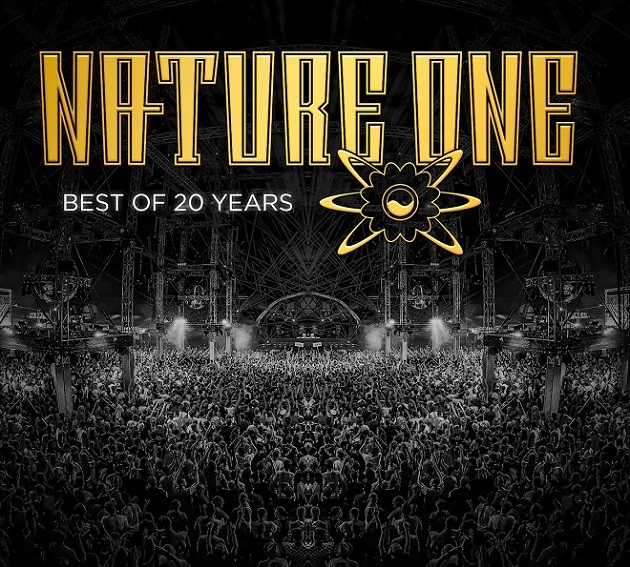 CD 1:
1. LASERKRAFT 3D – NEIN, MANN!
2. STEVE BUG – LOVERBOY
3. M.A.N.D.Y. VS BOOKA SHADE – BODY LANGUAGE
4. MARC ROMBOY VS STEPHAN BODZIN – ATLAS
5. KÖLSCH – LORELEY
6. SONO – KEEP CONTROL (H.O.S.H. REMIX)
7. TIGA & ZYNTHERIUS – SUNGLASSES AT NIGHT
8. AZZIDO DA BASS – DOOMS NIGHT (TIMO MAAS REMIX)
9. JUNIOR JACK – THRILL ME
10. TOMAS ANDERSSON – WASHING UP (TIGA MIX)
11. OLIVER KOLETZKI – DER MÜCKENSCHWARM
12. OXIA – DOMINO
13. DER DRITTE RAUM – HALE BOP (RAUMGLEITER)
14. DJ S.P.U.D. – SET IT OFF
15. LAMBDA – HOLD ON TIGHT (NALIN & KANE REMIX)
16. ELEKTROCHEMIE LK – SCHALL (THOMAS SCHUMACHER REMIX)
17. MOGUAI – U KNOW Y
18. DJ TOCADISCO – NOBODY (LIKES THE RECORDS THAT I PLAY)
19. JUSTICE VS SIMIAN – WE ARE YOUR FRIENDS
20. LEXY & K-PAUL – PONYBOY (PONYBABE REMIX)
CD 2:
1. HUMATE – LOVE STIMULATION (LOVE MIX)
2. ENERGY 52 – CAFÉ DEL MAR (THREE 'N' ONE REMIX)
3. EXIT EEE – EPIDEMIC
4. AYLA – AYLA (DJ TAUCHER REMIX)
5. THE THRILLSEEKERS – SYNAESTHESIA
6. Gouryella – Walhalla
7. SOUTHSIDE SPINNERS – LUVSTRUCK
8. SVENSON & GIELEN – TWISTED
9. CYGNUS X – THE ORANGE THEME
10. PAUL VAN DYK – FOR AN ANGEL (E-WERK CLUB MIX)
11. AURORA BOREALIS – MILKY WAY
12. JL – THE FUTURE
13. DJ CRACK – SINGULAR
14. JENS – LOOPS & TINGS (FRUIT LOOPS REMIX)
15. BINARY FINARY – 1998
16. MIND X – FEEL THE GENERATION (RAVE CHAPTER MIX)
17. CENITH X – FEEL (LEGEND B REMIX)
18. THE JEYÊNNE – NIPPON NIPPEL II
19. MICROWAVE PRINCE – I NEED YOUR LOVE
20. PERPLEXER – ACID FOLK
CD 3:
1. NIKOLAI – READY TO FLOW
2. CENTRAL LOVE II – TRAUM
3. CHERRYMOON TRAX – THE HOUSE OF HOUSE
4. COMMANDER TOM – ARE AM EYE?
5. DUNE – CAN'T STOP RAVING (THE MONTINI EXPERIENCE REMIX)
6. PYRATE – BYCANCE
7. GENLOG – EISKALT
8. MANDALA – EVOLUTION
9. LUNATIC ASYLUM – THE MELTDOWN
10. SUNBEAM – OUTSIDE WORLD
11. KOMAKINO – CAN'T STOP
12. DAVE DAVIS – TRANSFIGURATION
13. SEQUENTIAL ONE – HANDS UP
14. AXIS – COME ON
15. RAVERS NATURE – STOP SCRATCHIN'
16. CODE 9 – ATMOSPHERE (PART 1)
17.CHARLY LOWNOISE & MENTAL THEO – WONDERFUL DAYS
18. RMB – EXPERIENCE (FOLLOW ME)
19. HARDSEQUENCER – THE DANCING NATIONS
20. PILLDRIVER – PITCHHIKER
CD 4:
1. SWEDISH HOUSE MAFIA FEATURING JOHN MARTIN – DON'T YOU WORRY CHILD
2. AVICII – LEVELS
3. ARMIN VAN BUUREN FEAT. TREVOR GUTHRIE – THIS IS WHAT IT FEELS LIKE
4. DAVID GUETTA FEAT. KELLY ROWLAND – WHEN LOVE TAKES OVER
5. CALVIN HARRIS – I'M NOT ALONE
6. B.B.E. – SEVEN DAYS AND ONE WEEK
7. ATB – 9 PM – TILL I COME
8. DJ QUICKSILVER – I HAVE A DREAM
9. KAY CEE – ESCAPE
10. MAURO PICOTTO – KOMODO (MEGAVOICES CLAXIXX MIX)
11. BARTHEZZ – ON THE MOVE
12. TOMCRAFT – LONELINESS
13. KAI TRACID – TOO MANY TIMES
14. COSMIC GATE –EXPLORATION OF SPACE
15. DJ SAKIN&FRIENDS – PROTECT YOUR MIND (BRAVEHEART)
16. WARMDUSCHER – AUF DIE FRESSE!
17. DJ WAG – MAN ON THE MOON (DJ WAG MIX)
18. ZOMBIE NATION – KERNKRAFT 400
19. STORM – STORM
20. BENNY BENASSI PRES. THE BIZ – SATISFACTION