Die Pop Giganten Sommer-Hits kommen auch 2020 mit grandiose Tracklist um die Ecke, mehr Sommer Hits gehen einfach nicht. Wer kennt es nicht, Jahr für Jahr kämpfen zahlreiche Songs um die Krone zum Sommer Hit des Jahres. Kaum ist der dann bestimmt worden, geht der Ohrwurm dann auch schon los.
Gerade im Fall der Pop Giganten Sommer-Hits solltet ihr nichts gegen Ohrwürmer haben, denn diese Compilation ist absolut voll damit. Wer gleich einen Blick auf die Tracklist werfen wird, der wird sicherlich schnell merken, dass man direkt anfängt das eine oder andere Lied im Kopf zu singen.
Gerne geben wir euch mal einige Beispiele, denn hier finden wir Songs wie z.B. " Ricky Martin – Livin La Vida Loca", "Mungo Jerry – In the Summertime", "Culcha Candela – Hamma!", "Shakira feat. Freshlyground – Waka Waka", "Kaoma – Lambada" und viele weitere Songs mit absoluter Ohrwurm Garantie.
Im Handel findet ihr die Pop Giganten Sommer-Hits bereits seit dem 19. Juni 2020. Also ist es höchste Zeit sich ein Exemplar zu sichern, um für die zahlreichen kleinen Gartenpartys auch gerüstet zu sein. Als kleinen Vorgeschmack, haben wir euch die Single " Yolanda Be Cool vs. DCUP – We No Speak Americano " einmal mit eingebunden.
Natürlich haben wir auch in diesem Fall die Tracklist und das passende Cover für euch parat, damit ihr schon vor dem Kauf wisst, was euch hier erwartet.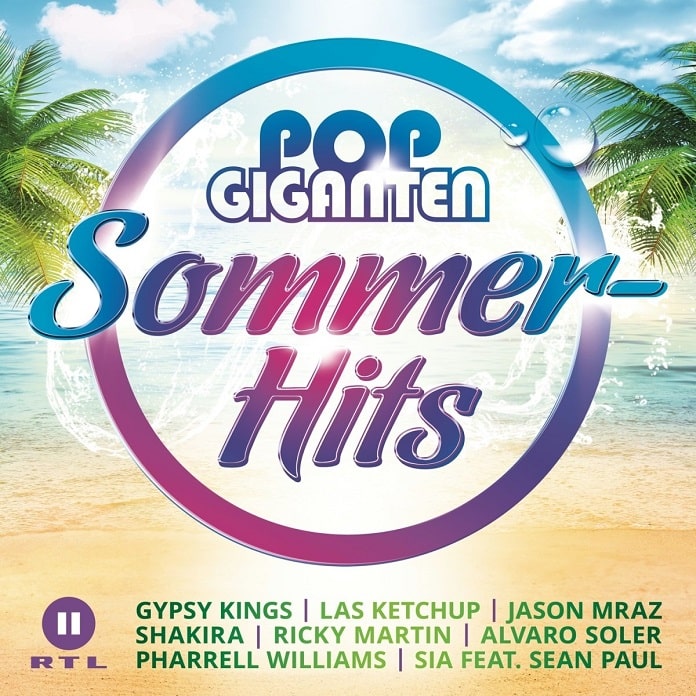 Disk: 1
1. Sofia – Soler, Alvaro
2. Livin' la Vida Loca – Martin, Ricky
3. Happy – From 'Despicable Me 2′ – Williams, Pharrell
4. Maria Maria – Radio Mix – Santana feat. The Product G&B / Product G&B, The / Santana, Carlos
5. Asereje – Las Ketchup
6. Let's Get Loud – Lopez, Jennifer
7. Conga – Estefan, Gloria and Miami Sound Machine / Dermer, Lawrence P.
8. Coco Jamboo – Radio Version – Mr. President
9. Bailando – Loona
10. Around the World (La La La La La) – Radio Version – A Touch Of Class
11. We No Speak Americano – Radio Edit – Yolanda Be Cool vs. DCUP / Skinner, Mike
12. Samba de Janeiro – Bellini
13. Volare (Nel Blu di Pinto di Blu) – Reyes, Nicolas / Gipsy Kings
14. Mambo No. 5 (A Little Bit of…) – Bega, Lou
15. In the Summertime – Mungo Jerry
16. Summer in the City – Lovin' Spoonful, The
17. Walking on Sunshine – Katrina & The Waves
18. Sunshine Reggae – Laid Back
19. Easy – Cro
20. Beggin' – Madcon
21. Hamma! – Radio Edit – Culcha Candela
22. Tag am Meer – Fantastischen Vier, Die
Disk: 2
1. Waka Waka (This Time for Africa) [The Official 2010 FIFA World Cup (TM) Song] – Shakira feat. Freshlyground / Shakira / Freshlyground / Mahola, Zolani / Smith, Kyla-Rose
2. Cheap Thrills – Sia feat. Sean Paul
3. Fireball – Pitbull feat. John Ryan
4. Vayamos Compañeros – Radio Edit – Marquess
5. Obsesion – Radio Mix – Aventura
6. Lambada – Kaoma
7. Danza Kuduro – Lucenzo feat. Don Omar
8. Welcome to St. Tropez – DJ Antoine vs Mad Mark Radio Edit – DJ Antoine vs Timati feat. Kalenna
9. Dragostea Din Tei – Haiducii
10. Mr. Saxobeat – Radio Edit – Stan, Alexandra
11. Endless Summer – Oceana
12. Love Generation – Radio Edit – Sinclar, Bob feat. Gary Pine
13. Vamos a la Playa – Righeira
14. Macarena – Bayside Boys Remix – Los Del Rio
15. Ice in the Sunshine – Beagle Music Ltd.
16. Club Tropicana – Wham!
17. Baby, I Love Your Way – Big Mountain
18. Cose della vita – Ramazzotti, Eros
19. Follow Me – Uncle Kracker
20. I'm Yours – Mraz, Jason
21. Jungle Drum – Torrini, Emilíana
22. Je veux – Zaz / Geffroy, Isabelle