Auch die RTL Hits 2019 bieten euch in ihrer Tracklist die Top Tracks der letzten Monate und den einen oder anderen Hit von Morgen. Wenn sich das Jahr dem Ende entgegen neigt, dann schießen die Best Of CDs, in jedem nur erdenklichen Genre, förmlich wie Pilze aus dem Boden.
So reiht sich die RTL Hits 2019 in einer ganzen Reihe großartiger Best of CDs ein und stellt den Käufer vor ein weiteres Rätsel. Denn die Musikfans haben nun die Qual der Wahl, welche der ganzen Best of CDs sie sich sichern, um eben alle Top Tracks der letzten Monate zu Hause zu haben.
Vorab kann man direkt sagen, dass die RTL Hits 2019, genau wie die Best of 2019 oder die Bravo The Hits 2019, eine Top Tracklist haben und man sich daher diese genau anschauen sollte, damit auch die Top Tracks, die euren Geschmack am meisten Treffen hier auch vertreten sind.
Im Fall der RTL Hits 2019 findet wir zahlreiche Top Tracks von z.B. Diplo, VIZE, Meduza, Miley Cyrus, The Chainsmokers, P!nk, Seeed, Tim Benzko, Sarah Connor, Johannes Oerding, Silbermond, Mark Foster, Ava Max, YouNotUs und wirklich noch viele weitere.
Der Release der RTL Hits 2019 ist für den 1. November 2019 angesetzt und wie immer an dieser Stelle, darf natürlich die Tracklist und das dazugehörige Cover nicht fehlen, damit ihr schon vor dem Kauf wisst, was euch hier alles erwartet. So solltet ihr die Zeit bis zum Release nutzen, um das gute Stück schon einmal vorzubestellen.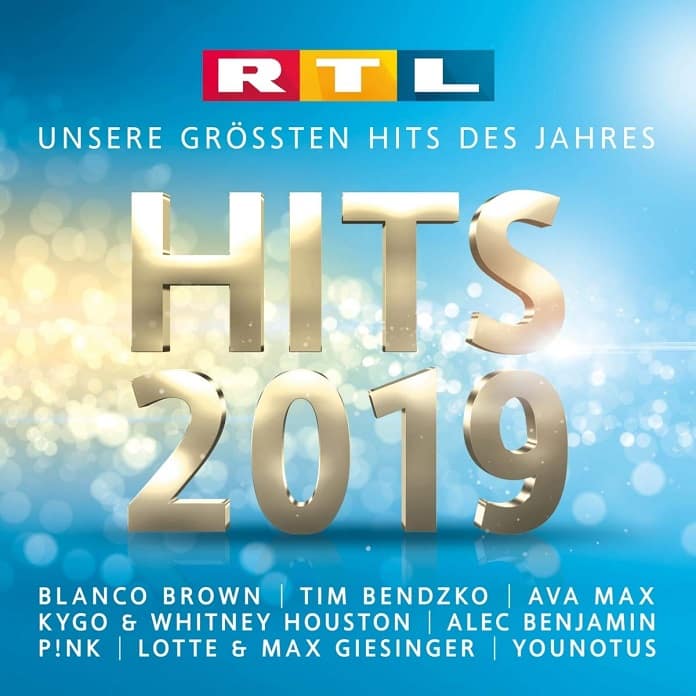 Disk 1:
01.Billy Ray Cyrus & Diplo Lil Nas X – Old Town Road – Diplo Remix 3:34
02.Blanco Brown – The Git Up 3:20
03.YouNotUs & Janieck & Senex – Narcotic 3:11
04.Ava Max – Torn 3:18
05.Alec Benjamin – Let Me Down Slowly 2:49
06.Billie Eilish – bad guy 3:14
07.Kyd the Band x Elley Duhe – Easy 3:13
08.P!nk & Cash Cash, P!nk feat. Cash Cash – Can We Pretend 3:44
09.Mabel – Mad Love 2:50
10.Lennon Stella, Andrew Taggart, The Chainsmokers & ILLENIUM feat. Lennon Stella – Takeaway 3:29
11.Camila Cabello – Liar 3:27
12.Miley Cyrus – Slide Away 3:53
13.Pedro & Farruko Capo – Calma – Remix 4:00
14.VIZE feat. Laniia – Stars 2:45
15.Daniel Pearce, Regard – Ride It 2:37
16.Drenchill feat. Indiiana – Never Never 2:47
17.David Guetta, Daddy Yankee, Afro Bros, Natti Natasha, Dimitri Vegas Dimitri Vegas & Like Mike – Instagram 3:06
18.Y2K & bbno$ – Lalala 2:41
19.Meduza feat. Goodboys – Piece of Your Heart 2:33
20.Jordan Powers, Alle Farben & Jordan Powers – Different for Us 3:04
21.Felix feat. Calum Scott Jaehn – Love on Myself 2:49
Disk 2:
01.Tim Bendzko – Hoch 2:48
02.Sarah Connor – Vincent 4:43
03.LOTTE & Max Giesinger – Auf das, was da noch kommt 3:29
04.Mark Forster – 194 Länder – Single Version 3:40
05.Seeed – Geld 2:42
06.Silbermond – Träum ja nur (Hippies) 3:07
07.Johannes Oerding – An guten Tagen 3:17
08.Michael Schulte – All I Need 3:13
09.Adel Tawil feat. PEACHY – Tu m'appelles (feat. PEACHY) 3:24
10.Giovanni Zarrella feat. Pietro Lombardi – Senza te (Ohne dich) 3:33
11.Stefanie Heinzmann – Shadows 3:09
12.Declan J Donovan – Vienna 3:52
13.James Arthur & Ty Dolla $ign feat. Shotty Horroh – Treehouse 3:40
14.Tom Gregory – Small Steps 2:47
15.Sigala & Ella Henderson – We Got Love 3:35
16.Sia – Unstoppable 3:38
17.Love Harder, Lost Frequencies feat. Love Harder – Beat of My Heart 3:03
18.Miley Cyrus, Mark feat. Miley Cyrus Ronson – Nothing Breaks Like a Heart 3:37
19.Rag'n'Bone Man, Rag'n'Bone Man Calvin Harris – Giant 3:49
20.Robin feat. Harloe Schulz – All This Love 2:44
21.Whitney Houston, Kygo & Whitney Houston – Higher Love 3:48