Die CD The Disco Boys 16 steht an, höchste Zeit einen Blick auf die Tracklist zu werfen. Wenn zwei DJs sich in deutschland in den letzten 20 Jahren einen Namen gemacht haben, dann ganz klar The Disco Boys. Wenn man ihren Namen hört, denkt man automatisch an die Mega Über Single " For You ", die noch heute überall rauf und runter läuft.
Einen weiteren großen Meilenstein haben die Jungs sich mit der gleichnamigen Compilation gemacht, die bereits seit vielen Jahren auf den Markt kommt. Mittlerweile ist das gute Stück in der 16. Ausgabe auf den Weg in den Handel und gerade das ist in der heutigen Zeit eine echte Meisterleistung, gerade im House & Dance Musik Bereich.
Man könnte die 3 Mixe auch als Set für die Nacht benutzen, denn neben vielen Top Tracks aus den aktuellen House Charts oder Dance Charts, finden sich auch wieder einige Nummern, die ihr sicherlich noch nicht gehört habt oder zumindest diese Remixe nicht kennt. Genau das ist es aber auch, was die Sets der Disco Boys ausmachen.
Anders als andere DJs der Mainstage, greifen die Jungs nicht nur auf die großen Festival Kracher zurück. Wer von Raphael und Gordon nicht genug bekommen kann, sollte sich die Facebook Seite der Jungs anschauen, denn sie sich nach wie vor Deutschland weit in den Clubs und Großraumdiscos unterwegs.
Bis zum Release der The Disco Boys 16 habt ihr es zum Glück nicht mehr lange, denn bereits ab Heute also dem 9. Dezember 2016 steht das gute Stück für euch im Handel bereit. Wir wollen euch natürlich auch in diesem Fall wieder die Tracklist und das passende Cover nicht vorenthalten, damit ihr wisst was euch hier erwartet.
Wenn euch die Tracklist überzeugen kann, wovon wir nun einfach mal ausgehen, solltet ihr euch direkt in den nächsten Electro Markt begeben und die CD " The Disco Boys 16 " direkt erwerben.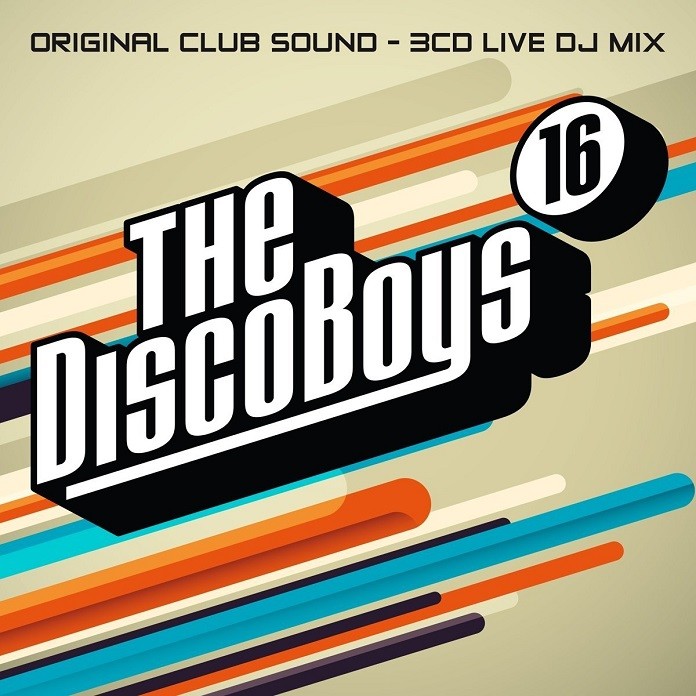 CD1 "ON THE MAINFLOOR"
01. THE DISCO BOYS – OUR HOUSE IS YOUR HOUSE (VOLUME 16 INTRO)
02. SIGALA FT. JOHN NEWMAN & NILE RODGERS – GIVE ME YOUR LOVE
03. DROPGUN – TOGETHER AS ONE (ORIGINAL MIX)
04. GALANTIS – NO MONEY
05. ERICK DECKS FT. JASON ANOUSHEH – TOUCH YOUR HIPS (ERICK DECKS PHAT DISCO MIX)
06. MOGUAI FT. TOM CANE – YOU'LL SEE ME (HUGEL REMIX)
07. EDX – ROADKILL (EDX'S IBIZA SUNRISE REMIX)
08. THE DISCO BOYS – MEMORIES (ORIGINAL VERSION)
09. RAFFA FL – ENVIOUS (ORIGINAL MIX)
10. DIGITALISM – DESTINATION: BREAKDOWN (GERD JANSON REMIX)
11. THE MAGICIAN – TOGETHER (LUCAS & STEVE REMIX)
12. NORMAN DORAY & BOTTAI – #BRINGBACKTHEGROOVE (ORIGINAL MIX)
13. MICHAEL WOODS – TAKE MY LOVE (EXTENDED MIX)
14. L'TRIC FT. MILES GRAHAM – 1994 (GENARIO NVILLA REMIX)
15. FEDDE LE GRAND AND HOLL & RUSH – FEEL GOOD (ORIGINAL MIX)
16. DON DIABLO & KHREBTO – GOT THE LOVE (EXTENDED MIX)
17. NICKY ROMERO & NILE RODGERS – FUTURE FUNK (GIOCATORI REMIX)
18. KID MASSIVE & DJ SIGN – RIDE THE RHYTHM (ORIGINAL MIX)
19. RELAY – 4LIFE (ORIGINAL MIX)
20. MARCO V – WE WILL BE (TOGETHER) (ORIGINAL MIX)
21. IZZY BIZU -WHITE TIGER (MARCUS LAYTON RADIO EDIT)
CD2 "IN THE BASEMENT"
01. WLADY – GINEVRA
02. BINGO PLAYERS – CRY (JUST A LITTLE) (A-TRAK & PHANTOMS REMIX)
03. PURPLE DISCO MACHINE & BORIS DLUGOSCH – SET IT OUT
04. MOONBOOTICA – HEAR YOUR LOVE (EXTENDED MIX)
05. CID – TOGETHER
06. THE DISCO BOYS – 555-SHOE
07. ME & MY TOOTHBRUSH – DROP THAT
08. NORA EN PURE – CONVINCING
09. MARK STENT – TO BE REAL (RYAN BARTON REMIX)
10. CALIPPO – MESA VERDE
11. ALAIA & GALLO FT. KEVIN HARDEN – WHO IS HE?
12. RAUMAKUSTIK – PANTHER (FORMAT:B REMIX)
13. FRANKY RIZARDO – KEEP MY COOL
14. CAMELPHAT – CONSTELLATIONS
15. YNOT & COSMO KLEIN – WHEN DOVES CRY
16. METRONOMY – NIGHT OWL (BOSTON BUN REMIX)
17. ADRIAN LUX – TORN APART (AS I AM DUB)
18. SHORTY – VAZILANDO (KRYDER & EDDIE THONEICK REMIX)
19. MARCUS SCHOSSOW & NEW_ID – ADA (EXTENDED MIX)
20. SAM FELDT – SHOW ME LOVE (EDX'S INDIAN SUMMER RADIO MIX)
CD3 "AT THE DISCOTHEQUE"
01. BILLY OCEAN – ARE YOU READY (ALBUM VERSION)
02. T SKI VALLEY – CATCH THE BEAT (DIMI'S & MOUSSE T. OLD SCHOOL MIX)
03. NY'S FINEST – DO YOU FEEL ME (CITY SOUL PROJECT CLUB MIX)
04. YVVAN BACK – PICK UP THE PIECES
05. BORIS DLUGOSCH – KEEP PUSHIN' (PURPLE DISCO MACHINE VOX MIX)
06. MATEO & MATOS – HAPPY FEELIN' (ORIGINAL MIX 2015 RE-MASTER)
07. DJ 88 KEYS – EVERYBODY UP (PAN AM NIGHTLIFE MIX)
08. DIMITRI FROM PARIS & DJ ROCCA – DISCO SHAKE (ORIGINAL MIX)
09. THOSE GUYS – I WALK ALONE (DIMITRI FROM PARIS RE-EDIT)
10. REDROCHE VS. ARMSTRONG – MAKE YOUR MOVE (CLASSIC EXTENDED MIX)
11. PAUL JOHNSON – GET GET DOWN (RADIO EDIT)
12. LUCA DEBONAIRE – KEEP THIS PARTY ROCKIN' (ORIGINAL MIX)
13. PHATS & SMALL – TURN AROUND (HEY WHAT'S WRONG WITH YOU) (EXTENDED MIX)
14. JUNIOR JACK – THRILL ME (ORIGINAL VERSION BY JUNIOR JACK)
15. NIGHTCRAWLERS – PUSH THE FEELING ON (JOHN JACOBSEN REMIX)
16. BOB SINCLAR & DBN – I FEEL FOR YOU (2016 REWORK)
17. MENINI & VIANI – MY NAME (THE CUBE GUYS REMIX)
18. TOCADISCO – NOBODY LIKES THE RECORDS THAT I PLAY (EXTENDED MIX)
19. ROGER SANCHEZ & GTO – TURN ON THE MUSIC (AXWELL REMIX)
20. DB BOULEVARD – POINT OF VIEW (ORIGINAL CLUB MIX)