Bereit für die neue Kontor Top Of The Clubs 73 und ihre Tracklist ? Zum Ende des aktuellen Jahres lässt es Kontor Records noch einmal so richtig krachen und bringt nur einen Tag vor Silvester diese Mega Scheibe auf den Markt und sorgt für die perfekte Beschallung zum Jahreswechsel.
Bereits seit längerem gehört die Kontor Top Of The Clubs zu ganz oben in die offiziellen deutschen Verkaufscharts und hat es tatsächlich geschafft, die #1 Dance Compilation in Deutschland zu werden und das muss man erst einmal schaffen, in Zeiten von Dream Dance, Future Trance, About Berlin und Co.
Auch dieses mal wieder, erwarten euch auf der Kontor Top Of The Clubs 73 die 60 aktuellesten und angesagtesten Club Tracks der letzten Wochen. Der mittlerweile bekannte Bonus dieser Reihe, ist natürlich auch dieses mal wieder ein echter Vorteil für diese Compilation, denn auch hier gibt es wieder unveröffentlichte Tracks und Remixe.
Neben der normalen Ausgaben, gibt es auch eine limitierte Edition, bei der ihr zu der Top CD auch eine kleine Überraschung bekommt und zwar einen exklusiven Kontor 5-Fach Kopfhörer Audio Splitter. Bis zum Release am 30. Dezember 2016, habt ihr nun mehr als ausreichend Zeit, um euch die normale oder die limitierte Edition vorzubestellen.
Wie immer an dieser Stelle, haben wir natürlich auch im Fall der Kontor Top Of The Clubs 73 die Tracklist und das passende Cover für euch am Start. So könnt ihr euch bereits vor dem Kauf einen ersten Eindruck von der letzten Ausgabe der Kontor Top Of The Clubs im Jahre 2016 machen.
Der passende MiniMix zur Kontor Top Of The Clubs 73 ist derzeit noch nicht Online, diese werden wir euch aber später noch nachreichend, denn damit kann man sich noch einfacher einen ersten Eindruck von dieser Compilation machen.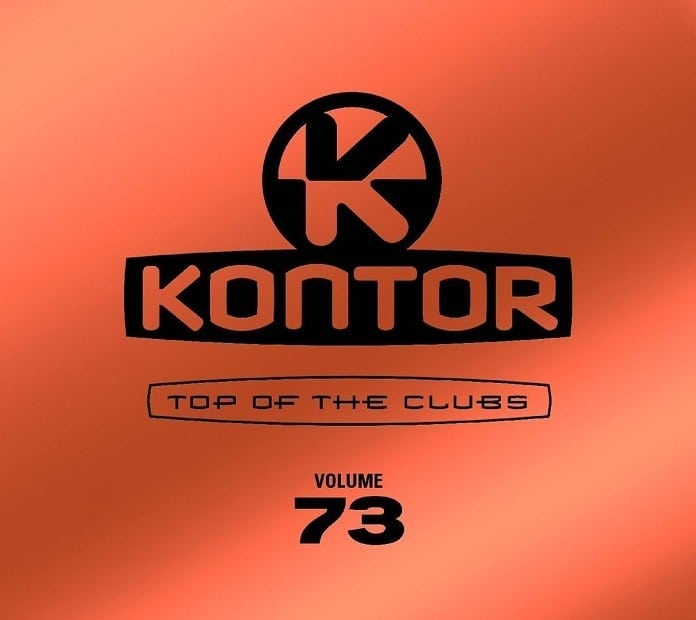 Disk: 1
1. Starley – Call On Me (Ryan Riback Remix)
2. Marcapasos – Aicha
3. 1 World & Bob Marley – African Herbsman (ADroiD & Lotus Extended Remix)
4. David Guetta & Cedric Gervais & Chris Willis – Would I Lie To You
5. Stereoact feat. Chris Cronauer – Nummer Eins
6. Salt Ashes – Save It
7. Flume feat. Kai – Never Be Like You (Martin Solveig Remix)
8. Kungs feat. Jamie N Commons – Don't You Know
9. Martin Garrix & Bebe Rexha – In The Name Of Love
10. Dimitri Vegas & Like Mike vs Diplo – Hey Baby (feat. Deb's Daughter)
11. Galantis & Hook N Sling – Love On Me
12. Lost Frequencies – What Is Love 2016
13. Tomotronix & Orangez – Teardrops (Jerome Extended Remix)
14. Rene Rodrigezz – Killer
15. Patz & Grimbard – In My Head
16. Mahmut Orhan feat. Sena Sener – Feel
17. SICK INDIVIDUALS – Alive
18. KSHMR & Tigerlily – Invisible Children
19. W&W – Caribbean Rave
20. Major Lazer & Showtek – Believe
Disk: 2
1. Offaiah – Trouble
2. Jude & Frank feat. Totó La Momposina – La Luna
3. Weiss (UK) – You're Sunshine
4. Passenger 10 – Monsters Off My Back (Nora En Pure Club Retreat)
5. Husky feat. Shyam – Night On Fire
6. Platinum Doug – You Know What
7. Nora En Pure ft. Dani Senior – Tell My Heart
8. Mokita X Cade – Monopoly (Boehm Extended Remix)
9. Mount & Palastic – Once Again
10. Dimitri Vegas & Like Mike – Stay A While
11. Kölsch – Grey
12. Don Diablo – Cutting Shapes
13. Tujamo – BOOM!
14. Borgeous & Loud Luxury – Going Under
15. Matt Nash – Know My Love
16. Matoma & Becky Hill – False Alarm (Hook N Sling Remix)
17. Neptunica feat. Matt DeFreitas – Alive
18. Dillon Francis & NGHTMRE – Need You
19. NERVO & SAVI feat. Lauren Bennett – Forever Or Nothing
20. Dirtcaps feat. Eleni Drake – Foreign Tongues
Disk: 3
1. Felix Jaehn feat. ALMA – Bonfire (Chris Lake Remix)
2. Steff Da Campo – Come Back (And Stay)
3. EDX – High On You
4. Croatia Squad – We Don't Need No Sleep
5. Alle Farben – Fall Into The Night
6. AirDice – Rolling Stone
7. Jonas Blue feat. JP Cooper – Perfect Strangers
8. Sam Feldt & Deepend feat. Teemu – Runaways
9. Mark Ursa & Yuga – Say
10. Dave202 & Gino G – Like An Animal
11. Dizkodude feat. Jenny Jones – Nightstar
12. Nina Den Hartog – Bodies In The Sun (Kenn Colt Remix)
13. Dimaro feat. Dillon Dixon – Sunshine
14. Marcapasos & Janosh – Pianissimo
15. AirDice feat. Nicole S. – Woke Up
16. Filou – First Love (AirDice Remix)
17. Spada feat. Richard Judge – You & I
18. Rich Vom Dorf & C2 – Datei
19. Carla's Dreams – #Eroina (Midi Culture Remix)
20. Feder feat. Alex Aiono – Lordly