Die Compilation The Disco Boys 18 steht in den Startlöchern, höchste Zeit sich die Tracklist einmal genauer anzuschauen. Sie gelten als bekanntestes DJ Duo Deutschlands und sind bereits seit mehreren Jahrzehnten erfolgreich im Geschäft, was man gerade in der heutigen Zeit erst einmal schaffen muss.
Auf der Compilation The Disco Boys 18 findet ihr nicht irgendwelche Tracks, sondern nur ausgewählte Songs, die von den Disco Boys auch gefeiert und dementsprechend in ihren Sets tatsächlich auch verwendet werden. So bekommt die Compilation, eine ganz besondere Note von den Jungs.
Mit dabei sind unter anderem Songs von Armin van Buuren, Goldfish, Max Frost, Matt Nash, Moguai & Zonderling, Tomecraft, Cube Guys, Arcade Mode, Wippenberg und viele weitere. Bis auf wenige Ausnahmen, bedienen sich die Disco Boys bei ihrer Auswahl hier also nicht an den großen aktuellen Charts.
Wie man es von den Compilation der Disco Boys kennt, kam auch in diesem Fall die Tracklist erst kurz vor dem Release raus. So ist es also höchste Zeit, sich die besagte Tracklist einmal anzuschauen, damit ihr schon vor dem Kauf der Compilation The Disco Boys 18 wisst, was euch hier erwartet.
Ab dem 30. November 2018 steht das gute Stück für euch im Handel bereit. Als Preview auf das kommende Werk, haben wir euch die Single Max Frost – Good morning (Just Kiddin Remix) eingebunden, um die Vorfreude etwas weiter zu steigern. Einige von euch kennen die Single sicherlich aus dem Spiel Forza Horizan 4.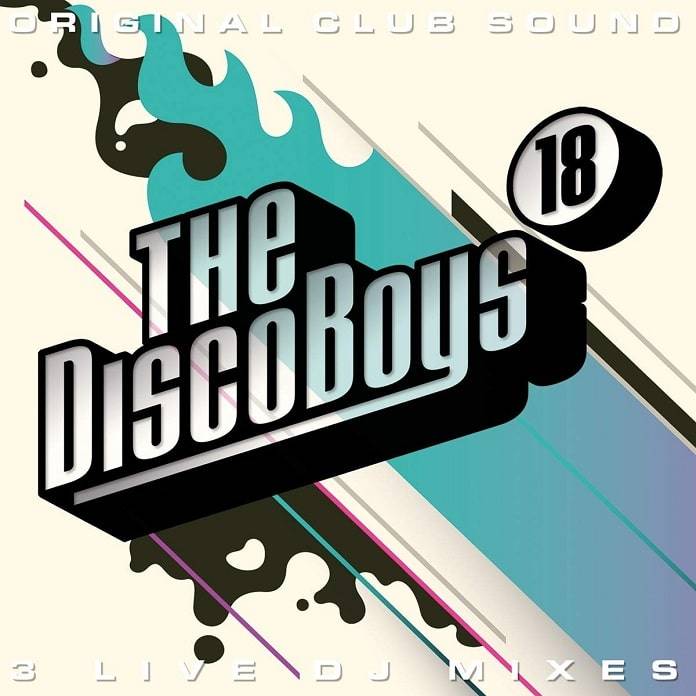 Disk 1 von 3:
1.Max Frost – Good morning (Just Kiddin Remix)
2.Kevin McKay – Crazy about you (Club Mix)
3.Goldfish – Talk to me (Mr. Belt & Wezol Extended Remix)
4.Block & Crown feat. Scotty Boy – Same as ever (Original Mix)
5.Weiss – Feel my needs (Gordon City Remix)
6.Piem – Love commandments (Alaia & Gallo Remix)
7.Antoine Clamaran, Agua Sin Gas – Maghic (Original Mix)
8.Basement Jaxx – Bingo Bango (Tom Staar & Kryder Extended Remix)
9.Luca Debonaire – Para mi (Original Mix)
10.2Mindstogether – Daddy scream (Original Mix)
11.Kideko – Waya know
12.Loud Luxury feat. Brando – Body (Extended Mix)
13.Armin Van Buuren – Blah blah blah (Alyx Ander Extended Remix)
14.Matt Nash & Faderx – In my head (Extended Mix)
15.Au/Ra & Camelphat – Panic room
16.Sharam Jey & Jean Bacarreza – Chasing
17.Dope Ammo, Kathy Brown, Wyld Child feat. Frenic – I'm good (Man Without A Clue Remix)
18.Mercer Feat. Ron Carroll – Satisfy (Malaa Extended Remix)
19.Perfecto Allstarz x Freejak – Reach up (The Vocal Edit)
20.Moguai & Zonderling – Lee (Extended Mix)
Disk 2 von 3:
1.Azzido Da Bass – Dooms night (Timo Maas Remix)
2.Tomcraft – Loneliness (Klub Cut)
3.Jan Blomqvist – Our broken mind embassy (Boris Brejcha Remix)
4.Wippenberg – Pong (Extended Mix)
5.Mart & Under Sanctions – Pump up the volume (Extended Mix)
6.Chris Hartwig – Superfruit (Original Mix)
7.Kaeru – Acid (Mikimoto Remix)
8.Cube Guys – Psycho killer (The Cube Guys Tech Remix)
9.Arcade Mode – Your love (Original Mix)
10.Audio Bullys – We don't care (Buffalo Bunch Night Train Extended Mix)
11.Format:B – Nitro circus (Original Mix)
12.Bottai feat. Mayenne – Plenitudo (Extended Mix)
13.Ramon Tapia – This groove (Original Mix)
14.Tom Staar & Eddie Thoneick – Otherside (Extended Mix)
15.Nico De Andrea – The shape (Kryder Remix)
16.Oxia – Domino (Original Rework)
17.Marcus Maison & Will Dragen – Another dimension (Original Mix)
18.Roger Sanchez – Another chance (Original Mix)
Disk 3 von 3:
1.Odyssey – Going back to my roots (Single Version)
2.KC & The Sunshine Band – Shake your booty (2004 Remastered Version)
3.T-Connection – Do what you wanna do (Edit)
4.Charlotte Gainsbourg – Silvia says (Tensnake Remix)
5.Wankelmut – Work of art (Kryder Remix Radio Edit)
6.Morlack – Ripa na chulipa
7.Roger Sanchez, Park & Sons Feat. Julie McKnight – This feeling
8.Crush Club feat. Supermini – We dance (Extended Mix)
9.Chic – Le freak (Dimitri From Paris Remix) (2018 Remaster)
10.Sam Dexter – Get down boy (Original Mix)
11.Karen Young – Hot shot (Joey Negro Sure Shot Mix)
12.Melba Moore – Pick me up, I'll dance
13.Illyus & Barrientos – Same ban (Original Mix)
14.Basement Jaxx – Summer dem (Alex Metric Remix)
15.Sean Roman – I wanna (Illyus & Barrientos Remix)
16.Claptone feat. Ben Duffy – Stronger (Tensnake Remix)
17.Kevin McKay, Cassimm – Get on the floor and dance (Original Mix)
18.Brame & Hamo – Roy Keane
19.Julie McDermott – Don't go (Gerd Janson Re-Work)
20.Silver – Wham bam shang-a-lang