Die Fans der Trance Music bekommen mit der Trance: The Vocal Session 2016 eine Tracklist geboten, die einen ersten Ausblick auf die neue Saison geben soll. In Sachen Trance Music ist es im Bereich der Compilations recht ruhig geworden aber auch im großen Komerz Bereich geht es in Sachen Compilation Berg ab.
Wie der Name der Trance: The Vocal Session 2016 schon verrät, steht hier der Vocal Trance im Vordergrund. So befinden sich hier natürlich auch reichlich Tracks, bei denen hier ordentlich mitsingen könnt. So ist die Trance: The Vocal Session 2016 garantiert etwas für die nächste Party.
Wenn wir mal einen Blick auf die Tracklist werfen, finden wir Tracks von Aboutblank, Markus Schulz, Paul Aiden, Mr. Green, Solarstone, Dash Berlin und viele weitere. Bis zum Release Termin dauert es noch ein paar Tage, denn erst am 13. November 2015 steht das gute Stück für euch im Handel bereit.
Wir haben an dieser Stelle natürlich wie immer die passende Tracklist der Trance: The Vocal Session 2016 und das dazugehörige Cover am Start. So könnt ihr euch bereits vor dem Release einen ersten Eindruck von der neuen Trance Compilation verschaffen.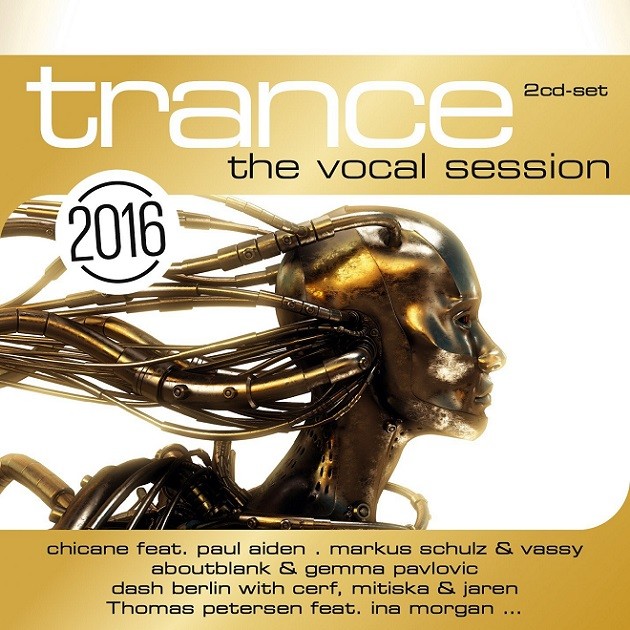 Disk: 1
1. Oxygen, (Chicane Vs. Westfunk Radio Edit) – Chicane Feat. Paul Aiden
2. Tomorrow Never Dies (Bombay), (Markus Schulz Coldharbour Remix) – Markus Schulz & Vassy
3. Counting Stars, (Original Edit) – Aboutblank & Gemma Pavlovic
4. No One Like You, (Radio Edit) – Craig Connelly Feat. Jennifer
5. Follow The Waves, (Mino Safy Radio Edit) – Kyau & Albert
6. Les Ailes, (Dj Ange Remix Edit) – Dennis Sheperd, David Meshow &
7. Love Waits, (Original Mix) – Ahmet Atasever Feat. Amy Kirkp
8. Black Skies, (Radio Edit) – Moonbeam Feat. Loolacoma
9. Welcome To My World, (Radio Edit) – Thomas Petersen Feat. Ina Morg
10. Move On, (Radio Edit) – Rene Ablaze & Jam Da Bass Feat
11. The Light, (Radio Edit) – A.R.D.I. & Leolani
12. Deep Down Below, (Original Mix) – Frozen Skies Feat. Jessy Cole
13. Once, (Alex M.O.R.P.H. Remix) – Solarstone & Iko
14. Army Of Lights, (Original Mix) – Nifra Feat. Seri
15. Who We Are, (Björn Akesson Radio Edit) – Arctic Moon & Apple One Feat.
16. Game Of Love, (Hazem Beltagui Radio Edit) – Snatt & Vix Feat. Alexandra Ba
17. Follow Me, (Radio Edit) – Mr. Green
18. Komodo 2k15, (Phillerz Remix Edit) – Dreiundzwanzig
Disk: 2
1. Man On The Run, (David Gravell 2015 Radio Edit) – Dash Berlin With Cerf, Mitiska
2. This Is Life, (Original Mix) – Andy Duguid & Audrey Gallagher
3. All Gone, (Ram Uplifting Radio Edit) – Andy Moor & Ram Feat. Christin
4. Pieces Of The Sky, (Radio Edit) – Matt Bukovski & Eloquentia Fea
5. Hero, (Imprezive Meets Pink Planet Remix Edit) – Denis Pewny Feat. Julia
6. Warriors Of Love, (Radio Edit) – Etania
7. Hold It Together, (Ahmed Romel Radio Edit) – Marlo Feat. Christina Novelli
8. Change, (Radio Edit) – BjÖrn Michels Feat. Henry Ayre
9. I Don T Know, (Original Mix Edit) – Riser Feat. Roza
10. Where You Hide, (Radio Edit) – Reorder & Lee Osborne With Rox
11. The Sun (Feat. Peter Munters), (Walt Remix Radio Edit) – Flarup
12. Moments Of Love, (Sodality Remix Edit) – Denis Reukov Feat. Selecta
13. The Fall, (Original Mix) – Jeremy Vancaulart Feat. Amy Ki
14. If I Run, (Venom One Radio Edit) – Antillas Feat. Anki
15. I Could Be, (Vocal Radio Edit) – Para X
16. Memories, (Vocal Edit) – Nolita Feat. Pearl Andersson
17. Firebird, (Original Mix) – Ciaran Mcauley & Clare Stagg
18. Boyz & Girlz, (Miss Carmella Radio Mix) – Dj M!Ss Me