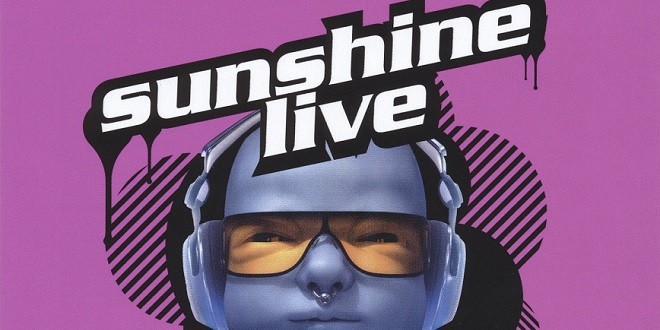 Mit der Sunshine Live 54 und ihrere Tracklist sind wir etwas spät dran, was jedoch nur bedingt an uns lag. Wir haben in den ganzen Tagen vor dem Release versucht an das Cover in einer ordentlichen Qualität zu gelangen, was leider erst einen Tag vor dem Release möglich war.
Da jedoch derzeit so ziemlich alle Themen auf einmal auf uns einprasseln, quer über unsere gesamten Projekte verteilt, können wir derzeit nur bedingt schnell reagieren. Leider muss man sagen, viel habt ihr bei der Sunshine Live 54 auch nicht verpasst bislang, gerne würden wir hier etwas anderes sagen aber gegen eine Future Trance oder Kontor Top of The Clubs kommt diese Compilation nicht an.
Möglich ist es natürlich auch, dass es so gewollt ist und man eben nicht mit den großen Compilations mithalten möchte, sondern viel mehr das Programm der letzten Wochen, den treuen Hörern nach Hause bringen möchte. In diesem Fall ist die Sunshine Live 54 natürlich genau richtig, damit ihr auch außerhalb des Radio Empfangs nicht auf den Sound verzichten müsst.
Im Handel ist die neue Compilation aus dem Hause Sunshine Live seit Freitag, also den 19. Juni 2015. Selbstverständlich haben wir auch hier, wie gewohnt, die Tracklist und das passende Cover für euch am Start, damit ihr euch auch schon vor dem Kauf einen ersten Eindruck der Sunshine Live 54 machen könnt.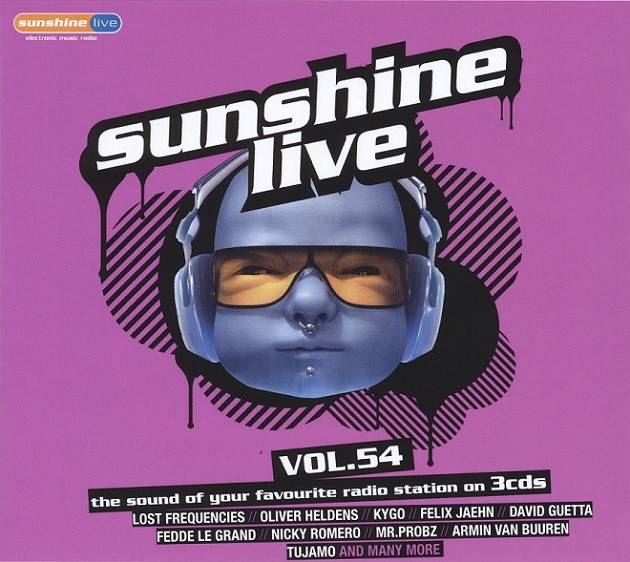 Disc 1
1. Lost Frequencies – Are You With Me
2. David Guetta feat. Sam Martin – Dangerous (Robin Schulz Remix Radio Edit)
3. Mr. Probz – Nothing Really Matters (Afrojack Remix Radio Edit)
4. Kygo feat. Conrad Sewell – Firestone
5. Felix Jaehn – I Do
6. Oliver Heldens feat. K.Stewart – Last All Night (Koala)
7. Clean Bandit feat. Jess Glynne – Real Love (Tough Love Remix Radio Edit)
8. Redondo & Bolier feat. She Keeps Bees – Every Single Piece
9. Rockefeller – Do It 2 Nite (Lucas & Steve Remix Edit)
10. Mr. Belt & Wezol – Finally
11. Max Manie – Claudius
12. Alex Adair – Make Me Feel Better (Don Diablo & CID Remix Radio Edit)
13. David P. – No (Zwette Remix Edit)
14. Andain – Beautiful Things (Dapa Deep Remix)
15. Three Drives – Greece 2000 (Olivier Weiter Remix)
16. Simioli & Provenzano feat. Scarlet – Ain't No Sunshine
17. Watermät & TAI – Frequency
18. Zwette feat. Molly – Rush
19. Gestört aber GeiL & Koby Funk feat. Wincent Weiss – Unter Meiner Haut
20. Armin van Buuren feat. Sharon Den Adel – In And Out Of Love (Lost Frequencies Remix)
Disk 2
1. United Heartbeat Project – Every Beat
2. Philip George – Wish You Were Mine
3. Full Intention feat. Mira – So Confused
4. Thomas Lizzara feat. Steven Coulter – Spree Ahoi
5. Mauro Mondello, Afrob & CeCe Rogers – Fell In Love
6. DJ Falk & Luca Debonaire – People From Ibiza
7. Pep & Rash – Rumors
8. Simon Fava – Circo Loco
9. Zonderling – Telraam
10. Rene Amesz – Like It Deep
11. Tom Wax – My Life,My Soul,My House!
12. Ferreck Dawn feat. BISHØP – Another Day
13. Hotlane – Whenever
14. KiNK – Cloud Generator
15. Hannah Wants & Chris Lorenzo – Rhymes
16. Curbi – Discharge
17. Mark Knight – Ironing Man
18. Prok & Fitch – Raw Cut
19. Röyksopp – Sordid Affair (Maceo Plex Remix)
20. Friends Of Mayday – Making Friends
Disc 3
1. Nicky Romero vs. Volt & State – Warriors
2. Fedde Le Grand feat. Niels Geusebroek – Falling
3. Tujamo – Booty Bounce
4. Galantis – Runaway (U & I)
5. DJ Antoine feat. Storm – #WokeUpLikeThis
6. Klubbingman & Andy Jay Powell – The Legend
7. Dave Darell vs. Picco – 12 Inch
8. BK Duke – Heartbeat
9. DJ Shog – Son of California
10. Benjamin Storm – Tweaked *Uptrax Winner*
11. Rene Ablaze, Ian Buff & DJ T.H. – 10 Years
12. Sean Tyas – Da Doo Da Dah
13. Richard Durand – Oxygen
14. Cosmic Gate & JES – Yai (Here We Go Again)
15. Markus Schulz – This Generation
16. Gaia – In Principio
17. Andrew Rayel feat. Sylvia Tosun – We Bring The Love
18. Rising Star feat. Betsie Larkin – Safe Inside You
19. Talla 2XLC – The Spring Is My Love
20. Paul van Dyk – Louder