Mit der Sunshine Live Welcome to the Club kommt die Sendung in Form einer Tracklist bzw. Doppel-CD zu euch nach Hause. Die Welcome to The Club ist nicht nur die erfolgreichste Sunshine Live CD, sondern auch eine der ältesten Sendungen des Dance Music Sender.
Während vor einigen Jahren gesagt haben, dass es Sunshine Live schwer haben wird, durch die Webradio Sender wie Technobase, Techno4ever und Co, haben es mittlerweile eher die Webradios schwer, denn die Hörerzahlen von Sunshine Live können sich weiterhin sehen lassen, während Technobase und co immer kleiner werden.
Natürlich steckt hinter der Welcome to the Club kein geringer als der Klubbingman und so dürfen wir uns auch dieses mal wieder auf eine tolle Tracklist der Welcome to the Club 32 freuen. Im Handel steht das gute Stück für euch bereits ab dem 14. November 2014 und so sollten wir uns das Cover und die Tracklist so langsam mal anschauen.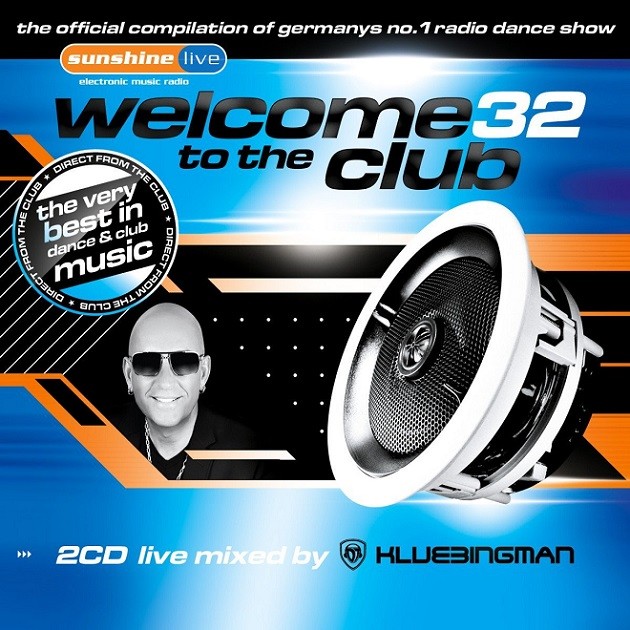 Disk: 1
1. DJ Klubbingman – Introducing Of The Legend
2. Sick Individuals – Lost & Found
3. Manufactured Superstars featuring Jarvis – Church Stay
4. Davis Redfield feat Carl Man – Music Gods
5. Marc Korn & Klubbingman feat. Craig Smart – Lift Me Up
6. Scotty Feat. Enveray – Long Story Short
7. DJ Observer feat. ZFRMX – United
8. Xyloo Spark – In The Night
9. Cascada feat. Tris – Madness
10. Crew Cardinal feat. Kodie – Forever Young
11. Nymphomania – Pornostar
12. Nicky Jones & Squad – We Are Back In USA
13. Picco vs. DJs From Mars – Hardcore Vibes
14. Bad Habit Boys – Drop The Bass
15. Micha Moor – Space
16. Andrew Crowd – F**K
17. Andy Jay Powell – See the Light 2014
18. Armin van Buuren – Hystereo
19. Gaia – Empire Of Hearts
20. Mike Candys – Anubis
21. Clyde Trevor – In The Club
22. MD Electro & Shaun Bate – Bam!
Disk: 2
1. DJ Klubbingman – Antopya
2. Andy Jay Powell & Mike Nero – Like an Animal
3. Nick Skitz & Basslouder – Me And You
4. Ryan T. & Dan Winter feat. Kaytee – Cool Your Engines
5. DJ Restlezz Vs. Tribune – Fun & Celebratio
6. Marc Kiss – What Are You Fighting For
7. Etania – Open Oceans
8. Marco van Bassken feat. Charlee – I Am The Night
9. Alex Megane feat. CvB – Tide Is High
10. Basslovers United feat. D.A.D. – Never Let You Down
11. Bass Inferno Inc. – Summerwave
12. Sunset Project – 123Go
13. Aiden Dearing feat. Toni Fox – Let Me Be
14. DJ Decron – Love & Music
15. DJ Cap feat. Maria B. – You Are My Only One
16. Boyz From NB – Historisk 2014
17. DJ Gollum & Empyre One – Let The Love Shine
18. Neo Cortex – Elements 2k14
19. Plasdance – Come Closer
20. Nesh Up! – Funky Beats
21. Ti-Mo – Envelope