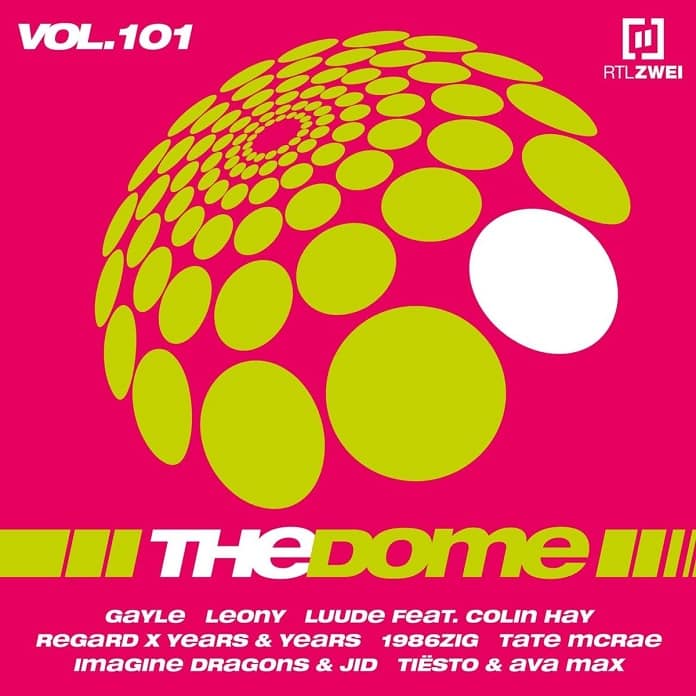 Die neue The Dome 101 steht für euch mit ihrer Tracklist seit einigen Tagen im Handel bereit. Da die Ausgaben der Bravo Hits immer im Wechsel mit der The Dome Reihe auf den Markt kommen, kann man sich durchaus beide Chart Compilation nach Hause holen, um musikalisch ordentlich versorgt zu sein.
Obwohl in Deutschland die Inzidenz seit Tagen wieder nach oben geht, fallen nach und nach die Maßnahmen gegen die Pandemie. So freuen sich zig tausende Menschen auf die kommende Freiluft Saison. Ganz egal ob Volksfest, Schützenfest, Festivals oder die heimische Party mit Freunden beim Grillen.
Bei all diesen Aktivitäten, darf natürlich die richtige Musik nicht fehlen. Genau an dieser Stelle kommt die The Dome 101 ins Spiel, denn im Bereich der Top Tracks aus den deutschen Single Charts, kommt man an dieser Compilation nicht dran vorbei.
Das beste ist natürlich auch, dass ihr nicht mehr auf den Release warten müsst, denn bereits seit dem 18. März 2022 steht das gute Stück für euch im Handel bereit. Der Erfolg spricht wieder einmal für Sony Music, denn in einigen Online-Shops ist die The Dome Compilation zeitweise ausverkauft gewesen.
Damit ihr allerdings schon vor dem Kauf wisst, was euch hier alles erwartet, darf die Tracklist zur The Dome 101 nicht fehlen. Das dazugehörige Cover, könnt ihr euch am Anfang des Artikels bereits anschauen, so wisst ihr wonach ihr im Handel ausschauen halten solltet.
Disk 1:
01.Gayle – abcdefu 2:48
02.Luude feat. Colin Hay – Down Under 2:38
03.Leony – Remedy 2:27
04.Regard x Years & Years – Hallucination 2:54
05.Jaymes Young – Infinity 3:57
06.Dove Cameron – Boyfriend 2:36
07.George Ezra – Anyone For You (Tiger Lily) 3:07
08.Rita Ora x Sam Feldt – Follow Me 2:49
09.twocolors feat. Georgie Keller – Feel It 2 2:49
10.Dardust, Astrality Sophie and the Giants feat. Benny Benassi – Golden Nights 2:58
11.Younotus – I Swear 2:11
12.Goya Menor & Nektunez – Ameno Amapiano Remix (You Wanna Bamba) 3:49
13.James Arthur x You Me At Six feat. Josh Franceschi – Lose My Mind 3:20
14.Cro – Ja 2:34
15.Michael Schulte- Remember Me 3:34
16.Luna – hausflur 2:47
17.Emily Roberts – Soap 2:52
18.The Weeknd – Sacrifice 3:08
19.Ryan Castro- Mujeriego 2:22
20.Adam Friedman, Justin Jesso – Clarity 3:14
21.Imagine Dragons x JID x Arcane x League Of Legends – Enemy – From the series 'Arcane League of Legends' 2:53
22.Tate McRae – she's all i wanna be 3:26
Disk 2:
01.Purple Disco Machine & Sophie and the Giants – In The Dark 3:05
02.Tiesto & Ava Max – The Motto 2:44
03.Robin Schulz & Dennis Lloyd – Young Right Now 3:06
04.Alle Farben & HUGEL feat. FAST BOY – Castle 2:26
05.1986zig – Kopf aus 2:16
06.Clueso – Fehler fehlen 2:43
07.Sido – Mit Dir 2:49
08.Swedish House Mafia & The Weeknd – Moth To A Flame 3:53
09.ClockClock – Sorry 2:56
10.Shawn Mendes – It'll Be Okay 3:43
11.Elley Duhe – Middle Of The Night 3:01
12.Bow Anderson – 20s 3:04
13.Estefania – Brandneu 3:05
14.Malik Harris – Rockstars 2:59
15.Alok & Alan Walker feat. KIDDO – Headlights – Radio Edit 2:38
16.Emmy Meli – I Am Woman 3:52
17.Max & Quarterhead Giesinger – Nichts mehr zu sagen 2:31
18.Lotte – So Wie Ich 3:39
19.Vanessa Mai x ART – Melatonin 2:20
20.BoyWithUke – Toxic 2:48
21.Jax Jones feat. MNEK – Where Did You Go? 2:58
22.Robin Schulz, Nico Santos, Paul van Dyk, Topic – In Your Arms (For An Angel) 2:30