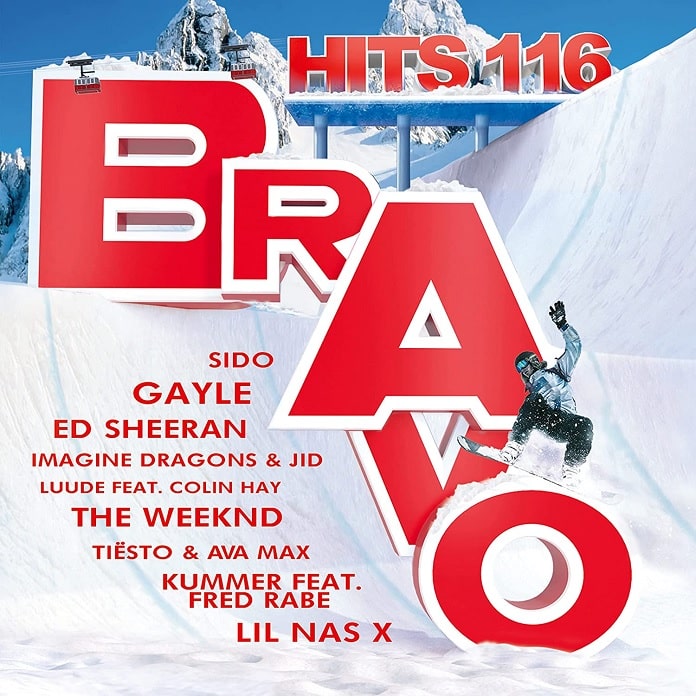 Wenn die neue Bravo Hits 116 mit ihrer grandiosen Tracklist auf den Markt kommt, ist die neue Nummer 1 der Compilation Charts eigentlich schon sicher. Kaum eine andere Compilation hat in Deutschland soviel Erfolg wie die Bravo Hits Reihe und das bereits seit Jahrzehnten.
Neben der The Dome Reihe, gibt es für diese Compilation auch keine wirkliche Konkurrenz mehr. Wer also auf die Musik aus den Single Charts steht, der kommt auf der Bravo Hits 116 eigentlich nicht vorbei. In Zeiten von Spotify und anderen Musikdiensten, wird allerdings auch für so große Compilation die Luft stets dünner.
Kommen wir aber zurück zur neuen Bravo Hits 116, denn solange es die Bravo Hits Reihe noch in Compilation Form gibt, sollten wir uns auch darauf konzentrieren. In der Tracklist dieser Ausgabe, finden wir natürlich wie gewohnt nur die besten Hits aus den Charts der letzten Wochen.
Gemeint sind an dieser Stelle Hits von z.B. Imagine Dragons, The Disco Boys, Tokio Hotel, Alle Farben, Swedish House Mafia, Wincent Weiss, Sido, Ed Sheeran, Shawn Mendes und viele weitere. Der Release der Bravo Hits 116 steht bereits kurz bevor, denn ab dem 11. Februar 2022 ist das gute Stück im Handel erhältlich.
Wie gewohnt, darf an dieser Stelle die Tracklist und das dazugehörige Cover der neuen Ausgabe nicht fehlen, damit ihr schon vor dem Kauf wisst, was euch hier alles erwartet. Für alle Fans der Chart Musik sei gesagt, dass diese an der Bravo Hits 116 eigentlich nicht vorbei kommen und direkt ein Exemplar vorbestellen sollten.
Disk 1:
01.Gayle – abcdefu 2:48
02.Imagine Dragons x JID x Arcane x League Of Legends – Enemy – From the series 'Arcane League of Legends' 2:53
03.Wincent Weiss – Morgen 2:44
04.Tiesto & Ava Max – The Motto 2:44
05.Glockenbach x ClockClock – Brooklyn 3:02
06.The Disco Boys – Around The World – DAZZ Remix 2:38
07.Purple Disco Machine & Sophie and the Giants – In The Dark 3:05
08.BoyWithUke – Toxic 2:48
09.Selmon Bausa – Molly 2:39
10.Leony – Remedy 2:27
11.Mike x KAYEF Singer – Lass mich los 2:28
12.Kwabs, Regard x Kwabs – Signals 2:47
13.Goya Menor & Nektunez – Ameno Amapiano Remix (You Wanna Bamba) 3:49
14.Ray Dalton x Alvaro Soler – Manila 2:24
15.Dardust, Astrality Sophie and the Giants feat. Benny Benassi – Golden Nights 2:58
16.MEDUZA feat. Hozier – Tell It To My Heart 2:46
17.Emmy Meli – I Am Woman 3:52
18.Tokio Hotel – Bad Love 2:23
19.Gabry x R3HAB x Timmy Trumpet Ponte – Call Me 2:58
20.twocolors feat. Georgie Keller – Feel It 2 2:49
21.Alle Farben & HUGEL feat. FAST BOY – Castle 2:26
22.Swedish House Mafia & The Weeknd – Moth To A Flame 3:53
23.Robin & Dennis Lloyd Schulz – Young Right Now 3:06
24.Luude feat. Colin Hay – Down Under 2:38
Disk 2:
01.Ed Sheeran – Shivers 3:27
02.Sido – Mit Dir 2:49
03.Fred Rabe KUMMER – Der Letzte Song (alles Wird Gut) 2:51
04.Jaymes Young – Infinity 3:57
05.Gregor Hägele – Paracetamol 2:45
06.The Neighbourhood – Softcore 3:28
07.Shawn Mendes – It'll Be Okay 3:43
08.Michael Patrick Kelly – Blurry Eyes 3:36
09.Michael Schulte – Remember Me 3:34
10.Elley Duhe – Middle Of The Night 3:01
11.Adam Friedman, Justin Jesso – Clarity 3:14
12.Capital Bra & Montez – Ein Jahr 2:56
13.Apache 207 – Sport 2:55
14.LEA x LUNA – Küsse wie Gift 2:45
15.YouNotUs x Nea – All My Life 2:36
16.Vize – Dancing Alone 2:52
17.R3HAB x Lukas Graham – Most People 2:21
18.Galantis x Lucas & Steve x ILIRA – Alien 2:45
19.David Bisbal Alvaro Soler – A Contracorriente 3:14
20.Alligatoah – Nachbeben 4:15
21.Snoop Dogg & Heidi Klum WeddingCake – Chai Tea with Heidi 2:50
22.Justin Bieber – Ghost 2:32
23.Lil Nas X – Thats What I Want 2:23
24.The Weeknd – Sacrifice 3:08