Bereit für eine extra Portion Charts ? Die The Dome 84 bringt euch mit ihrer Tracklist reichlich Hits aus den Charts mit. Die Bravo Hits 99 ist bereits seit einiger Zeit auf den Markt und die Bravo Hits 100 kommt erst nächstes Jahr auf den Markt.
So kommt für alle Fans der deutschen Charts die The Dome 84 gerade richtig, denn kurz vor der Weihnachtszeit, hat sie noch mal alle wichtigen Songs aus den Charts dabei. Wer also nicht so auf Weihnachtsmusik steht, findet hier eine gute alternative, denn in den nächsten Wochen läuft wieder überall die Weihnachtsmusik rauf und runter.
So kommen Songs von Selene Gomez, Alan Walker, Marshmello, Avicii, Klingande, Katy Perry, Calvin Harris, Ofenbach, Justin Bieber, P!nk, ZAYN, Maroon 5, Sunrise Avenue, Thirty Seconds to Mars, die Toten Hosen und viele mehr zu euch nach Hause.
Der Release der neuen The Dome 84 dauert noch eine kleine Weile, denn erst ab dem 1. Dezember 2017 steht das gute Stück für euch im Handel bereit. Das hält uns natürlich nicht davon ab, euch die Tracklist und das passende Cover schon jetzt zu präsentieren, damit ihr wisst was euch bei der neuen Ausgabe erwartet.
Wenn euch die The Dome 84 zusagt, könnt ihr sie natürlich schon jetzt bei Amazon und Co fleißig vorbestellen, damit ihr den Release nicht verpasst.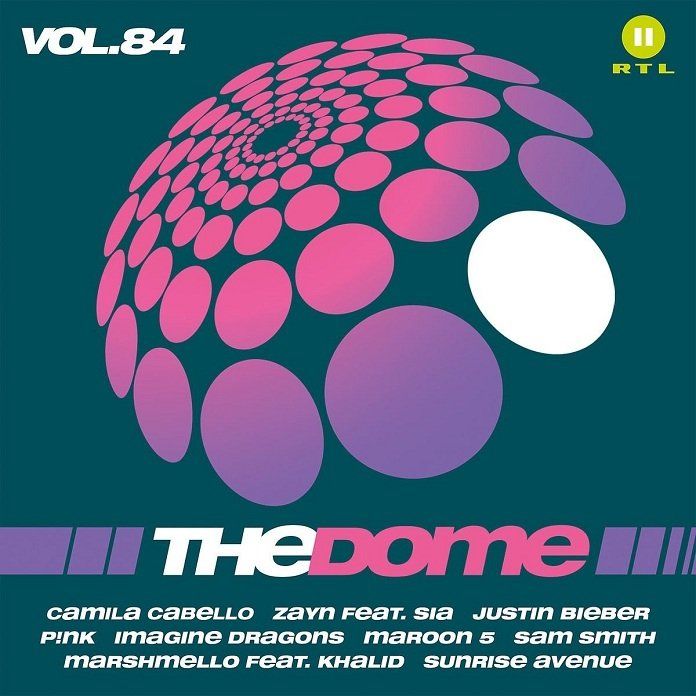 Disk: 1
1. Havana – Cabello, Camila
2. Dusk Till Dawn – ZAYN
3. Beautiful Trauma – P!nk
4. Wolves – Gomez, Selena
5. Friends (New Audio) – Bieber, Justin
6. Katchi (Ofenbach vs. Nick Waterhouse) – Ofenbach
7. All Falls Down – Walker, Alan
8. We Could Go Back – Blue, Jonas
9. Stargazing – Kygo
10. Silence – Marshmello
11. Lonely Together – Avicii
12. Faking It (Radio Edit) – Harris, Calvin
13. Young Dumb & Broke – Khalid
14. Jedes Wort ist Gold wert – Savas
15. Hurtin' Me – Stefflon Don
16. Swish Swish – Perry, Katy
17. Phases – ALMA
18. Old School – Urban Cone
19. Pumped Up – Klingande
20. What Lovers Do – Maroon 5
21. I Help You Hate Me – Sunrise Avenue
22. Walk On Water – Thirty Seconds To Mars
23. Alles passiert – Die Toten Hosen
Disk: 2
1. Whatever It Takes – Imagine Dragons
2. Once In A Lifetime (Single Version) – The Night Game
3. Kogong – Forster, Mark
4. Rooftop – Santos, Nico
5. Feel It Still – Portugal. The Man
6. Best Friend – Tukker, Sofi
7. Don't Turn Around – Milow
8. Never Too Late – Alle Farben
9. Reggaeton Lento (Remix) – CNCO
10. Senorita – Kay One
11. Vorankommen – Luciano
12. If I'm Lucky – Derülo, Jason
13. Questions – Brown, Chris
14. I'm Sorry (Gon Haziri & Bess Radio Mix) – Ara, Arilena
15. So schön anders – Tawil, Adel
16. Too Much To Ask – Horan, Niall
17. Too Good At Goodbyes – Smith, Sam
18. Nie vergessen – Alina
19. Frische Luft (Single Version) – Weiss, Wincent
20. Nimm mich mit – Naidoo, Xavier
21. Like A Riddle – Jaehn, Felix
22. Devil In Me – Disco Machine, Purple
23. Run To You – Gregory, Tom
24. Achterbahn – Fischer, Helene