Die Ministry of Sound Electronic 80s ist mit ihrer gigantischen Tracklist wieder einmal ein echtes Meisterwerk, denn was viele jüngere heutzutage ja gar nicht mehr wissen, ist die Tatsache, dass in Sachen elektronische Tanzmusik, die 80s alles verändert haben.
Als die ersten voll elektronischen Klänge in die Musik einzogen, veränderte nahezu alles und eine neue Ära begann. Wenn man heute CDs mit dem Namen " Electronic " im Handel sieht, denkt man eher an Hardwell, David Guetta, Dimitri Vegas & Like Mike, doch diese sucht man hier vergebens.
Auf der Ministry of Sound Electronic 80s findet man echte Klassiker von z.B. Frankie Goes to Hollywood, Soft Cell, New Order, Ultravox, Wham!, THe Human League, Eurythimcs, Talk Talk, Alphaville, Spandau Balett und unfassbar viele weitere Top Künstler.
Bis zum Release der neuen Ministry of Sound Electronic 80s dauert es zum Glück nicht mehr ganz so lange, denn bereits ab dem 17. November 2017 steht das gute Stück für euch im Handel bereit, doch bedenkt bitte, dass man die CDs von Ministry of Sound einfacher im Online Handel bekommt.
Wie immer an dieser Stelle, dürfen natürlich auch jetzt die Tracklist und das Cover nicht fehlen, darüber hinaus haben wir euch noch die Single " Frankie Goes to Hollywood – Relax " eingebunden, sozusagen als kleines Leckerbissen.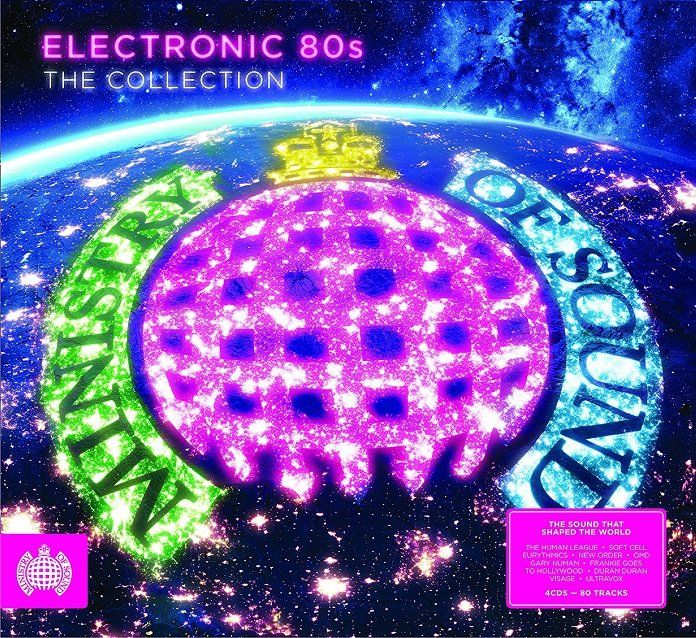 Disc: 1
1. Relax – Frankie Goes To Hollywood
2. Blue Monday – New Order
3. Tainted Love – Soft Cell
4. Love Action (I Believe in Love) – The Human League
5. Smalltown Boy – Bronski Beat
6. Fade to Grey – Visage
7. To Cut a Long Story Short – Spandau Ballet
8. Dancing with Tears in My Eyes – Ultravox
9. Big In Japan – Alphaville
10. Everything She Wants – Wham!
11. Living on the Ceiling – Blancmange
12. Rockit – Herbie Hancock
13. I.O.U. – Freeez
14. Imagination – Belouis Some
15. I Can't Wait – Nu Shooz
16. Party Fears Two – The Associates
17. Dance Hall Days – Wang Chung
18. Temptation – Heaven 17
19. It's My Life – Talk Talk
20. Don't Leave Me This Way – The Communards & Sarah Jane Morris
Disc: 2
1. Vienna – Ultravox
2. Sweet Dreams (Are Made of This) – Eurythmics
3. Don't You Want Me – The Human League
4. Cars – Gary Numan
5. Chant No.1 (I Don't Need This Pressure On) – Spandau Ballet
6. Girls on Film – Duran Duran
7. Take on Me – a-ha
8. Wouldn't It Be Good – Nik Kershaw
9. The Look of Love (Pt.1) – ABC
10. Love & Pride – King
11. You Spin Me Round (Like a Record) – Dead Or Alive
12. Too Shy – Kajagoogoo
13. Pearl In the Shell – Howard Jones
14. Hold Me Now – Thompson Twins
15. We Close Our Eyes – Go West
16. (Feels Like) Heaven – Fiction Factory
17. Don't Talk to Me About Love – Altered Images
18. Wishing (If I Had a Photograph of You) – A Flock Of Seagulls
19. Wood Beez – Scritti Politti
20. Kiss Me – Stephen 'Tin Tin' Duffy
Disc: 3
1. 19 – Paul Hardcastle
2. Da Da Da (I Don't Love You, You Don't Love Me Ah Aha Aha) – Trio
3. Enola Gay – Orchestral Manoeuvres In The Dark
4. Are 'Friends' Electric – Tubeway Army
5. Axel F – Harold Faltermeyer
6. Einstein a Go-Go – Landscape
7. The Race – Yello
8. Close (To the Edit) – Art Of Noise
9. Obsession – Animotion
10. Crockett's Theme – Jan Hammer
11. Waiting for a Train – Flash & The Pan
12. Bette Davis Eyes – Kim Carnes
13. Steppin' Out – Joe Jackson
14. You'll Always Find Me in the Kitchen at Parties – Jona Lewie
15. Safety Dance – Men Without Hats
16. Hyperactive! – Thomas Dolby
17. Duel – Propaganda
18. The Politics of Dancing – Re-Flex
19. I'm In Love With a German Film Star – The Passions
20. Avalon – Roxy Music
Disc: 4
1. Don't You (Forget About Me) – Simple Minds
2. Everybody Wants to Rule the World – Tears for Fears
3. Together in Electric Dreams – Philip Oakey & Giorgio Moroder
4. Souvenir – Orchestral Manoeuvres In The Dark
5. No Regrets – Midge Ure
6. Avalon – Roxy Music
7. Quiet Life – Japan
8. Rio – Duran Duran
9. True Faith – New Order
10. E=MC2 – Big Audio Dynamite
11. Pull Up to the Bumper – Grace Jones
12. Atomic – Blondie
13. Love Will Tear Us Apart – Joy Division
14. Love Missile F1-11 – Sigue Sigue Sputnik
15. The Walk – The Cure
16. Golden Brown – The Stranglers
17. Black Man Ray – China Crisis
18. Kids in America – Kim Wilde
19. Eyes Without a Face – Billy Idol
20. Life In a Northern Town – The Dream Academy