Bereit für eine Extraportion Musik aus den Charts ? Die neue The Dome 97 hat in ihrer Tracklist davon reichlich im Gepäck und bringt euch zahlreiche Top Tracks direkt nach Hause ins heimische Wohnzimmer. Ein wenig stutzig wurden wir bei der Tracklist allerdings schon, dazu aber später mehr.
In Sachen Chart Musik, gibt es tatsächlich nicht mehr viele regelmäßig erscheinenden Compilation, denn neben der The Dome Reihe, kann man hier eigentlich nur noch die Bravo Hits Reihe auflisten, die allerdings den Markt auch bereits seit mehreren Jahrzehnten eindrucksvoll beherrscht.
Kommen wir aber zur besagten Tracklist, diese enthält natürlich zahlreiche Top Tracks aus den Charts, allerdings auch Songs die schon eine Weile auf dem Markt sind. Als bestes Beispiel dafür, kann man hier den Song " Master Kg – Jerusalema " aufführen, welcher bereits als Sommerhit 2020 gehandelt wurde.
Schlecht macht das die The Dome 97 allerdings nicht, denn das Gesamtbild der Tracklist stimmt. Lange warten müsst ihr auf die neue The Dome 97 zum Glück nicht mehr, denn bereits ab dem 19. März 2021 steht das gute Stück für euch im Handel bereit.
Wie immer an dieser Stelle, darf auch in diesem Fall die Tracklist und das passende Cover nicht fehlen, damit ihr schon vor dem Kauf wisst was euch hier alles erwartet. Auch wenn der eine oder andere ältere Track hier vertreten ist, gibt es von unserer Redaktion eine klare Kaufempfehlung für die The Dome 97.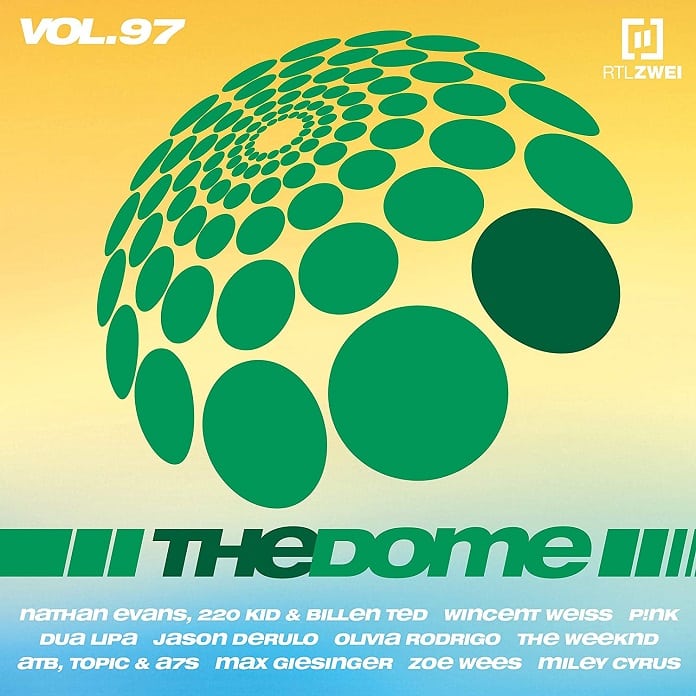 Disk 1:
01.Billen Ted, Nathan Evans, 220 Kid – Wellerman (Sea Shanty / 220 KID x Billen Ted Remix) 1:57
02.Miley Cyrus – Prisoner 2:49
03.Jason Derulo, Nuka – Love Not War (The Tampa Beat) 3:13
04.Dua Lipa – We're Good 2:46
05.Olivia Rodrigo – drivers license 4:04
06.The Weeknd – Save Your Tears 3:38
07.Atb, Topic, A7s – Your Love (9PM) 2:32
08.Tiësto – The Business 2:46
09.Faulhaber, Felix Jaehn, Toby Romeo – Where The Lights Are Low 2:18
10.Twocolors – Bloodstream 3:01
11.Joel Corry – Head & Heart 2:47
12.Meduza – Paradise 2:50
13.Tokio Hotel, Vize – White Lies 3:04
14.Goodboys, Imanbek – Goodbye 2:25
15.Master Kg – Jerusalema (Edit) 3:09
16.Robin Schulz – All We Got 3:10
17.Riton, Nightcrawlers – Friday (Dopamine Re-Edit) 2:49
18.Moe Phoenix, Glasperlenspiel – Sonne 2:31
19.Alan Walker, salem ilese – Fake A Smile 2:48
20.J. Balvin, Karol G, Anuel AA – Location 4:25
21.Selena Gomez, Rauw Alejandro Baila Conmigo 3:06
22.Lil Nas X – Holiday 2:36
23.Masked Wolf – Astronaut In The Ocean 2:15
24.Rag'n'Bone Man – All You Ever Wanted 3:07
Disk 2:
01.Max Giesinger – Irgendwann ist jetzt 2:57
02.Pink, Willow Sage Hart – Cover Me In Sunshine 2:21
03.The Kid Laroi – Without You 2:41
04.Zoe Wees – Girls Like Us 3:11
05.Michael Schulte – Stay 2:52
06.Ariana Grande – 34+35 2:54
07.Justin Bieber, Shawn Mendes – Monster 3:00
08.Sza – Good Days 4:39
09.Shakira, Black Eyed Peas – Girl Like Me 3:43
10.Billie Eilish – Therefore I Am 2:54
11.Cro – Alles Dope 2:28
12.Samra, Topic42 – Lost 2:21
13.Apache 207 – Angst 3:21
14.Jeje Lopes – Adiós 2:57
15.Shane Codd – Get Out My Head 3:26
16.Fools Garden, Alle Farben – Lemon Tree 3:17
17.Leony – Faded Love 2:30
18.Zak Abel – Be Kind 3:02
19.Wincent Weiss – Wer wenn nicht wir 2:45
20.Sarah Connor – Bye Bye 3:17
21.Georg Stengel – Höher, weiter, schneller 3:22
22.Joris – Willkommen Goodbye 3:39
23.Rea Garvey, Vize – The One 2:45
24.Tujamo – I Don't Wanna Go 3:07