Habt ihr euch schon die neue Bravo Hits 98 mit ihrer Top Chart Tracklist gesichert ? Wenn nicht, wird es aber höchste Zeit, denn der Release der neuen Bravo Hits 98 ist bereits eine Woche her. Wenn sich die Labels nicht auf einen anderen Release Plan einigen, kommt dieses Jahr noch die Bravo Hits 99, bevor dann die Bravo The Hits 2017 kommt.
Somit dürfte die erste Bravo Hits CD im Jahre 2018 dann die große Jubiläums Ausgabe der Bravo Hits sein, also Ausgabe 100. Sicherlich wird es dazu einige Specials geben, so können wir uns auch vorstellen, dass sicherlich auch eine TV Show kommen wird, die sich mit der Geschichte der Bravo Hits befasst.
Kommen wir aber zurück zur Bravo Hits 98 und schauen mal auf die Tracklist, hier finden reichlich Top Tracks aus den Charts. So finden wir Songs von Rita Oro, Cro, Mark Forster, Marlon Roudette, The Chainsmokers, OneRepublic, Michael Patrick Kelly, Die Toten Hosen, Ed Sheeran und viele mehr auf der neuen Bravo Hits.
Begleitet wird die neue Bravo Hits Ausgabe natürlich wieder mit einer großen TV Kampagne, die aber wohl bedingt durch die Sommerflaute nicht so gigantisch ausfällt wie in den Wintermonaten. Auch wenn der Release nun schon einige Tage zurück liegt, haben wir natürlich auch hier die Tracklist und das passende Cover für euch am Start.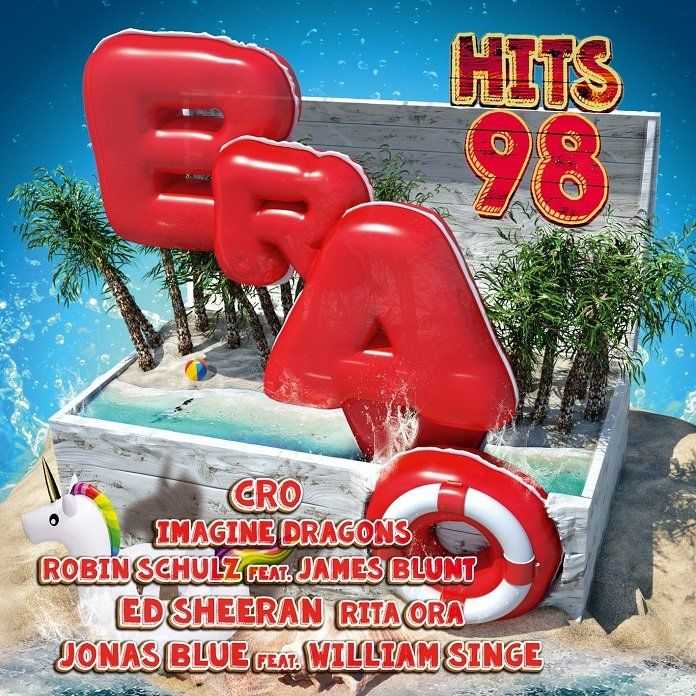 Disk 1:
01.Imagine Dragons – Thunder 3:07
02.George Ezra – Don't Matter Now 2:57
03.Shawn Mendes – There's Nothing Holdin' Me Back 3:22
04.Rita Ora – Your Song 3:00
05.French Montana feat. Swae Lee – Unforgettable 3:53
06.Cro – Unendlichkeit 3:36
07.Mark Forster – Sowieso 2:43
08.Capo feat. Nimo – Lambo Diablo GT 4:13
09.Miley Cyrus – Malibu 3:52
10.Lena – If I Wasn't Your Daughter (Acoustic Version) 3:22
11.Marlon Roudette – Ultra Love 4:03
12.Selena Gomez – Bad Liar 3:34
13.Lorde – Perfect Places 3:41
14.Kendrick Lamar – HUMBLE. 2:57
15.The Chainsmokers – Honest 3:28
16.OneRepublic – No Vacancy 3:43
17.Lola Marsh – Wishing Girl 3:13
18.Michael Patrick Kelly – Golden Age 3:55
19.Niall Horan – Slow Hands 3:08
20.Die Toten Hosen – Wannsee 3:07
21.Wincent Weiss – Nur ein Herzschlag entfernt 3:22
22.Rag'n'Bone Man – As You Are 3:47
23.Ed Sheeran – Galway Girl 2:50
Disk 2:
01.Robin Schulz feat. James Blunt – OK 3:09
02.Jonas Blue feat. William Singe – Mama 3:04
03.Liam Payne feat. Quavo – Strip That Down 3:24
04.Axwell Λ Ingrosso – More Than You Know 3:23
05.Micar – Burden Down 3:14
06.Amanda feat. Sido – Blau 3:03
07.Gentleman feat. Sean Paul – Ovaload 3:53
08.Nimo – Heute mit mir 3:43
09.Ufo361 – Nice Girl 2.0 3:51
10.Felix Jaehn feat. Hight & Alex Aiono – Hot2Touch 2:40
11.Disciples – On My Mind 3:06
12.Alle Farben & Janieck – Little Hollywood 3:02
13.Camila Cabello – Crying In The Club 3:36
14.Jax Jones feat. Demi Lovato & Stefflon Don – Instruction 2:46
15.Gestört aber GeiL feat. Lea – Wohin willst du 3:30
16.Kygo & Ellie Goulding – First Time 3:14
17.Martin Garrix & Troye Sivan – There For You 3:42
18.Martin Solveig feat. ALMA – All Stars 2:50
19.David Guetta feat. Justin Bieber – 2U 3:14
20.Madcon – Got A Little Drunk 3:30
21.Clean Bandit feat. Zara Larsson – Symphony 3:32
22.Helene Fischer – Herzbeben 3:25
23.Milow & Sebastián Yatra – Summer Days 3:19