Bereit für eine Zeitreise ? Denn die neue Kontor Top of the Clubs – Electric 80s und ihre XXL Tracklist, nimmt euch mit auf eine musikalische Zeitreise in die 80er Jahre. Dem Jahrzehnt, als die Musik die elektronische Tanzmusik die Welt im Sturm erobern konnte und bis Heute erfolgreich ist.
Wenn ihr mal einen Blick auf die Tracklist werft, seht ihr viele Tracks die ihr kennt, selbst wenn ihr erst in den 90er Jahren geboren seid. Der Grund dafür ist simple, denn viele Songs laufen noch heute in den Clubs oder bei zahlreichen Radiosendern rauf und runter, wenn auch manchmal eher als neuere Cover Versionen.
Für viele Zeitzeugen, bringt die Tracklist der Kontor Top of the Clubs – Electric 80s sicherlich auch zahlreiche schöne Erinnerungen wieder ans Licht. Der erste Kuss, die erste Party oder auch der erste Besuch in einer Disco. Nicht zu vergessen natürlich die krampfhaften Versuche die Songs aus dem Radio aufzunehmen, wenn der Moderator mal wieder ins Lied brabbelte.
So erwarten euch hier Hits von z.B. New Order, Soft Cell, Yello, Frankie Goes to Hollywood, Alphaville, Shannon, Salt-N-Pepa, Fun Fun, Simple Minds, Tears for Fears, ABC, Heaven 17 und so viele weitere.
Der Release der Kontor Top of the Clubs – Electric 80s ist für den 15. März 2019 angesetzt und wie immer an dieser Stelle darf die Tracklist und das passende Cover nicht fehlen. Sobald auch der passende MiniMix von Kontor Records vorliegt, reichen wir diesen selbstverständlich nach.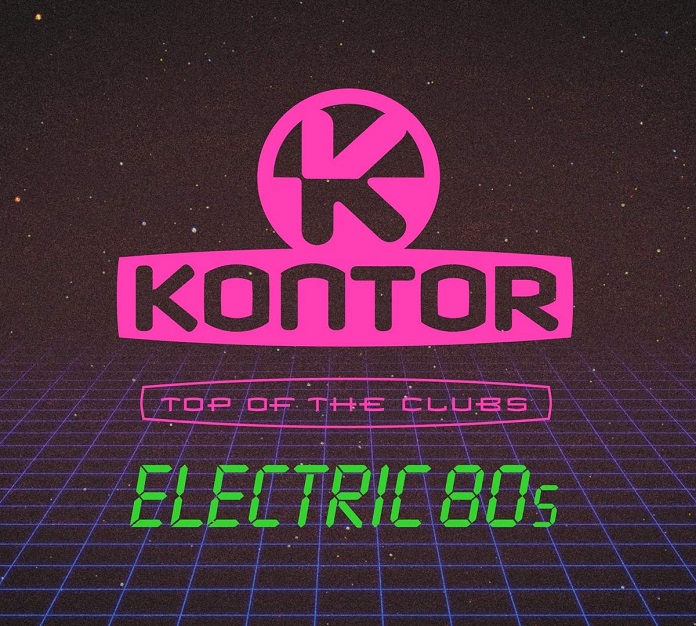 Disk: 1
1. Heaven 17 – Temptation
2. Bronski Beat – Smalltown Boy
3. New Order – Blue Monday
4. Dead Or Alive – You Spin Me Round (Like a Record)
5. ABC – The Look Of Love
6. Soft Cell – Tainted Love
7. Corey Hart – Sunglasses At Night
8. Talk Talk – It's My Life
9. The Human League – Don't You Want Me
10. King – Love & Pride
11. Visage – Fade To Grey
12. M/A/R/R/S – Pump Up The Volume
13. Anne Clark – Sleeper In Metropolis
14. Harold Faltermeyer – Axel F (From "Beverly Hills Cop")
15. Yello – The Race
16. Frankie Goes To Hollywood – Relax
17. Simple Minds – Don't You (Forget About Me)
18. Fine Young Cannibals – She Drives Me Crazy
19. Alphaville – Big In Japan
20. Men Without Hats – The Safety Dance
21. Tears For Fears – Everybody Wants To Rule The World
Disk: 2
1. My Mine – Hypnotic Tango
2. Shannon – Let The Music Play
3. Salt-N-Pepa – Push It
4. Herbie Hancock – Rock It
5. Freeez – I.O.U.
6. Fox The Fox – Precious Little Diamond
7. Fun Fun – Happy Station
8. Miquel Brown – So Many Men, So Little Time
9. Patrick Cowley feat. Sylvester – Do You Wanna Funk
10. Evelyn Thomas – High Energy
11. Lime – Angel Eyes
12. Hot Streak – Body Work
13. Vicious Pink – 8:15 To Nowhere / Great Balls Of Fire
14. Divine – Native Love (Step By Step)
15. C.O.D. – In The Bottle
16. Pet Shop Boys – West End Girls (Original Bobby Orlando Single Mix)
17. Ivan – Fotonovela
18. Kano – Another Life
19. René & Angela – I'll Be Good
20. Nu Shooz – I Can't Wait
21. Joyce Sims – Come Into My Life
Disk: 3
1. Coldcut feat. Lisa Stansfield – People Hold On
2. Ten City – That's The Way Love Is
3. Kym Mazelle & Robert Howard – Wait
4. Taylor Dayne – Tell It to My Heart
5. Whitney Houston – Love Will Save the Day
6. Chaka Khan – I Feel For You
7. D Train – You're The One For Me
8. The Flirts – Passion
9. Colonel Abrams – Trapped
10. Chemise – She Can't Love You
11. Phase II – Reachin (Brotherhood Mix)
12. Sterling Void feat. Paris Brightledge – It's Alright
13. Will Downing – A Love Supreme
14. Joe Smooth – Promised Land
15. Womack & Womack – Teardrops
16. Inner City – Big Fun
17. Technotronic feat. Felly – Pump Up The Jam
18. Jungle Brothers – I'll House You
19. S'Express – Theme from S'Express
20. Raze – Break 4 Love
21. Rob Base & DJ EZ Rock – It Takes Two
22. Sheila E. – A Love Bizarre