Die Nature One 2018 – All You Need to Be Compilation versetzt euch mit ihrer grandiosen Tracklist musikalisch schon einmal auf das Mega Dance Festival. Angesichts der großen Festival Konkurrenz in Deutschland, fragen sich manche, ob sich die Nature One neu erfinden muss ?
Zu diesem Schluss kommen sie mit den rückläufigen Ticketverkäufen, die schon einmal deutlich über den aktuellen Zahlen lagen. Als großer Konkurrent kann hier natürlich das Parookaville Festival gesehen werden, welches sich in einem irren Tempo zum größten Dance Music Festival in Deutschland gemausert hat.
Mit Rund 60.000 verkauften Tickets, zählt die Nature One aber weiterhin zu den größten Dance Music Festivals in Deutschland und geboten wird dort einiges. Nachdem man es nach dem fast schon traditionellen Mega Stau vor dem Festival Gelände auf die Nature One geschafft hat, darf sich auf über 300 DJs verteilt auf 23 Stages freuen.
Der aktuelle MiniMix zur Nature One 2018 – All You Need to Be Compilation macht sehr gut die Vielfalt an Styles deutlich, die man auf den verschiedenen Stages geboten bekommen. Grob zusammen gefasst, könnte man sagen von Soft bis Hard ist alles aus dem Dance Music Sektor vertreten.
Ab dem 13. Juli 2018 steht die Nature One 2018 – All You Need to Be Compilation im Handel für euch bereit und neben dem bereits erwähnten MiniMix, haben wir hier natürlich auch die Tracklist und das passende Cover für euch am Start.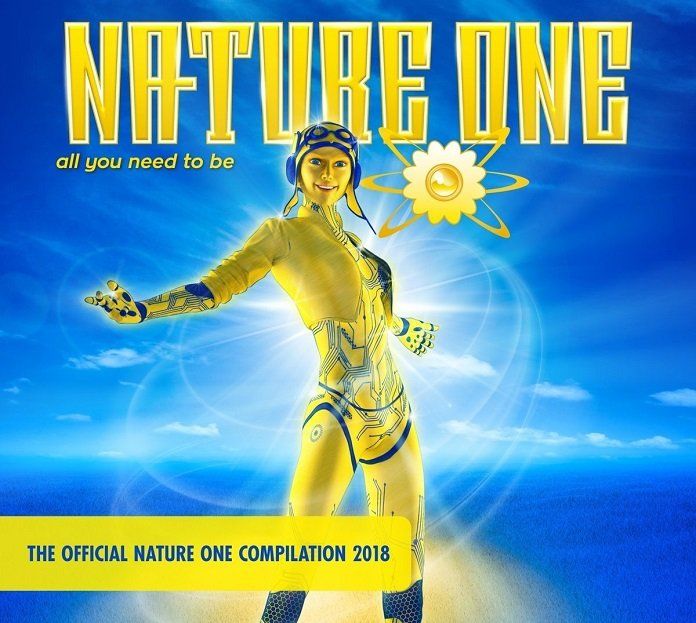 Disk 1:
1. NATURE ONE INC. – ALL YOU NEED TO BE (PROD. BY CUEBRICK)
2. ARMIN VAN BUUREN – BLAH BLAH BLAH
3. LOUD LUXURY – BODY (ORJAN NILSEN REMIX)
4. DARIUS & FINLAY X LAST NIGHT FEAT. MAX LANDRY – CLOSE MY EYES
5. MC FIOTI – BUM BUM TAM TAM (DAVID GUETTA REMIX)
6. DAVE202 – VENOM
7. ADAM TRIGGER – OLÉ (HUGEL REMIX)
8. AFROJACK X JEWELZ & SPARKS – ONE MORE DAY (NICKY ROMERO REMIX)
9. PLASTIK FUNK & MELODY FEDERER – STANDING
10. ALY & FILA VS SCOTT BOND & CHARLIE WALKER – SHADOW (PAUL THOMAS REMIX)
11. LOST FREQUENCIES FEAT. JAMES BLUNT – MELODY (TWO PAUZ 'SOGNARE' VOCAL MIX)
12. MASTROVITA & BARKLEY – STILL ALIVE
13. ESTIVA – BLOOM
14. MARK SIXMA – SINFONIA
15. NEELIX – WATERFALL (HARMONICA REMIX)
16. ALCHIMYST – SHIBA
17. VINI VICI & COMING SOON!!! – MAD (BLASTOYZ REMIX)
18. RAN-D – ZOMBIE
19. JEROME VS BEATFIGHTERZ – SKY
20. W&W & DARREN STYLES FEAT. GIIN – LONG WAY DOWN
Disk 2:
1. FATBOY SLIM – RIGHT HERE, RIGHT NOW (CAMELPHAT REMIX)
2. EDX – ANTHEM
3. FORMAT:B & DJ PP – IN MY HOUSE
4. LEE CABRERA VS THOMAS GOLD – SHAKE IT (MOVE A LITTLE CLOSER) (NIC FANCIULLI EDIT)
5. ATFC & DAVID PENN – HIPCATS
6. FEDDE LE GRAND AND FUNK MACHINE FEAT. GENERAL LEVY – FLEX
7. FUNKIN MATT – CODA
8. TWO PAUZ – DAM SAUZ (LOST FREQUENCIES CUT)
9. NORA EN PURE – BRANCHES
10. LIKE MIKE – REWIND (SEM THOMASSON REMIX)
11. MAT.JOE – SUNSHINE
12. BEN DELAY – YOU BRING THE SUNSHINE
13. DANIIJEL KOSTIC – VINTERNATT (NORA EN PURE & SONS OF MARIA REMIX)
14. RON CARROLL – WALKING DOWN THE STREETS (MOONBOOTICA REMIX)
15. MOONBOOTICA & BONDI – LOST & FOUND
16. GORGE – WAY BACK
17. FLASHMOB – THE LONE BRAZILIAN
18. LEXY & K-PAUL FEAT. RICHARD JUDGE – RAVEROHNEENDE (ALLE FARBEN REMIX)
19. JOSH BUTLER – RABBIT HOLE
20. SAM FELDT & MÖWE FEAT. KARRA – DOWN FOR ANYTHING
Disk 3:
1. BLANK & JONES – ONE
2. BUTCH – COUNTACH (KÖLSCH REMIX)
3. TUBE & BERGER – CABALA KING
4. FISHER – CROWD CONTROL
5. TIM BARESKO, CLYDE P. – ANOTHER
6. DENNIS CRUZ FEAT. MARTINA CAMARGO – EL SUEÑO
7. SUPER FLU – DOPPT
8. MILKWISH – TEMPLE OF TIME
9. PAPPENHEIMER, FELIX BERNHARDT – NAVIGATE YOUR FEELINGS
10. JAN BLOMQVIST – THE SPACE IN BETWEEN (BEN BÖHMER REMIX)
11. DIRTY DOERING – DAGGA
12. DOMINIK EULBERG & ESSÁY – DREAM MACHINE
13. BORIS BREJCHA – BLEEDING HEART
14. TOCADISCO – NEW WORLD
15. ALEKSI PERÄLÄ – GBBVT1337152 (LEN FAKI HARDSPACE MIX)
16. THNK & PIM KOS – SHIFT
17. NINETOES – FINDER (CARL COX REMIX)
18. CHARLOTTE DE WITTE – HEART OF MINE
19. SALO CIN – PINEAPPLE LOVE
20. TOM STAAR – FLIGHT OF THE BUZZARD