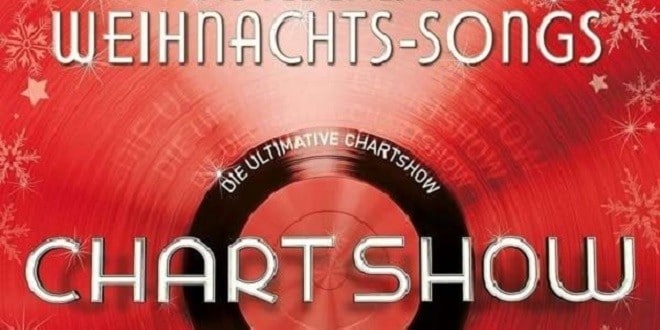 Die Ultimative Chartshow – Weihnachts-Songs darf an Weihnachten nicht fehlen, denn die Tracklist umfasst die größten und besten Weihnachts-Songs und wenn man sich einmal an die TV-Ausstrahlung mit dem Thema erinnert, so erinnern wir uns, dass Wham mit Last Christmas nicht auf Platz 1 gewesen ist.
Denn Wham schafft es zwar jedes Jahr wieder in die Charts, doch konnte der Song sich noch nie lange auf Platz 1 der Charts halten um Punkte für das Ranking zu sammeln.
Auf dieser Compilation findet ihr Top Tracks von Queen, Band Aid, Sarah Connor, Bing Crosby, Diana Krall, Whitney Houston, Kelly Clarkson und vielen mehr, eben wie bereits oben angesprochen nur die besten Songs zur Weihnachtszeit.
Die Ultimative Chartshow – Weihnachts-Songs als CD steht für euch ab dem 28. November 2014 im Handel parat und wenn euch das nicht reicht, könnt ihr Die Ultimative Chartshow – Hits 2014 gleich mit erwerben, denn auch die CD steht ab dem 28. November im Handel für euch parat.
Nun ist es aber höchste Zeit einen Blick in die Tracklist und auf das Cover der CD zu werfen, damit ihr wisst welche Songs euch hier erwarten.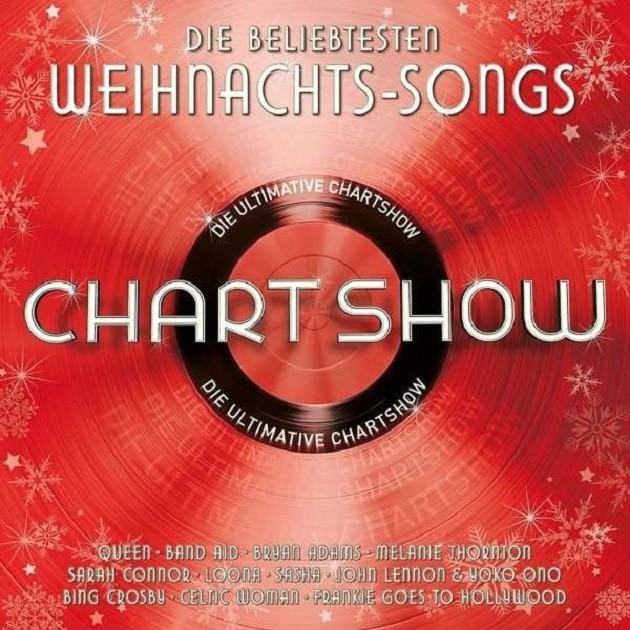 Disk: 1
1. Thank God It's Christmas (Remastered 2011) – Queen
2. Do They Know It's Christmas? (1984 Version) – Band Aid
3. Driving Home For Christmas – Rea, Chris
4. Wonderful Dream (Holidays Are Coming) (Radio Version) – Thornton, Melanie
5. The Best Side Of Life – Connor, Sarah
6. Hijo De La Luna (Sentimiento Mix) – Loona
7. Have Yourself A Merry Little Christmas – Houston, Whitney
8. All I Want For Christmas – Mumba, Samantha
9. Last Christmas – Grande, Ariana
10. Underneath The Tree – Clarkson, Kelly
11. Coming Home (X-Mas Radio Version) – Sasha
12. Fairytale Of New York – Keating, Ronan
13. Christmas Lights – Coldplay
14. Let It Snow! Let It Snow! Let It Snow! – Stewart, Rod
15. Baby It's Cold Outside – Travolta, John, Newton-John, Olivia
16. Step Into Christmas – John, Elton
17. Merry Christmas – Adams, Bryan
18. Shake Up Christmas – Train
19. Christmas Without You – Onerepublic
20. Merry Xmas Everybody – Slade
21. Mary's Boy Child / Oh My Lord – Boney M.
Disk: 2
1. Happy Xmas (War Is Over) (2010 Digital Remaster) – Lennon, John, The Harlem Community Choir, The Plastic Ono Band, Ono, Yoko
2. White Christmas – Crosby, Bing
3. Rudolph, The Red-Nosed Reindeer – Autry, Gene, The Pinafores
4. Winter Wonderland (Single Version) – Franklin, Aretha
5. Santa Baby (Album Version) – Kitt, Eartha, Henri Rene & His Orchestra
6. Jingle Bells – Krall, Diana
7. Silent Night – Lennox, Annie
8. What If – Winslet, Kate
9. Christmas In My Heart (Album Version) – Connor, Sarah
10. Küss Mich, Halt Mich, Lieb Mich – Endlich, Ella
11. Ave Maria (Single Version) – Celtic Woman
12. Amazing Grace – Westenra, Hayley
13. Little Drummer Boy – Groban, Josh
14. Hallelujah (Album Version) – Wainwright, Rufus
15. The Power Of Love – Frankie Goes To Hollywood
16. Hymn (Album Version) – Barclay James Harvest
17. Mr. Bojangles (Single Version) – Davis, Jr., Sammy
18. Santa Claus Is Coming To Town (Album Version) – Jackson 5
19. Rockin' Around The Christmas Tree (Single Version) – Lee, Brenda
20. Stop The Cavalry – Lewie, Jona
21. Mistletoe & Wine (2003 Remastered Version) – Richard, Cliff
22. Happy New Year – Abba