Die neue CD Keep Calm and Love Mama ist mit ihrer Tracklist ein echter gute Laune Lieferant. Na, den Muttertag etwa verpennt ? Dann aber schnell in den nächsten Handel diese CD gesichert, denn alleine der Titel wird euch sicherlich schon Pluspunkte einbringen, denn Mütter werden " Love Mama " sicherlich förmlich in Leuchtschrift lesen.
Zugegeben auch wir sind mit dieser Compilation etwas spät dran aber das kennt ihr ja langsam von uns. Wer hier jedoch eine 3er CD-Box erwartet, der wird direkt einmal enttäuscht, denn die Keep Calm and Love Mama kommt lediglich mit einer CD um die Ecke, was in der heutigen Zeit schon fast ungewöhnlich ist, zumindest bei den großen Labels.
Verstecken muss sich diese Compilation jedoch nicht, denn die Songs die sie im Gepäck hat, dürften auch bei allen gute Laune verbreiten, die sich nicht "Mama" nennen können. Sony Music bringt derzeit eine Compilation nach dem anderen auf den Markt, gleichzeitig hat Universal Music zumindest im deutschen Markt, das ganze scheinbar etwas zurück gefahren.
Die Keep Calm and Love Mama steht seit dem 5. Mai 2017 für euch im Handel bereit und obwohl das ganze schon ne Weile her ist, haben wir natürlich dennoch die Tracklist und das passende Cover für euch am Start, damit ihr schon vor dem Kauf wisst was euch hier erwartet.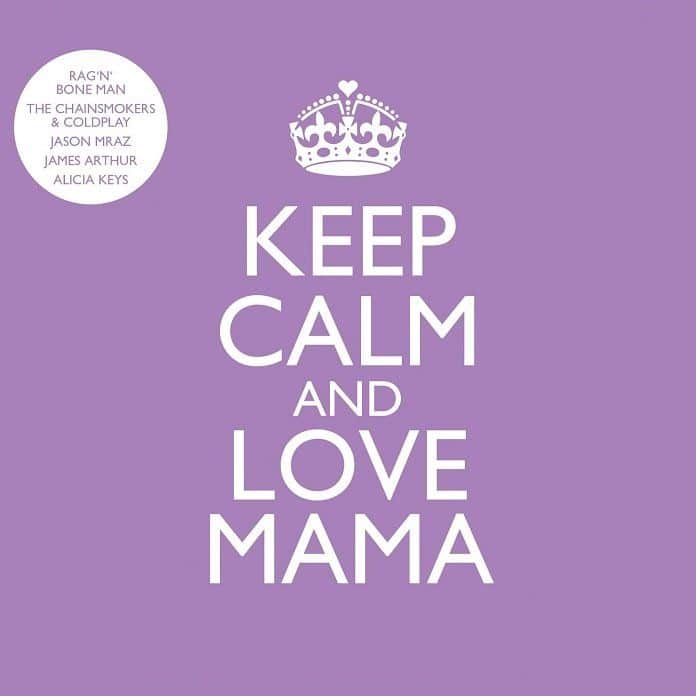 01.Pharrell Williams – Happy – From 'despicable Me 2′ 3:53
02.Chris Martin, The Chainsmokers & Coldplay – Something Just Like This 4:07
03.Kygo & Selena Gomez – It Ain't Me 3:40
04.Rag'n'bone Man – Skin 3:59
05.Alice Merton – No Roots 3:55
06.Jason Mraz – I'm Yours 4:03
07.Starley – Call On Me – Ryan Riback Remix 3:42
08.Alle Farben Feat. Younotus – Please Tell Rosie 2:53
09.Robin Feat. Francesco Yates Schulz – Sugar 3:39
10.Alan Walker – Faded 3:32
11.Mark Forster – Chöre 3:28
12.Ricky Reed, Lunchmoney Lewis – Bills 3:24
13.Nasri, Magic! – Rude 3:45
14.Omi – Cheerleader – Felix Jaehn Remix Radio Edit 3:00
15.James Arthur Say You Won't Let Go 3:31
16.Sia Feat. Sean Paul – Cheap Thrills 3:44
17.Jennifer Lopez – Ain't Your Mama 3:38
18.Olly Murs – Dear Darlin' 3:26
19.John Legend – All Of Me 4:29
20.Alicia Keys – Girl On Fire 3:45
21.Mattias Bylund, Meghan Trainor, Kelli Trainor, Meghan Trainor Feat. Kelli Trainor – Mom 3:14
22.Kaleo – Way Down We Go 3:39