Vor rund einer Woche kam die Ministry of Sound Clubbers Guide 2017 mit einer grandiosen Tracklist auf den Markt und wieder einmal stürmt dieser Sampler in Richtung Spitze der Compilation Charts. Leider müssen wir uns hier eingestehen, dass wir die Ministry of Sound Clubbers Guide 2017 völlig übersehen haben.
Das diese Reihe zu den beliebtesten House Music Compilation der Welt gehört, dürfte angesichts solcher Tracklisten keinen verwunden. Wie immer, kommt das englische Label auch im Berech der Clubbers Guide wieder einmal fast ohne die großen Namen aus dem überwiegend kommerziellen Teil der House Szene aus.
Dennoch findet man die großen Tracks von zum Beispiel Armand van Helden, Duke Dumont, Michael Calfan, Mark Knight, Dusky und viele weitere. Wir haben euch an dieser Stelle die Tracklist und das passende Cover eingefügt und obwohl wir eine Woche zu spät mit der Info der Ministry of Sound Clubbers Guide 2017 sind, hoffen wir euch dennoch von der CD überzeugen zu können.
Darüber hinaus, haben wir auch einmal den TV Spot aus dem englischen Bereich eingebunden, denn im TV in Deutschland sieht man Werbung für die CDs von Ministry of Sound leider nicht mehr. Nachdem das Label verkauft wurde, haben wir ja noch immer Hoffnung, das dort wieder mehr Gas gegeben wird.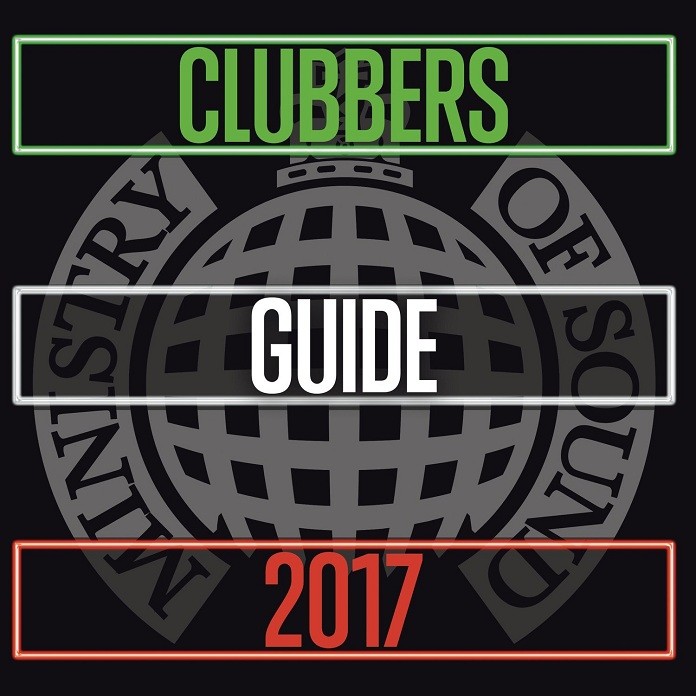 Disc: 1
1. My Love 4 U – MK feat. A*M*E
2. House Work – Jax Jones feat. Mike Dunn & MNEK
3. You Want Me – Tom Zanetti feat. Sadie Ama / Sadie Ama
4. Icy Feet – TCTS
5. Show Me – Ryan Blyth X After 6 feat. Malisha Bleau
6. Could You Love Me? – Black Saint
7. Wings – Armand van Helden
8. Daylight – Disciples
9. Never Letting Go – Zac Samuel & Moon Willis feat. Tayá
10. Be Here – Duke Dumont
11. Smile – Gorgon City feat. Elderbrook
12. Trouble – offaiah
13. Make You Mine – NVOY
14. 4000Hz – Jaded
15. Over Again – Michael Calfan
16. Crank It – Kideko & George Kwali
17. Yebisah – Mark Knight
18. Tribesmen – Solardo
19. Runnin' – Low Steppa feat. Kelli-Leigh
20. Everybody – Dennis Cruz
Disc: 2
1. Grey – Kölsch
2. You Know Right – Skream
3. Tease Magnet – Patrick Topping
4. Scream – Andrea Oliva
5. Runny Nose – Dusky
6. The Aztecs – Solardo
7. Acid Gaddafi – Jack N Jerk
8. Fake – Jesse Perez
9. Pleased to Meet You – Elliot Adamson
10. Love You – Vibe Killers
11. No One Knowz – Waze & Odyssey
12. Scouse Afrika – Melé
13. Do You – Shadow Child & T. Williams
14. Afterparty – Chris Lorenzo feat. Sonny Fodera
15. Hidden Love – Hannah Wants
16. You're Sunshine – Weiss
17. Joy & Pain – Apexape feat. Josh Berrt
18. Just Say – KDA feat. Tinashe
19. Hiding – Icarus
20. Kerala – Bonobo / Brandy