Mit der Ministry of Sound The Biggest Breakdowns of All Time haut das englische Label schon wieder eine Mega Tracklist raus, dort scheint man die Dance Music Fans zum Weihnachtsgeschäft so richtig verwöhnen zu wollen, denn das ist nun bereits die 4 Compilation aus dem Hause Ministry of Sound die wir euch in diesen Tagen vorstellen.
Neben der Annual 2015, 80s Mix und der Anthems House folgt nun also die nächste Compilation dieses mal unter dem Motto " The Biggest Breakdowns of All Time" und da hat man absolut nicht untertrieben.
Schaut man sich einmal die erste CD an, da geht es direkt mit dem Mega Track "Insomnia" von Faithless los und dieser Track ist absolut Zeitlos aber das ist nicht alles, denn schaut man weiter findet man weitere Mega Hits der Dance Szene wie ATB – 9pm Until I Come, Robert Miles Children, Eric Prydz – Pjanoo oder Tiesto – Adagio For Strings.
Zwischen den großen Klassikern findet sich natürlich auch Tracks die es vielleicht einmal werden wie z.B. von Showtek, Swedish House Mafia, Avicii, Martin Garrix, Dillon Francis und viele mehr.
Im Handel steht die Ministry of Sound The Biggest Breakdowns of All Time Compilation für euch ab dem 28. November 2014 bereit und bis dahin bieten wir euch selbstverständlich wieder einmal die Tracklist und das dazu passende Cover.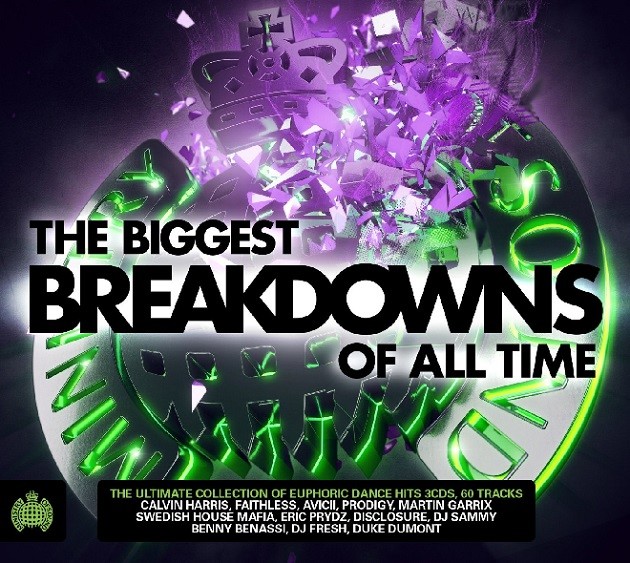 Disk: 1
1. Faithless – Insomnia Monsta (Radio Edit)
2. Avicii – Levels (Radio Edit)
3. Swedish House Mafia – One (Radio Edit)
4. Showtek – Booyah (Original Mix)
5. Martin Garrix – Animals
6. Chase & Status – Count On Me
7. Prodigy -Breathe (Radio Edit)
8. Chemical Brothers – Hey Boy Hey Girl
9. Nero – Promises
10. DJ Fresh ft. Ellie Goulding – Flashlight
11. DVBBS & Borgeous ft. Tinie Tempah – Tsunami (Radio Edit)
12. Bingo Players – Rattle (Radio Edit)
13. Dillon Francis & DJ Snake – Get Low (Radio Edit)
14. Fatboy Slim – Right Here Right Now (Original Mix)
15. ATB – 9pm Until I Come (Radio Edit)
16. DJ Jean – The Launch (Radio Edit)
17. Robert Miles – Children (Radio Edit)
18. Alex Gaudino – Destination Calabria (Original Mix)
19. Sash! – Encore Une Fois (Future Breeze Mix)
20. Storm – Time To Burn (Original Mix)
Disk: 2
1. Calvin Harris – Not Alone (Original Mix)
2. Steve Angello & Laidback Luke ft. Robin S – Show Me Love (Radio Edit)
3. Kaskade & Deadmau5 – I Remember (Original Mix)
4. London Grammar – Hey Now (Arty Remix)
5. Axwell – I Found U (Original Mix)
6. Avicii & Nicky Romero – I Could Be The One (Original Mix)
7. Armand Van Helden – My My My (Original Mix)
8. Secondcity – I Wanna Feel (Radio Edit)
9. MK – Always (Route 94 Remix)
10. Azzido Da Bass – Dooms Night (Timo Mass Mix)
11. Tim Berg – Bromance Avicii's (Extended Mix)
12. Example – Changed The Way You Kissed Me (Original Mix)
13. Darude – Sandstorm (Original Mix)
14. Delerium – Silence Tiesto In Search of Sunrise
15. Tiesto – Adagio For Strings (Original Mix)
16. Rui Da Silva Feat. Cassandra – Touch Me (Original Mix)
17. Duke Dumont – Need You (Radio Edit)
18. Secondcity – What Can I Do
19. Fedde Le Grand – Put Your Hands Up (Radio Edit)
20. DJ Fresh ft. Rita Ora – Hot Right Now (Radio Edit)
Disk: 3
1. Eric Prydz – Pjanoo (Original Mix)
2. Swedish House Mafia – Dont You Worry (Radio Edit)
3. Lana Del Ray – Summertime Sadness (Cedric Gervais Remix)
4. Chris Brown ft. Benny Benassi – Beautiful People (Radio Edit)
5. Tom Novy – Your Body (Original Mix)
6. Shapeshifters – Lola's Theme (Radio Mix)
7. Armand Van Helden – My My My (Original Mix)
8. Secondcity – I Wanna Feel (Radio Edit)
9. MK – Always (Route 94 Remix)
10. Azzido Da Bass – DoomsNight (Timo Mass Mix)
11. Tim Berg – Bromance Avicii's (Extended Mix)
12. Example – Changed The Way You Kissed Me (Original Mix)
13. Darude – Sandstorm (Original Mix)
14. Delerium – Silence Tiesto In Search of Sunrise
15. Tiesto – Adagio For Strings (Original Mix)
16. Porter Robinson – Language (Radio Edit)