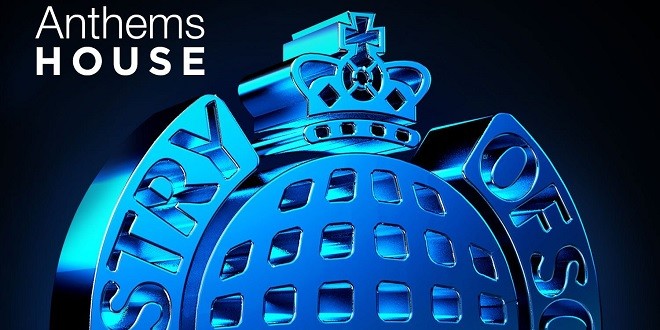 Mit der Ministry of Sound Anthems House bringt das englische Label die nächste CD mit einer Top Tracklist auf den Markt und dort scheint man es im Weihnachtsgeschäft wieder einmal so richtig wissen zu wollen, denn neben der Annual 2015 haben wir euch vor einigen Tagen erst den 80s Mix von Ministry of Sound präsentiert.
In Sachen House Music hat sich in den letzten Jahren ganz schön was getan, von ruhigen House Tracks bis zu großen BigRoom Krachern, von Studio54 Party bis zum Tomorrowland Weekend, die House Szene hat sich laufend neu erfunden und doch sind bis heute einige ganz große House Tracks zu regelrechten Hymnen der Szene geworden.
Auf der Ministry of Sound Anthems House sind eben genau diese Top Tracks der House Szene und wenn man die Tracklist mal mit den heutigen Namen vergleicht, so werden sich wohl alle jüngeren User Frage, was das wohl für Künstler sind und deren Tracks, denn Namen wie Martin Garrix, Showtek, Nicky Romero sucht man hier vergeblich.
Ab dem 21. November 2014 steht die Ministry of Sound Anthems House im Handel für euch bereit und wir haben euch an dieser Stelle neben der Tracklist und dem Cover auch den MiniMix zur CD eingebaut, damit ihr wisst was euch bei dem guten Stück überhaupt erwartet.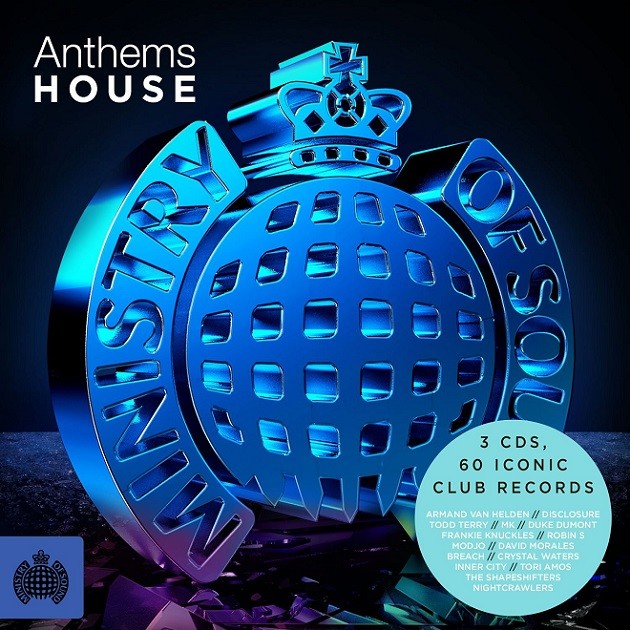 Sie sehen gerade einen Platzhalterinhalt von Standard. Um auf den eigentlichen Inhalt zuzugreifen, klicken Sie auf die Schaltfläche unten. Bitte beachten Sie, dass dabei Daten an Drittanbieter weitergegeben werden.
Mehr Informationen
Disk: 1
1. Frankie Knuckles Feat. Jamie Principle – Your Love
2. Marshall Jefferson – Move Your Body (The House Music Anthem)
3. Steve Silk Hurley – Jack Your Body
4. Farley "Jackmaster" Funk & Jesse Saunders Feat. Darryl Pandy – Love Can't Turn Around
5. Inner City – Big Fun
6. Degrees Of Motion – Do You Want It Right Now King Street Mix
7. Gat Décor – Passion Naked Mix
8. Joe Smooth – Promised Land
9. Ten City – That's The Way Love Is Acieed Mix
10. Crystal Waters – Gypsy Woman (She's Homeless)
11. The Fog – Been A Long Time
12. Barbara Tucker – Beautiful People
13. MK – Burning Vibe Mix
14. Nightcrawlers – Push The Feeling On 1994 Dub Of Doom Mix
15. De'Lacy – Hideaway Deep Dish Radio Edit
16. Robin S. – Show Me Love
17. Gusto – Disco s Revenge Mole Hole Radio Edit
18. Kenny Dope" Presents The Bucketheads – The Bomb! (These Sounds Fall Into My Mind)
19. George Morel – Let's Groove
20. Todd Terry, Martha Wash & Jocelyn Brown – Keep On Jumpin' Rhythm Masters Mix
Disk: 2
1. Armand Van Helden Feat. Duane Harden – You Don't Know Me
2. David Morales Presents The Face Feat. Juliet Roberts – Needin' U
3. Todd Terry – Something's Goin' On Tee's Radio Edit
4. Tori Amos – Professional Widow Armand Van Helden s Star Trunk Mix
5. Basement Jaxx – Fly Life
6. Nuyorican Soul – Runaway
7. Sandy B – Make The World Go Round Deep Dish Radio Edit
8. Celeda & Danny Tenaglia – Music Is The Answer
9. Eddie Amador – House Music
10. Pete Heller's Big Love – Big Love
11. Cassius – 1999
12. Bob Sinclar – I Feel For You
13. Modjo – Lady (Hear Me Tonight)
14. M&S Presents The Girl Next Door – Salsoul Nugget
15. Paul Johnson – Get Get Down
16. Bel Amour – Bel Amour
17. Roger Sanchez – Another Chance
18. Silicone Soul – Right On, Right On Original Instrumental Mix
19. Rui Da Silva Feat. Cassandra – Touch Me
20. Ultra Naté – Free Mood II Swing Radio Edit
Disk: 3
1. The Shapeshifters – Lola's Theme
2. Freemasons Feat. Amanda Wilson – Love On My Mind
3. Layo & Bushwacka – Love Story (Vs. Finally) Bootleg
4. StoneBridge Feat. Therese – Put 'Em High JJ's Radio Edit
5. Tim Deluxe Feat. Sam Obernik – It Just Won't Do
6. Junior Jack – Thrill Me
7. Shakedown – At Night
8. Solu Music Feat. Kimblee – Fade Grant Nelson Big Room Remix
9. Soul Central – Strings Of Life Danny Krivit Re Edit
10. Blaze Feat. Barbara Tucker – Most Precious Love
11. Fish Go Deep Feat. Tracey K – The Cure & The Cause Dennis Ferrer Remix
12. M.A.N.D.Y. Vs Booka Shade – Body Language
13. Azari & III – Hungry For The Power Jamie Jones Ridge Street Mix
14. Duke Dumont Feat. A*M*E – Need U (100%)
15. Breach – Jack
16. Disclosure Feat. AlunaGeorge – White Noise
17. Storm Queen – Look Right Through MK Vocal Edit
18. Gorgon City Feat. MNEK – Ready For Your Love
19. Secondcity – I Wanna Feel
20. Route 94 Feat. Jess Glynne – My Love