Mit der CD zur Sendung RTL – I Like The 80s bringt euch der TV Sender, die Tracklist der Show ins heimische Wohnzimmer. Neu ist dieses Format nicht, denn RTL sendete bereits " I Like the 90s " und war damit damals sehr erfolgreich gestartet.
Anfang Juni startet nun also die nächste Staffel, dieses mal werden die 80er unter die Lupe genommen und genau wie auch beim letzten Mal, besteht auch diese Staffel wieder aus mehreren Teilen. Ab dem 3. Juni 2015 könnt ihr euch um 20.15 Uhr dann 5 Wochenlang das beste und schrägste aus den 80ern noch einmal anschauen.
Auch unsere Redaktion hat damals die 90er Version angeschaut und man wir müssen sagen, dass auch wir des öfteren nicht aus dem Grinsen raus kamen, denn die ein oder andere lustige Erinnerung wurde durch das Format wieder geweckt.
Wer sich vorher zumindest musikalisch schon einmal auf die Sendung vorbereiten möchte, kann das natürlich tun, denn bereits am 22. Mai 2015 kommt die CD " RTL – I Like The 80s " in den Handel. Damit ihr wisst was euch hier erwartet, haben wir natürlich wie gewohnt die Tracklist und das Cover für euch am Start.
Wenn man einmal einen Blick auf die Tracklist wirft, kann man direkt viele Lieder anstimmen, denn ein ganzer Teil dieser Songs, läuft auch heute noch regelmäßig in den Radios. Wenn euch also gefällt was ihr hier zu sehen bzw. hören bekommt, dann könnt ihr die CD natürlich mit einem Klick auf die Like Buttons am Ende des Artikels unterstützen.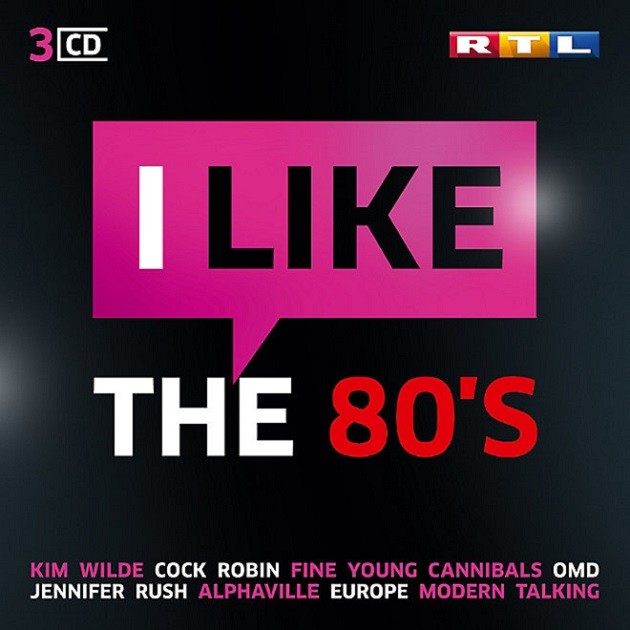 Disk: 1
1. Thriller – Single Version – Jackson, Michael / Jackson, Michael
2. Smalltown Boy – Bronski Beat
3. Take On Me – A-Ha
4. When Will I Be Famous? – Bros
5. Walk Like An Egyptian – Bangles, The
6. Broken Wings – Mr. Mister
7. Love Of The Common People – Young, Paul
8. You Spin Me Round (Like A Record) – Dead Or Alive
9. When The Rain Begins To Fall – Jackson, Jermaine & Pia Zadora
10. Never Gonna Give You Up – Astley, Rick
11. Half A Minute – Matt Bianco
12. The Promise You Made – Cock Robin
13. Crockett's Theme – Hammer, Jan
14. All You Zombies – Album Version – Bazilian, Eric / Hyman, Rob / King, Andy / Smith, Jr.,Fran / Hooters, The
15. Goody Two Shoes – Ant, Adam / Ant, Adam
16. Carbonara – Spliff
17. Irgendwie, Irgendwo, Irgendwann – Nena
18. Girls Just Wanna Have Fun – Lauper, Cyndi
19. Wake Me Up Before You Go-Go – Wham!
Disk: 2
1. Words – David, F.R.
2. Forever Young – Alphaville
3. Maria Magdalena – Sandra
4. Girl You Know It's True – Milli Vanilli
5. Looking For Freedom – Hasselhoff, David
6. Rock Me Amadeus – Falco
7. Maneater – Remastered – Hall, Daryl & John Oates
8. Smooth Operator – Remastered – Sade / Adu, Helen
9. Silent Running – 2013 Remaster – Mike & The Mechanics
10. Running In The Family – Level 42
11. Living In A Box – Living In A Box
12. Right Between The Eyes – Wax
13. Chequered Love – Wilde, Kim
14. Ride Like The Wind – Cross, Christopher
15. Sign Your Name – D'arby, Terence Trent
16. Goldener Reiter – Witt, Joachim
17. Paranoimia – Art Of Noise, The Feat. Max Headroom
18. Dr. Mabuse – Anton Corbijn Video Mix – Propaganda
19. The Power Of Love – Radio Edit – Rush, Jennifer
Disk: 3
1. I Wanna Dance With Somebody (Who Loves Me) – Houston, Whitney
2. If Only I Could – Youngblood, Sydney
3. Ever Fallen In Love – Fine Young Cannibals
4. The Reflex – Duran Duran
5. Rage Hard – Frankie Goes To Hollywood
6. Heart And Soul – T'pau
7. True – Spandau Ballet
8. The Night – Dore, Valerie
9. Junimond – Reiser, Rio
10. Ich Liebe Dich – Clowns & Helden
11. Sehnsucht – Purple Schulz & Die Neue Heimat
12. Axel F (From 'Beverly Hills Cop') – Faltermeyer, Harold
13. You're My Heart, You're My Soul – Mix '84 – Modern Talking
14. Fire And Ice – Marietta
15. Tell It To My Heart – Single Mix – Dayne, Taylor
16. Owner Of A Lonely Heart – Yes
17. Total Eclipse Of The Heart – Tyler, Bonnie
18. Kayleigh – Single Edit – Marillion
19. Urgent – Foreigner