Die The Dome 94 weiß mit ihrer grandiosen Tracklist voller Chart Musik wieder einmal zu überzeugen. Es gibt nicht mehr viele Chart Musik Compilations im Deutschland und der Größe, gibt es neben der The Dome Reihe, eigentlich nur noch die Bravo Hits Reihe, welche allerdings auch mit Rückläufigen Zahlen zu kämpfen hat.
Die Bewertungen der neuen The Dome 94 sind tatsächlich sehr positiv. Eine Tatsache die unsere Redaktion an dieser Stelle auch so unterschreiben kann, denn die Tracklist kann sich durchaus sehen lassen. Hier findet ihr alle Top Songs, welche in den letzten Wochen in den Charts ganz oben mitgespielt haben.
Hier ist natürlich die Rede von zahlreichen Top Songs von unter anderem Surf Mesa, Benee, Lady Gaga, Lost Frequencies, The Pussycat Dools, Aloe Blacc, Mark Forster, Michael Patrick kelly, Lea, Felix Jaehn, Ava Max, Tom Gregory und viele weitere.
Im Handel steht die The Dome 94 bereits seit dem 5. Juni 2020 parat, also höchste Zeit sich ein neues Exemplar zu sicher. Wir haben natürlich wie gewohnt an dieser Stelle, die Tracklist und das passende cover für euch am Start, damit ihr schon vor dem Kauf wisst, was euch hier so alles erwarttet.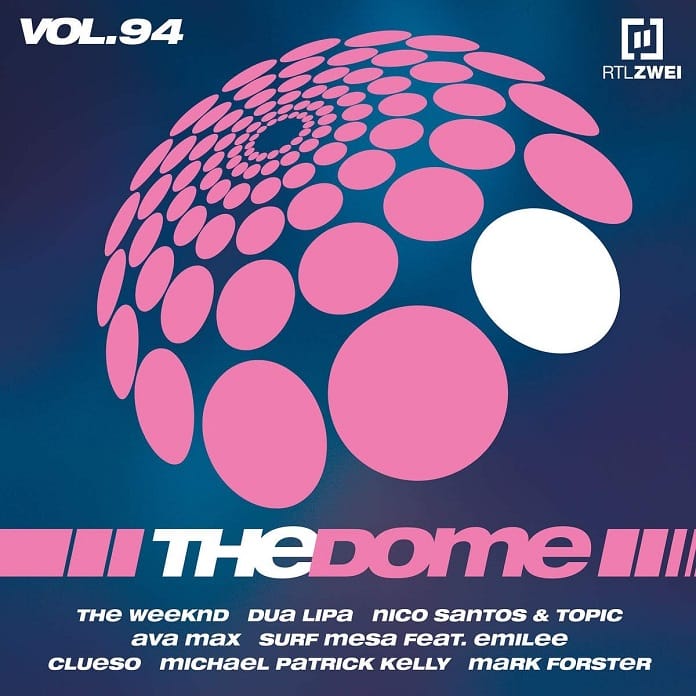 Disk 1:
01.Surf Mesa – ily (i love you baby) 2:57
02.Tom Gregory, Vize – Never Let Me Down 2:34
03.Dua Lipa – Physical 3:15
04.The Weeknd – Blinding Lights 3:24
05.Ava Max – Salt 3:00
06.Raye, Regard – Secrets 2:56
07.Topic, Nico Santos – Like I Love You 3:24
08.Benee – Supalonely 3:43
09.Doja Cat – Say So 3:58
10.Purple Disco Machine, Sophie and the Giants – Hypnotized 3:16
11.Lady Gaga – Stupid Love 3:14
12.Jonas Brothers – What A Man Gotta Do 3:01
13.Lost Frequencies, Zonderling, Kelvin Jones – Love To Go 2:51
14.Darius & Finlay – Clothes Off (Nanana) 3:47
15.David Puentez, Albert Neve – Superstar 2:45
16.Felix Jaehn – Sicko 2:38
17.The Pussycat Dolls – React 3:24
18.Mabel – Boyfriend 3:46
19.Tones and I – Never Seen The Rain 3:21
20.Rita Ora – How To Be Lonely 2:55
21.Major Lazer – Lay Your Head On Me 3:20
22.Surfaces – Sunday Best 2:39
23.Powfu – death bed (coffee for your head) 2:53
24.Clueso – Tanzen 2:48
Disk 2:
01.Mark Forster – Übermorgen 2:44
02.Lea – Treppenhaus 3:08
03.Aloe Blacc – I Do 3:36
04.Zoe Wees – Control 3:51
05.Michael Patrick Kelly – Beautiful Madness 2:55
06.Onerepublic – Didn't I 3:28
07.Dagny – Somebody 3:14
08.Jack Johnson, Milky Chance – Don't Let Me Down 3:20
09.Sam Smith, Demi Lovato – I'm Ready 3:21
10.Malik Harris – Crawling 3:38
11.Adel Tawil – 1000 gute Gründe (Radio Edit) 2:37
12.Achtabahn, Wincent Weiss – So Gut 2:52
13.Michael Schulte – Keep Me Up 2:54
14.Giant Rooks – Watershed 3:42
15.Annenmaykantereit – Ausgehen 2:54
16.Max Giesinger – Nie stärker als jetzt 3:38
17.Céline – Tränen aus Kajal 2:31
18.Kayef – Ich würd' lügen 2:41
19.Shirin David – 90-60-111 2:21
20.Loredana, Capital Bra – Nicht verdient 2:57
21.Selena Gomez – Boyfriend 2:41
22.Justin Bieber – Intentions 3:33
23.Tyga, Kygo, Zara Larsson – Like It Is 3:02
24.Vicetone, Tony Igy – Astronomia 3:19